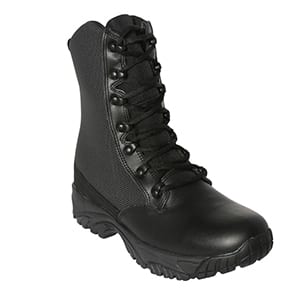 When shopping for a pair of boots, one of the key ingredients of a quality pair is that they are multi-functional and diverse. Most individuals that wear boots on a regular basis come into contact with a wide range of conditions, and the expectation is that the boots will hold up regardless of what comes their way. Thanks to our team at ALTAI™, there is finally a boot on the market that can truly give you that peace of mind.
Reliable Boots for Diverse Uses
At ALTAI™, our customers come from a wide variety of backgrounds. It makes sense because once you find a tactical boot that is comfortable, protective and long lasting, you stick with it! Often times, we see law enforcement officers, military personnel, outdoorsman and hikers utilize our boots that were born to outperform! We credit the success of our tactical boots to our listening skills. Before creating this multi-functional tactical boot, we listened to what individuals were continuously missing with the boots they were purchasing. Where other boot merchants fell short, we made it a point to excel so that our boots would stand out from the rest.
Unique Features of ALTAI™ Tactical Boots
The key features of our tactical boots that keep our customers happy include:
● SuperFabric® - This unique material is used in the upper section of our boots. Made from a combination of armor plates and cloth, the upper boot is very comfortable and extremely protective. This type of material can also be found in motorcycle equipment and is also used by Ferrari.
● VIBRAM® Soles - The soles of our boots are what keep them lasting so long. In addition to the long life expectancy, our VIBRAM® soles are lightweight, shock absorbent, slip resistant, non-marking and protective.
● Comfortable - One of the nicest things about our tactical boots is that you don't have to spend weeks wearing them in before they become comfortable. Our tactical boots are as comfortable the first time that you put them on as they will be 3 months down the road. Say goodbye to breaking in your boots once you choose ALTAI™.
● Waterproof - So many boot merchants state that their boots are waterproof, but is it really true? Unfortunately, what they consider to be waterproof is simply a spray on application that is only temporary. With ALTAI™ tactical boots, every material used to create these boots can withstand water, creating a truly waterproof boot.
If you love spending time outdoors in your free time or if your occupation requires you to be on your feet in various conditions, it is time that you found a tactical boot that outperforms the rest. By choosing ALTAI™ tactical boots, that is exactly what you'll get. Give us a call today at (800) 806-2611 or email info@altaigear.com to learn more about our multi-functional boots.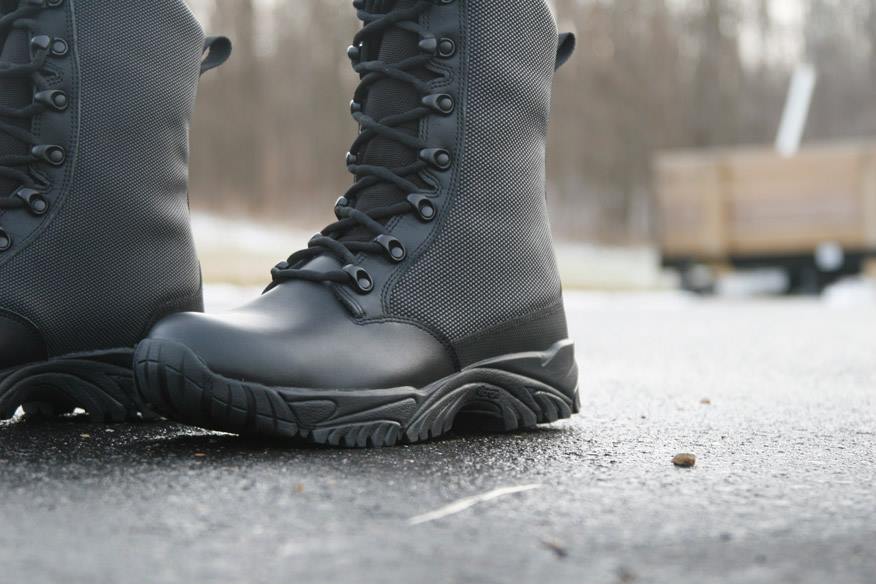 Having a durable pair of urban exploration footwear can come in great handy when spending hours on your feet. ALTAI™ footwear will give your body the endurance it needs to battle any elements, in any environment, at any time. From the protective animal free products to our sleek and versatile styles, our tough urban footwear can be put up against anything. The scientifically engineered materials that we use makes for an amazing boot! Keep your feet protected from:
Lacerations
Extreme Elements
Abrasions
Fatigue
Slips & Falls
Not only is the protection superb on our high-quality explorer's boot, but the additional attributes as well hold high on the convenience list. For instance our speed lacing feature. Speed lacing will help the processes by providing a stronger lace pull, time spent on tying, and a tighter lace hold. Our lightweight materials that we use are durable and rustproof for long lasting use. For the most comfortable and durable pair of urban exploring boots, shop now. Your feet will thank you for years down the road!
Multi-Functional Urban Exploration Footwear
Add to your exploring gear list, or to a loved one for the holidays. Either way whoever receives the great gift of carrying on with comfort can be everlasting. Our multi-functional urban exploration footwear options have all grounds covered when in need for an amazing pair of boots. Having a lightweight boot that will get through the extreme weather is a must when out in the elements. When you:
Explore State Capitol Buildings
Explore Museums and Monuments
Explore River Beds or Lakes
Explore the Night Life
Explore the Tallest Skyscraper
When you explore anything and everything the only common ground you will have is the comfort of ALTAI™ under your feet. Getting you there, pushing you every step of the way like a life coach without a voice, just guidance. Our extremely protected and stylish footwear is also non-slip for when you are attempting to leap from rock to rock crossing a river or walking on the wet marble floor entering a restored building. Wherever your destination may be, whatever happens during the journey. You will know that you are protected with the footwear from us. Your high or low top options come in many other varieties of styles check through our extreme environment urban exploration boots today!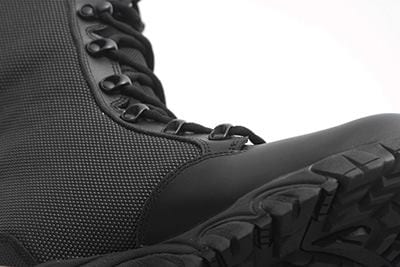 For the warmest boots in the world, the ALTAI™ team and their footwear are your number one extreme weather boot on the market today! Take your job and your feet seriously as your running down the suspect during the coldest snow storms. Climb up Mount Washington easily during the harshest of climates with every stride protected and safe. Whether the climate is hot or cold, the extremes can be handled when utilizing one company - ALTAI™. For the best boot manufactured to take you to unimaginable distances, shop now!
Your Pair of Extreme Weather Boots
Get your pair of extreme weather boots today and battle the elements that are presenting themselves. When you have found the perfect style type to fit your needs, you will be able to concur anything. Whatever the universe is presenting its self with you today, whether it be:
Walk Your Dog During a Snow Storm
Fish the Muddy Banks of the Mississippi
Hunt the Swampy Marshlands of Florida
Hike or Climb to the Mountaintops
Sight See Places Unknown
Fight Crime
Run on the Beach
Fighting Crime on the Beach While Running for President
When your feet are properly protected your possibilities are endless. Our highly constructed tactical boots for extreme weather conditions will treat your feet like royalty. No more uncomfortable feeling of ice cold or wet socks, no more heavy and exhausting feeling with every step. Our lightweight and breathable, extreme weather footwear will be the best and the last boot you will ever need. Until we get new designs of course. Contact us today for your pair of amazing boots!
Our Materials
Without the right materials, you do not have a quality boot. Luckily for you, we have the best products at the best prices! Our high-quality, extreme weather boots are scientifically designed for optimal use. One of the amazing super materials utilized in our construction is called SuperFabric®. SuperFabric® is a textile that is used in the upper part of the footwear. Slash, abrasion, water, and stain resistant the SuperFabric® will help get you anywhere without holding you back. The engineered materials make ALTAI™ footwear lightweight and breathable for ultimate comfort.
VIBRAM® is our outsole material that keeps everyone upright, even in the harshest of elements. Whether you are walking down the driveway on an icy day or cooking in a slippery kitchen. VIBRAM® will have your feet planted on the ground as you've intended. Look through our options today to find your new amazing pair of extreme weather temperature footwear!
Save
Save
Save
Save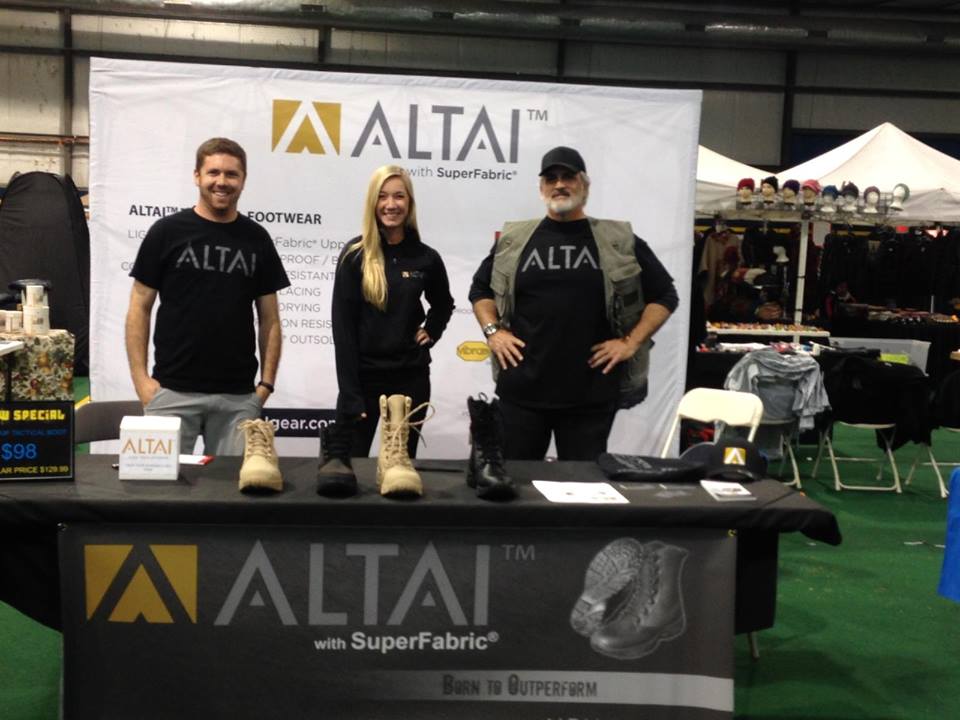 Are you looking for a tactical boot that fits securely to your feet, whether you are a man or a woman? Then our ALTAI™ Tactical Boots are your perfect footwear solution. Our boot design works seamlessly for anyone looking to increase foot comfort, protection, durability and keep the water out of your boot, where it belongs. Our line of tactical boots come in high and low-top, black, brown and tan.
Materials in our Boots
Our Selection of Tactical Boots for sale Online and/or in Select Stores
Closeout Boot Models - We currently have three styles of boots being discontinued, which means you can get them for a steal. Our current closeouts include our Brown Hiking Boots, High Top Military Tan Boots and our Low Top Military Tan Boots. ALL THREE CLEARANCE BOOT STYLES ARE $99! So why are they being discontinued? Because we have added a protective Mud Guard around the Boot and these styles were before the beloved mud guard addition came into play.
Regular Priced Boot Models - Our selection of innovative tactical boots come in colors and with features that will allow you to meet dress code standards, while also protecting your feet in extreme environments. The price of our tactical boots are around $150 and easily contend with boots priced well over that range. These Boots Include: Black 8" & 6" Tactical Boot  - Military Tan 8" & 6" Boot - Brown 6" Hiking Boot - Black with Leather 8" & 6" Tactical Boot. 
How to Purchase Your ALTAI™ Boots
Shop for yourself online, find our Woodbury Store or look at our Local Midwest Retailers and take a drive to find a show that will live up to what it was made to do - Outperform! But don't take our word alone, check our Facebook page for unbias reviews on our Tactical Boots and check the Testimonials on our website. Once you have made the decision to try our boots, you should know that we are here to support your decision. If you purchase our boots online, you will receive free shipping, size exchange and even 30-day return policy, where you don't pay a cent for shipping. If you would rather go to the boots, instead of them come to you our Woodbury Shop is conveniently located and we have multiple retailers that would be happy to find you the perfect fit and style for your upcoming adventures.
For extreme protection for your feet no matter what the climate is, depend on ALTAI™ to help pull you through!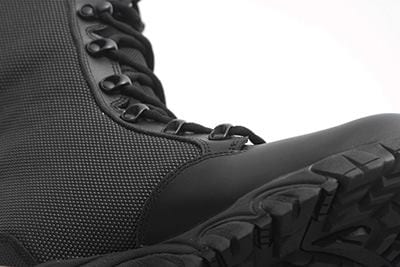 When battling the frozen tundra or searching the Sierra Desert, ALTAI™ footwear has the durability needed to tough through even the most extreme climates. Our top of the line materials SuperFabric® and VIBRAM® create the lightest, most durable boots around today. Having stain and laceration resistant footwear will make you feel like your feet are up on the couch whether you are in 100-degree heat or negative with a blistering wind chill. Wearing these boots is an investment, not only for your feet but for your pocket book. Our durable materials are made to withstand essentially whatever it is you attempt to throw their way.
Brilliant Boot Withstanding Freezing Temperatures
Have you ever been working so hard in the below temperatures that your feet begin to sweat? Then following soon after your boot feeling like it is fusing to your body? We understand the harshest of climates and thrive to provide the best footwear to bear the blistering cold weather. Our durable and lightweight materials will help your next rugged winter footwear perform to the caliber that you are at. Don't let Mr. Winter slow you down, climb up that ice mountain, go outdoor camping after New Years our boot is created for you, the extreme and elite warriors that will battle mother nature as if it were the dragon before the castle. Our SuperFabric® is what makes our footwear withstand the freezing temperatures. SuperFabric® is also found in materials used for motorcycle protection, hot tub covers, even diving gear. Built to last and take a beating, our below freezing footwear will not slow you down or make you stop in your tracks. Make your next form fitting winter footwear one of our ALTAI™ boots, built for the tough tundra and virtually anything else in your path.
Breathable Tactical Boots Hot Temperatures
Having a breathable tactical boot that can keep you moving during hot temperatures is a must, especially for military, fire, and police. Not only do your feet need to stay dry and through the task the bottoms need protection just as well. Imagine all of those old worn out boots, they weren't able to keep up with you because they didn't have what we have now, a VIBRAM® soles. Keep the heat where it belongs, under your feet and outside your boot. Our EVA midsoles help resist shock to your feet and joints. Don't sweat the heat, pick up your ALTAI™ footwear, your feet will thank you!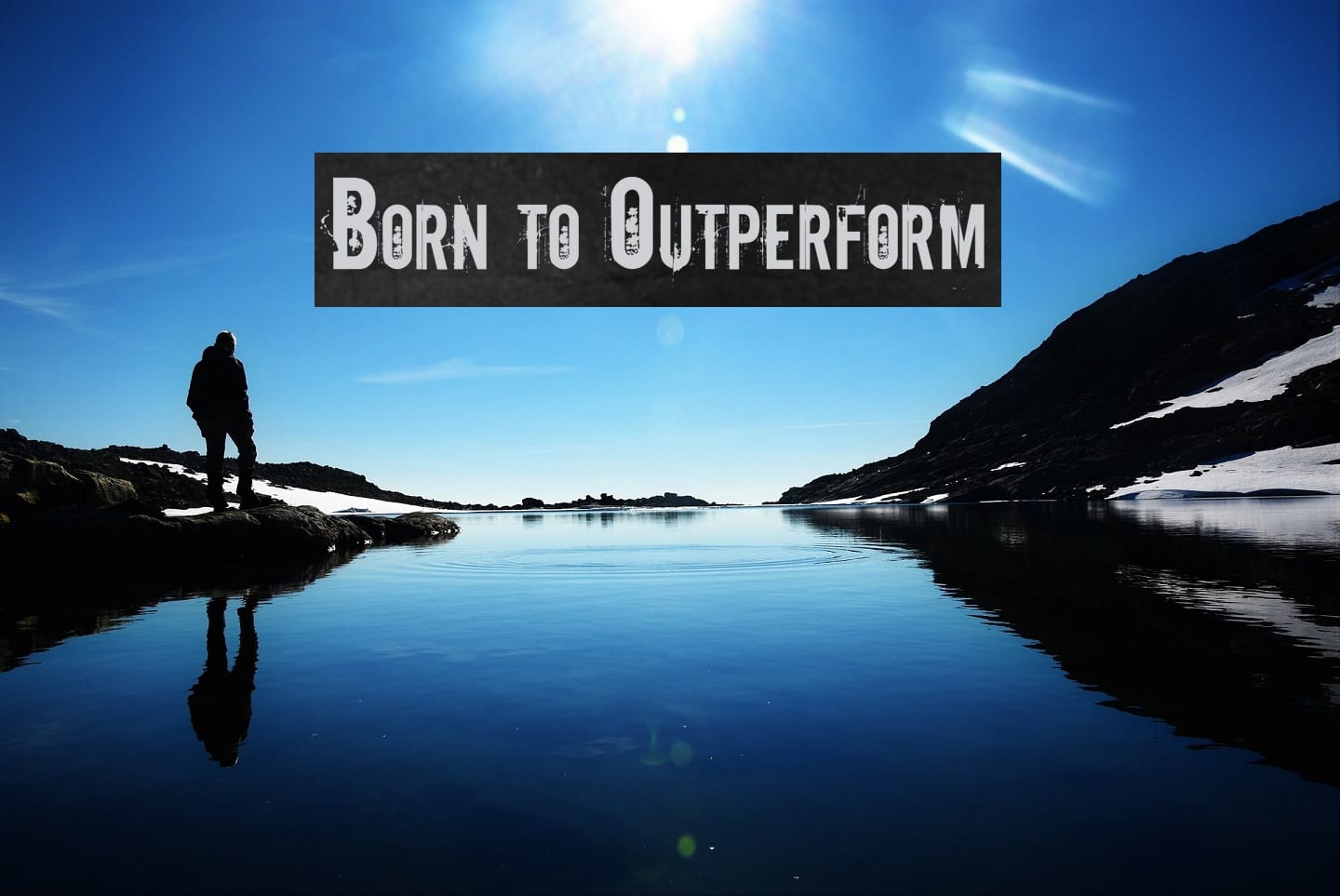 The last thing that should cross your mind when you're ready to go is 'what shoes should I wear?'. And when I say go, I mean GO! GO adventuring the rocky terrain in the mountain states, GO boarding the sand dunes of Colorado, GO hiking state trails or GO forge your own path. Whether it be through the freezing conditions and snow or the hot desert sun and sand – ALTAI™ Tactical Footwear will protect and comfort your feet with every step you choose to take. The line of Men and Women's Tactical Boots we have created are ready to go anywhere and outperform your expectations.
Men & Women's Travel Footwear
Did you know traveling is good for you? According to a Huffington Post Article, it has been shown to help lower depression, build self-confidence, it's great exercise and let's not forget the treasured memories. With all the long-term benefits of traveling, what's holding you back? Don't let it be your footwear. The footwear you select to travel with you must be multifunctional, adaptable, comfortable and protective. That's a tall order but ALTAI™ was designed to be just that, a tactical boot you can take anywhere.
Boots that can withstand Extreme Environments
Cold – Our lightweight boot design can allow you to cover more ground when trekking through snow. Our rugged VIBRAM tread offers industry leading traction and the SuperFabric material of the boot keeps snow from soaking in. Pair comfy thermal socks with our tactical boot and away you go in comfort and dryness.
Wet – Rivers, lakes and oceans hold a special place in most of our hearts, there is something about the flow of water that is just mesmerizing. Purchasing footwear designed to get wet often lowers the selection of boots to choose from. When water comes into contact with the SuperFabric used in the majority of the shoe it then beads up and falls off, instead of soaking in. This makes a major difference when out in the elements.
Hot – Sweaty feet turn into stinky feet, especially if you're in your boots for a long period of time and in extreme cases it can lead to fungal growth and infections. ALTAI™ boots are breathable, which means with plenty of airflow to your feet you'll undoubtedly sweat less. And SuperFabric's moisture wicking technology will bring any sweat you do produce to the surface of the boot to dry.
Don't forget to pack, or better yet, just wear your ALTAI™ boots on your next trip. Don't have ALTAI™ Boots? Purchase our Tactical Footwear Online and watch them come to you and GO.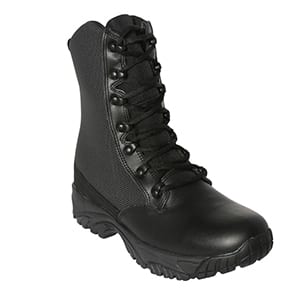 Do you wish you could stop your hectic life and take some time to travel the world? Well, for some individuals traveling the world is an actual part of their life. For the types that are planning an adventure across the globe, it is important that you invest in travel boots that will keep your feet protected and will provide the support and comfort needed for long days on your feet. Our team at ALTAI™ specializes in creating dynamic footwear for outdoor adventures. Whether you're traveling on a vacation or have made traveling your permanent state of living, our boots can help you get through deserts, rain and snow.
Quality Footwear that Keeps you Going
If this is not your first time traveling, chances are you have had some bad experiences with travel boots. Whether it be blisters, bulkiness, or a short lifespan, finding the perfect boot is not as easy as it sounds. At ALTAI™, we have taken notice of the misleading marketing that our competitors take part in. We have made it a point to stay true to our elite boot qualities. The last thing you want while you travel the world is for your feet to hold you back from experiencing breathtaking views and excursions. To help ensure your travel boots from ALTAI™ do not hold you back on your journey, we have focused on mastering the following key features of our boots:
Protective - Using the same type of material in motorcycle equipment, the boot upper section of our travel boots are made up of SuperFabric®. This material combines a lightweight and comfortable boot material with armored plates to provide the utmost protection around the globe.
Long Lasting - Due to the level of respect and recognition VIBRAM® soles have gained over the years, we felt it was imperative to implement these soles into our travel boots. These soles can handle any conditions mother nature throws your way!
No Fatigue - One of the biggest complaints about boots are that they wear your feet down quickly and make the rest of your body tired. This is precisely why our team felt is was vital to utilize ethylene-vinyl acetate (EVA) in our boots. This material is often found in running shoes and helps prevent your feet from experiencing fatigue.
Waterproof - If you plan to travel the world, chances are you will experience some wet conditions during your journey. Unlike the temporary spray-on substance that our competitors use, every material used in our travel boots can repel water, which helps create a truly waterproof experience.
If you are preparing for your travels around the world, don't forget about your feet! Now is the time to invest in reliable, comfortable and protective travel boots from ALTAI™. Give us a call today at (800) 806-2611 or email info@altaigear.com to learn more about our footwear to travel the world in.
Waterproof: to be unaffected by water.
Can you imagine the importance of being unaffected by water? If you work outdoors, we're betting you have a pretty good idea. You could be having the best day in the world but take one step into a puddle and your wet feet will have you begging for mercy and for the day to be over. No one likes wet feet inside their work boots. Heck no! At ALTAI™, we are big fans of comfortable feet and long wear boots! We make our waterproof boots out of water resistant materials that will keep your feet dry and ready for a long day of work outdoors.
The Gimmick of "Waterproof Boots"
Guaranteed, when you go into your local sporting goods store, there will be a sign for waterproof boots. We ask you to please take a closer look! Look at the label! What type of materials did they use? How exactly do they advertise "waterproof boots"? The reality is that most boots are not waterproof. Most boots are sprayed with a synthetic material that eventually wears down, meaning the "waterproof boots" that they claim to be, are now susceptible to being waterlogged boots. Synthetic spray and water resistant materials are two very different things. So if you are looking for long wear boots that also give you comfortable feet, look towards ALTAI™.
Waterproof Boots
ALTAI™'s multifunctional boots are made to withstand all types of outdoor weather. We specifically designed our long wear boots for those who would be outside, trudging through ice, snow, water, and mud. Protecting your extremities and giving you comfortable feet, even in the most extreme conditions, was our main goal.
Waterproof Resistant Materials
We don't feed into gimmicks here. When we say waterproof, we mean it. We use the following water resistant materials:
Waterproof Outsole: The Vibram® outsole is rubber and absorbs no water. It also gives plenty of traction under the water, while also being lightweight and durable to protect your feet from danger.
Boot's Upper: SuperFabric® is a breathable and waterproof material that is also tough as nails! It is made up of both a cloth like material and armor plates. SuperFabric® is waterproof and will protect the upper portion of your boot from getting wet, while also providing you cloth-like comfort.
If you are ready for some long wear boots that give you comfortable feet everyday, consider ALTAI™'s waterproof boots. For more information on our water resistant materials, give us a call today at 800-806-2611 or email us at info@altaigear.com.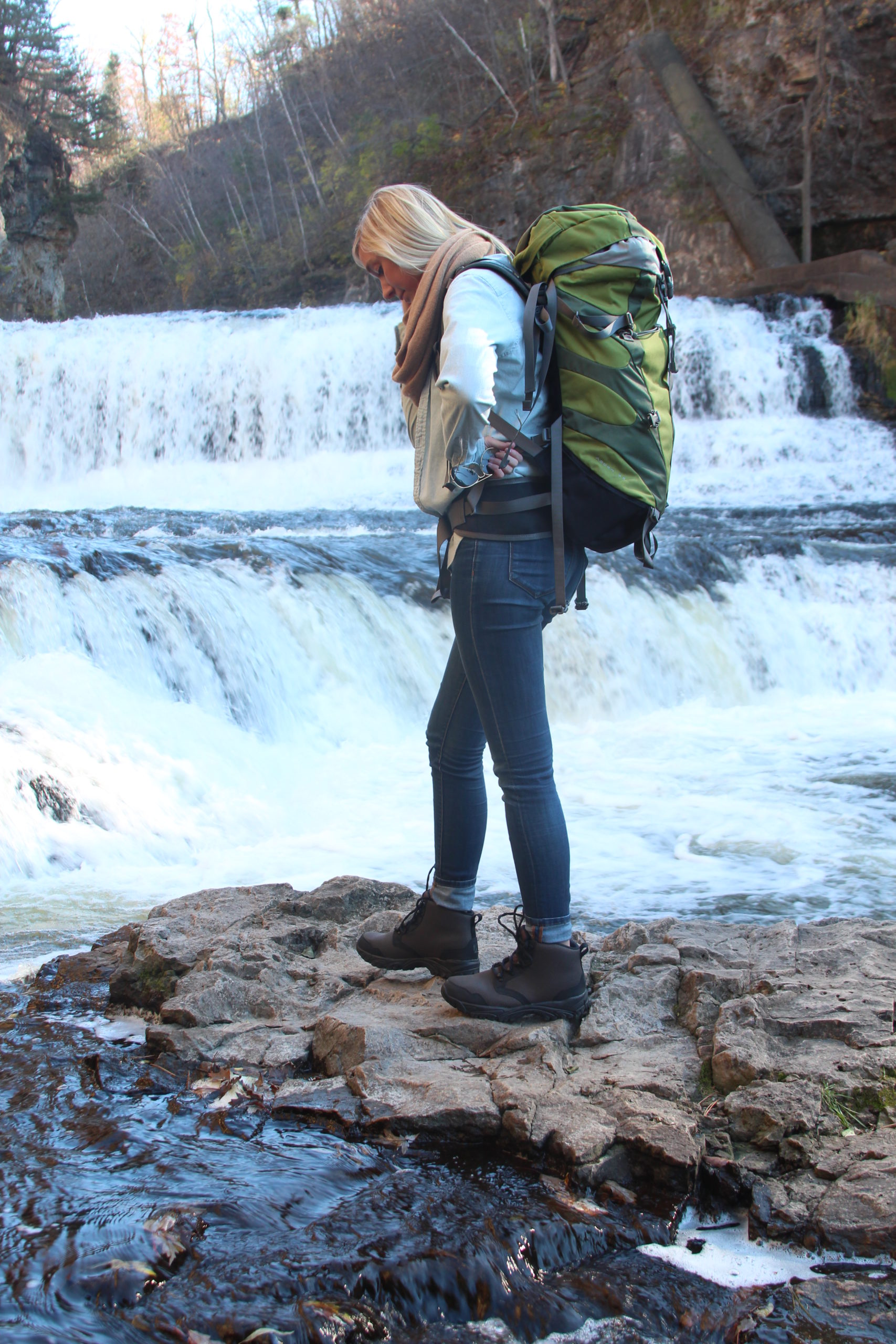 People don't tend to buy boots to just sit around the house. Instead, boots are known for being used in outdoor environments where one may experience various climates and terrain. At ALTAI™, we are proud to offer our customer's rugged boots for all terrain. Now is the time to invest in adventure boots that will keep your feet going throughout your journey, rather than dragging you down like so many of our competitors. On a trip, the last thing you want to deal with is your boots. Focus more on the world around you, and less on your feet by investing in our reliable and affordable adventure boots.
Boots For Traveling On Your Feet
Hearing about personal experiences that our customers have had with our adventure boots makes all of the hard work that we put into these boots worth it!
"Wore my ALTAI™ boots on the next stage of my attempt to visit all of America's national parks. The waterproof feature helped with fording the shallow streams on the way into the dunes and up to Zapata Falls at Great Sand Dunes National Park. Thanks to Colin Kaiser for telling me about these boots and to ALTAI™ Gear for selling them to me."- A recent post to our ALTAI™ Gear Facebook page from Chris Kaiser.
Whether you choose to explore national parks, or you prefer to hike your local landscapes, these adventure boots are the perfect footwear choice.
Waterproof Footwear
The term "waterproof" can be really misleading in the boot industry. So many boot merchants claim that their boots are waterproof, when they really just have a temporary spray on repellant chemical along the exterior of the footwear. When we say the term "waterproof" in regards to our ALTAI™ adventure boots, we truly mean it. Each material used to create our reliable tactical boots can repel water. So, if you are looking for waterproof footwear, ALTAI™ is the ideal boot choice for you!
When planning your next adventure, feel confident in your footwear by investing in adventure boots from ALTAI™. Your body can only go as far as your feet will take you, so make it a point to take care of them in 2016. Thanks to our lightweight, reliable, protective, breathable and waterproof features, your boots will be ready for any adventure you are up for. Give our boot specialists a call today at (800) 806-2611 or email info@altaigear.com to learn more about our ALTAI™ adventure boots.

If you have been thinking that you want to try a pair of ALTAI™ tactical or hiking boots, but are reluctant to order online because of sizing or style questions, you now have an additional retail outlet where you can now check out our durable and highly functional boots for yourself.  The Uniform Shoppe is one of our newest retail partners and now features our popular tactical boots, in Green Bay, WI.  You can find and try on a wide variety of ALTAI™ boot styles and decide which pair is best for your needs.
Try On ALTAI™ Tactical Boots At The Uniform Shoppe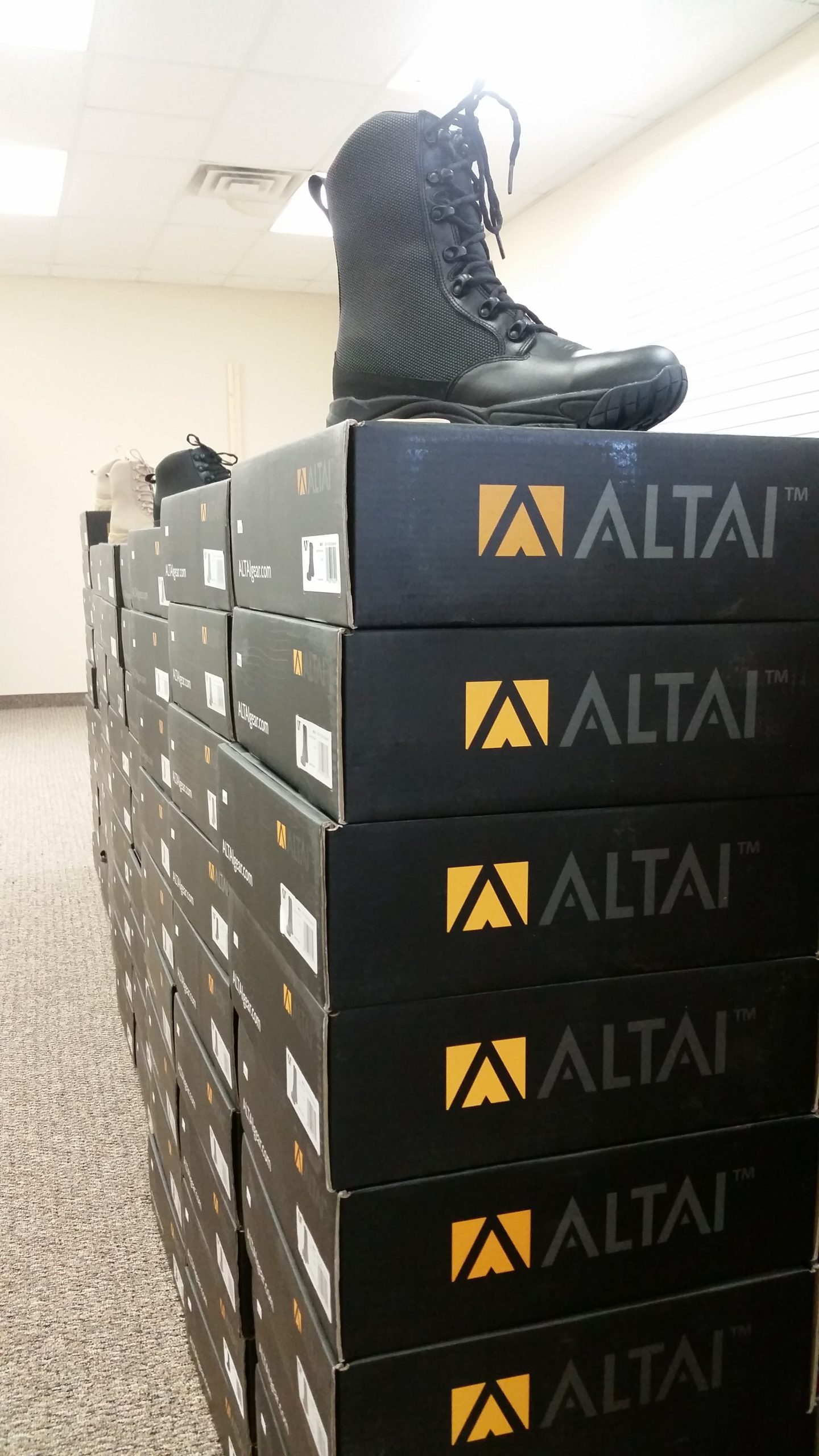 The Uniform Shoppe is located at 1816C Allouez Ave. in Green Bay, WI 54311.  This popular retailer features ALTAI™ boots in addition to duty gear, law enforcement equipment, outerwear, clothing and other footwear.  You can get fully geared up with one trip to the Uniform Shoppe.  This retailer has been serving law enforcement, fire, EMS and professional services communities in the Green Bay area since Since 1981.  With a full service tailoring department, you can walk into the Uniform Shoppe and get everything that you need to help you do your job!
The Uniform Shoppe and ALTAI™ Tactical Boots are great partners for many reasons.  ALTAI™ tactical boots are ideal for those in law enforcement, military or other active duty personnel.  Daily activity for those in these important positions can be grueling and highly functional shoes that can take you anywhere is extremely important.  You deserve footwear that will protect your feet, keep them dry and warm and provide support and comfort that will last.
Satisfaction Guaranteed For All ALTAI™ Products
ALTAI™ tactical boots are made from the highest quality materials and are backed by a workmanship guarantee. With normal use, if your boots fail due to a design flaw or defect within 1 year, you will be issued a refund, no questions asked.  Now that you can try on ALTAI™ Boots at The Uniform Shoppe in Green Bay, you know that you will be able to find the size and the style that works best for you and feels great on your feet.  Stop by and try them on today and see what you have been missing.
The Uniform Shoppe can be reached at 1-(920) 406-3046 if you have questions about their inventory.  If you want to learn more about all the various boot styles from ALTAI™, email info@altaigear.com.