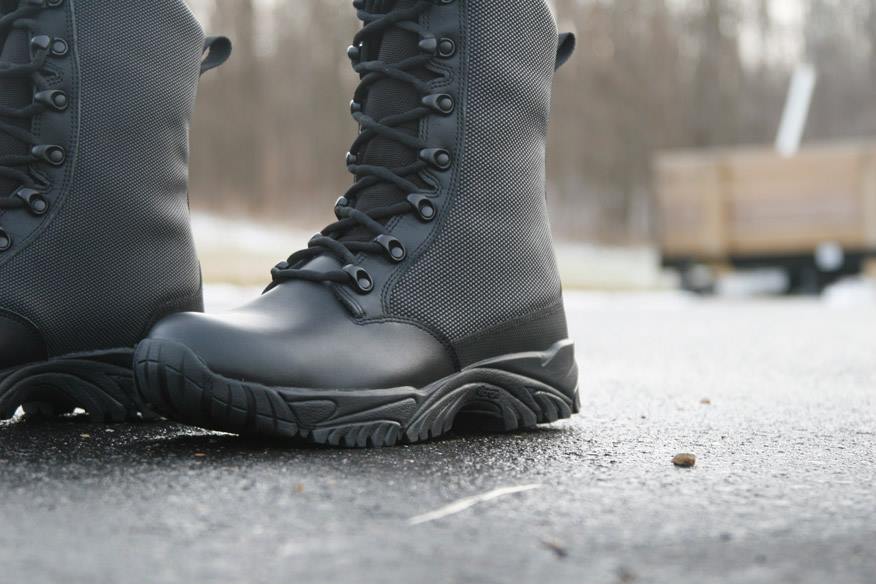 Having a durable pair of urban exploration footwear can come in great handy when spending hours on your feet. ALTAI™ footwear will give your body the endurance it needs to battle any elements, in any environment, at any time. From the protective animal free products to our sleek and versatile styles, our tough urban footwear can be put up against anything. The scientifically engineered materials that we use makes for an amazing boot! Keep your feet protected from:
Lacerations
Extreme Elements
Abrasions
Fatigue
Slips & Falls
Not only is the protection superb on our high-quality explorer's boot, but the additional attributes as well hold high on the convenience list. For instance our speed lacing feature. Speed lacing will help the processes by providing a stronger lace pull, time spent on tying, and a tighter lace hold. Our lightweight materials that we use are durable and rustproof for long lasting use. For the most comfortable and durable pair of urban exploring boots, shop now. Your feet will thank you for years down the road!
Multi-Functional Urban Exploration Footwear
Add to your exploring gear list, or to a loved one for the holidays. Either way whoever receives the great gift of carrying on with comfort can be everlasting. Our multi-functional urban exploration footwear options have all grounds covered when in need for an amazing pair of boots. Having a lightweight boot that will get through the extreme weather is a must when out in the elements. When you:
Explore State Capitol Buildings
Explore Museums and Monuments
Explore River Beds or Lakes
Explore the Night Life
Explore the Tallest Skyscraper
When you explore anything and everything the only common ground you will have is the comfort of ALTAI™ under your feet. Getting you there, pushing you every step of the way like a life coach without a voice, just guidance. Our extremely protected and stylish footwear is also non-slip for when you are attempting to leap from rock to rock crossing a river or walking on the wet marble floor entering a restored building. Wherever your destination may be, whatever happens during the journey. You will know that you are protected with the footwear from us. Your high or low top options come in many other varieties of styles check through our extreme environment urban exploration boots today!