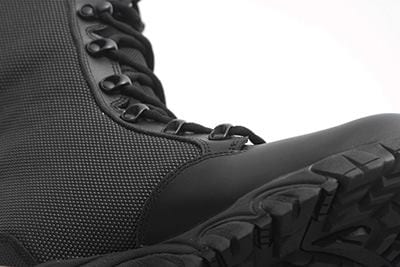 Looking for combat boots? Our line of Multi-Functional Boots come in a variety of Colors, Sizes and Styles to choose from. Our Combat Boots can protect you when you're On-Duty, Over Seas, Fighting Crime and even in your backyard. Buy the boots great for every application – ALTAI™ Boots! Go the extra mile in a pair of boots made to outperform the rest.
Combat Boots for On Duty
Combat boots are designed to hold up in battle. So when things get tough, you can safely trudge through knowing your footwear is up to the task. Law enforcement has to be up for anything, at any time when on duty to protect citizens from harm and hazardous conditions, you owe it to yourself and your local community to invest in footwear that secures every step you take. Check out our Combat Boot with a Leather Toe, a great boot for police officers.
Check out our Q&A on PoliceOne.com!
Military Combat Boots
Our line of Boots are great for Boot Camp, Military Training and for Military Men and Women everywhere. We have a Military Style Combat Boot in Tan and Black. Our boots are built for comfort and built to last. From the moment you take them out of the box for the first time they will give you an unbelievable fit that will help protect you and ensure you can give it your all.
Everyday Combat Boots
Combat boots aren't exclusive to those in the Military and Law Enforcement. No, our line of Combat Boots are durable enough to fit the needs of our military and also comfortable enough for the average joe to wear around daily. Many people use our Combat Boots for day long hikes, shoveling the driveway, vacations, work on the farm and even running. Whatever what your daily life looks like, if you are on your feet and need comfort, protection, water resistance and traction – our ALTAI™ Boots are for you!
Purchase Combat Boots Online or In Store
If you would like the convenience of our Combat Boots shipped to your door within the next couple of days – Order Your Pair of Boots Now – we offer free shipping, free size exchanges and free 30 returns with no paid shipping. We are confident in our product! If you would rather try the boot on for yourself and make a decision in person, drive to our Woodbury, Minnesota Shop or locate one of our Midwest Retailers.