Long Lasting Comfort and Protection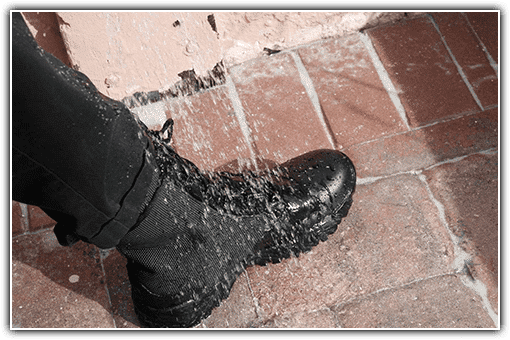 Hours spent on your feet during another long workweek are a harsh reminder that a dependable pair of comfortable work boots is one of your biggest assets. Up to 25 percent of workplace injuries could be prevented by wearing the right footwear for the job. Slip and fall injuries, sprains, punctures and even back pain can be associated with having the wrong work boots. Tactical boots worn by police officers and military personnel perform extremely well in industrial atmospheres. ALTAI™ Boots provide long lasting Comfort and Protection for weary feet. The unique SuperFabric® Upper is resistant to abrasions and punctures as well as being Lightweight, Waterproof and Breathable.
Prevent Workplace Injuries
Work environments are often filled with safety hazards. The right pair of boots can help to keep you safe. ALTAI™ Tactical Boots provide excellent traction, comfort and protection on the job. The SuperFabric™ Upper is engineered to perform in some of the most hazardous conditions. It can protect your feet from puncture wounds and abrasions. You can choose from boots that go up past your ankle to provide support and protection or a low top version.
Highest Quality Materials
With this type of protection you might expect the material to be heavy or cumbersome. They are the exact opposite. SuperFabric® is Lightweight and Flexible. It allows your feet to breath and stay dry even in snow or water. Your boots can stay looking great by simply hosing them off after a long day of work or play. They will quickly be dry and ready to go again.
A rugged Vibram® Sole provides great traction and stability. ALTAI™ Boots are designed to be slip resistant and are light enough to keep you nimble on your feet. The chances of having a bad fall can be greatly reduced.
You may also notice that you are less tired and sore after work due to the supportive comfort of an EVA midsole that is incorporated into every pair of ALTAI™ Tactical Work Boots.
Advantages of Top Quality Work Boots
Better Foot Protection
Better Safety on the Job
Long Lasting Comfort
Waterproof
Lightweight
Breathable Upper
Slip Resistant
Great Traction and Stability
Durability High Quality Materials
Resistant to Stains, Slashing and Puncture
Less Foot Fatigue, Joint Pain or Back Pain
Secure Speed Lacing System
ALTAI™ Tactical Work Boots
ALTAI™ Boots perform extremely well in a wide variety of environments. This is due to an advanced design made from the Highest Quality Materials. More Comfort and Workplace Safety are two of the reasons to choose ALTAI™ Tactical Work Boots to wear every day. You can expect great performance and protection from ALTAI's durable, lightweight footwear.
Contact ALTAI™ for the best pair of boots that you have every owned. Order Online or Call Today at 800-806-2611