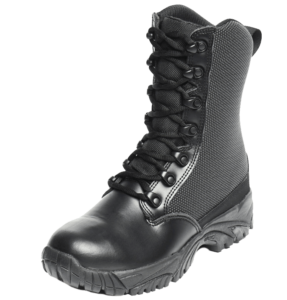 Being a law enforcement officer is no easy task. One of the most difficult parts about the job is that you never know what each work day will bring. You could find yourself behind a desk doing paperwork, chasing a criminal through difficult terrain, or trying to pull a vehicle out of deep mud. In order to be a successful law enforcement officer, your boots can not hold you back from whatever environment you are dealt during your work day. The best way to ensure that your boots don't hold you back is to invest in a reliable, comfortable and protective pair of boots that are built to last. At ALTAI™, that is exactly what you get when choosing to use our lightweight and waterproof tactical boots, plus even more!
Top Notch Boots for All Conditions
When creating our ALTAI™ tactical boots, our primary focus was comfort and protection, the best of both worlds. Thanks to the use of SuperFabric® in the construction of our boots, we're able to keep your feet feeling good and protected, all at the same time. This type of fabric combines cloth and armored plates to create a top notch law enforcement boot. Another reason why law enforcement officers choose ALTAI™ boots over our competitors is because our boots are truly waterproof. So many of our boot competitors claim to offer waterproof boots, but all they really do is use spray on waterproofing chemicals that only work temporarily. By choosing ALTAI™ tactical boots, each and every material used to create these top notch boots can withstand water.
Speed Lacing System
As a law enforcement officer, you have to be ready to go whenever your radio informs you that backup is needed. The last thing that you want to do at that time is tie your shoes. A matter of seconds can be the difference between a life or death situation. Thanks to the ALTAI™ speed lacing system, your boots will stay tied all shift and will maintain a continuous hold so that your boots are on just as tight at the end of your shift as they were when you first put them on.
At ALTAI™, we have a passion for keeping the feet of law enforcement officers safe and protected. If you are in law enforcement and are struggling to find a pair of reliable, long lasting tactical boots that are also comfortable, ALTAI™ has you covered. Give us a call today at (800) 806-2611 or email info@altaigear.com to learn more about our law enforcement boot features.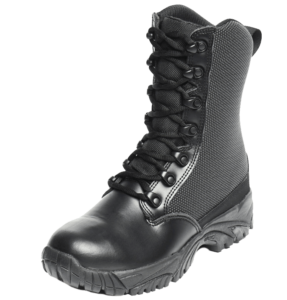 When you have a job to do, it's important that you carry the right equipment with you to get it done. High quality, comfort, support, and protection are important things to look out for when you are trying to find the right pair of tactical boots. At ALTAI™, we have everything you need in a boot to make it worth your while. Our Women's tactical boots are incomparable to the rest.
Rugged Like A Woman
When you think about our tactical boot, you think about something that is strong, durable, and can outlast anything that the outdoors throws its way. Same can be said for a woman. Women are strong, durable, and function at an extremely high capacity. Shouldn't your boots do the same? The upper portion of the boot is designed with SuperFabric®, which is made out of cloth and armor plates. This gives the boot the durable protection it needs while also providing comfort. The sole of the boot is made up of Ethylene-vinyl acetate, also known as EVA. This is a waterproof and lightweight material that is also shock absorbent, providing support and protection for many, many uses. The soles of our women's tactical boots are made of VIBRAM®. This material is tested to withstand just about anything. It is slip resistant, oil resistant, lightweight, durable, and field tested to be perfect for the great outdoors.
Upcoming Features
Not only is our multifunctional tactical boot the right choice, it gets better everyday. This breathable and waterproof boot also can be customized. Need a polishable toe? What about a a toe with SuperFabric®? Advanced mud guard? How about our latest addition: a side zipper on the women's tactical boot?
Women's Sizes
Women are a force to be reckoned with. When a woman is working outdoors, it's important that her force be impactful, not cut short for the lack of support from her boots. This is why ALTAI™ makes tactical boots specific to women and the contour's of their feet. If you are ordering online, consider going down 1.5 sizes in your normal shoe size. Our sizes are approximately 1.5 sizes bigger than your standard shoe. Ensuring that you have the right size makes all the difference in the world.
If you are looking for the right women's tactical boot, look no further than ALTAI™ Gear. For more information about our boots, give us a call today at (800) 806-2611 or send us an email at info@altaigear.com.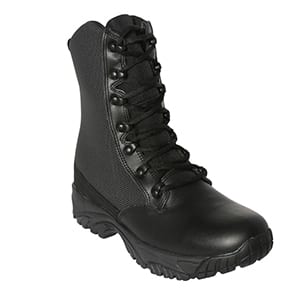 When shopping for a pair of boots, one of the key ingredients of a quality pair is that they are multi-functional and diverse. Most individuals that wear boots on a regular basis come into contact with a wide range of conditions, and the expectation is that the boots will hold up regardless of what comes their way. Thanks to our team at ALTAI™, there is finally a boot on the market that can truly give you that peace of mind.
Reliable Boots for Diverse Uses
At ALTAI™, our customers come from a wide variety of backgrounds. It makes sense because once you find a tactical boot that is comfortable, protective and long lasting, you stick with it! Often times, we see law enforcement officers, military personnel, outdoorsman and hikers utilize our boots that were born to outperform! We credit the success of our tactical boots to our listening skills. Before creating this multi-functional tactical boot, we listened to what individuals were continuously missing with the boots they were purchasing. Where other boot merchants fell short, we made it a point to excel so that our boots would stand out from the rest.
Unique Features of ALTAI™ Tactical Boots
The key features of our tactical boots that keep our customers happy include:
● SuperFabric® - This unique material is used in the upper section of our boots. Made from a combination of armor plates and cloth, the upper boot is very comfortable and extremely protective. This type of material can also be found in motorcycle equipment and is also used by Ferrari.
● VIBRAM® Soles - The soles of our boots are what keep them lasting so long. In addition to the long life expectancy, our VIBRAM® soles are lightweight, shock absorbent, slip resistant, non-marking and protective.
● Comfortable - One of the nicest things about our tactical boots is that you don't have to spend weeks wearing them in before they become comfortable. Our tactical boots are as comfortable the first time that you put them on as they will be 3 months down the road. Say goodbye to breaking in your boots once you choose ALTAI™.
● Waterproof - So many boot merchants state that their boots are waterproof, but is it really true? Unfortunately, what they consider to be waterproof is simply a spray on application that is only temporary. With ALTAI™ tactical boots, every material used to create these boots can withstand water, creating a truly waterproof boot.
If you love spending time outdoors in your free time or if your occupation requires you to be on your feet in various conditions, it is time that you found a tactical boot that outperforms the rest. By choosing ALTAI™ tactical boots, that is exactly what you'll get. Give us a call today at (800) 806-2611 or email info@altaigear.com to learn more about our multi-functional boots.
Whether you are outside for business or for pleasure, the right equipment is a must for any outdoorsman. ALTAI™ boots are the perfect fit for anyone spending a considerable amount of time outside. This is because our boots are specifically designed to bring comfort and quality to an otherwise undesirable and definitely not comfortable market of boots.
Versatile Boots
ALTAI™ boots were created to be both comfortable and durable. We focused on creating a boot that would keep your feet warm and toasty in the cold and cool during the midday scorching sun. Basically, we needed a versatile boot that solved all of your typical boots' contradictions. We corrected this problem by using a material on the exterior upper boot called SuperFabric®. SuperFabric® is a highly advanced technological fabric that is made up of soft fabric and small armor plates. This offers comfort-ability and breath-ability at the same time. This fabric is well placed so that your feet stay warm and protected in all the right places.
Key Functions
The number one thing that outdoor enthusiasts ask for in a tactical boot happens to be durability. What's the point in comfort-ability if your shoe doesn't protect you from the sharp rocks or broken glass on the ground, right? The ALTAI™ boot is made to be durable. It is abrasion resistant, slip resistant, protective, and shock absorbent. The sole of the boot is waterproof, lightweight, and made from Ethylene-vinyl acetate, which can protect you from sharp objects in the outdoors. It is made to last so that your feet show no fatigue even when you've been on the go all day. Lastly, these boots are truly waterproof and we aren't talking about the "spray on" version either. Every material in this boot is made to resist water so that your feet stay dry no matter what kind of environment you are in. There is no "seeping in" with these boots. The materials repel water instead of absorb. No more soggy shoes!
If you are looking for tactical boots that will last, look no further than our tactical boots at ALTAI™. We've got the right material and right design to make these boots the most comfortable, breathable, and durable boots that your little piggies have ever slipped in. For more information about our tactical boots or to purchase your own pair today, give ALTAI™ a call at (800) 806-2611 or send us an email at info@altaigear.com.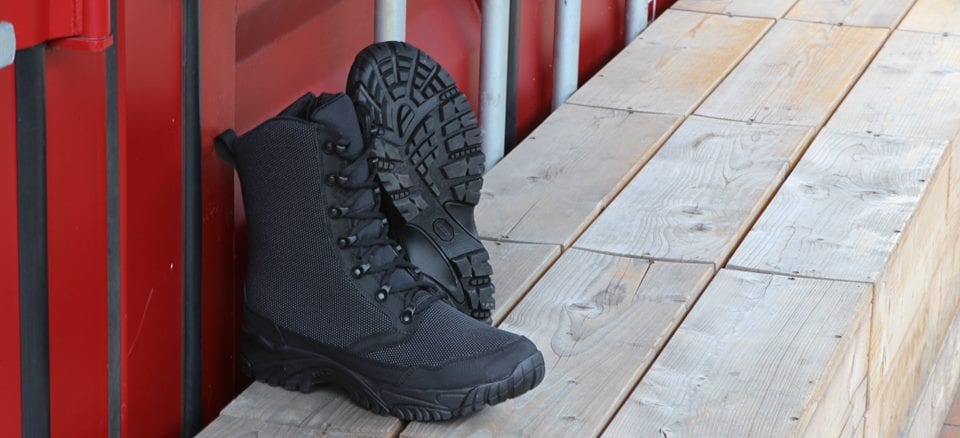 Looking for a quality black boot? One you can take fishing, hunting, shoveling the driveway, hiking, taking the dog on a walk, weekend projects and even for work? ALTAI™ has the Black Boot for you. Not only will they comfort and protect your feet but they will look good while they do, for years to come. Another fantastic feature of our black boot selection is that the cleaning our tactical boots is quite simple. For an all around fantastic fitting boot that comes with a bounty of benefits shop our highly rated black boots online.
Features of our Black Boots
All of our boots have the same level of quality construction and we stick to a pretty uniform design, simply because it works. Our entire selection of black boots have the following features:
Water Resistant
Slash Resistant
Stain Resistant
Easy to Clean
Comfortable Last
Foot Support
Speed-Lacing
Flexible
Breathable
Slip Resistant
Sleek Design
Light-Weight
Protective footwear doesn't have to slow you down! Our boots are 5 ounces lighter than the average tactical boot!
Our Selection of Black Boots | All On SALE Now!
ALTAI™ MF 8″ Tactical Boot Model: MFT200 - At a reduced price of $144.99, this boot stands 8" tall and composed of waterproof materials from the bottom sole to the top of the Superfabric covered boot. If you are expecting to be around water or you need more ankle support - we recommend our high top black boot. This generation has an added advanced mudguard for even more protection against the elements.
ALTAI™ MF 6″ Tactical Boot Model: MFT200-S - Reduced to $134.99 for a short time, this low top black boot has all the same features and is completely surrounded in Superfabric as well. A rugged choice when looking for less boot and wanting more mobility over support.
ALTAI™ MF 8″ Tactical Boot Model: MFT100 - Are you looking for a leather tactical boot? Sticking with what you know is perfect - if it works for you. ALTAI™ does not make a complete leather boot but we do have black boots with a leather toe. On sale for $149.99 at the moment. With these boots, you'll get the strength of Superfabric and also the polished look of quality black leather at your toes.
ALTAI™ MF 6″ Tactical Boot Model: MFT100-S - At $139.99 this model is the low top version of the above black leather toe tactical. Great for everyday wear and whenever you are on your feet.
Check out all of our Tactical Boots On Sale!
Save
Save
Save
Save
Having a career or lifestyle of saving others while putting your life on the line is a very admiral choice of passage during your journey here on Earth. Here at ALTAI™, our footwear is designed to withstand many different forms of punishment. We believe that every aspect of your tactical gear should work to benefit you and keep your feet on securely the ground. From the sole of your 8" side zip combat boot to its' tight and cozy uppers, having the best materials with a form-fitting inner sole around your foot will increase endurance and speed to get out there and achieve the task at hand. Whether you are EMT, fire, police, survival expert, military, or any path of work that requires a strong, durable black tactical boot have your feet be treated by trying our footwear here at ALTAI™.
Benefits to Side Zip Combat Footwear
While maintaining our quick drying, breathable abilities our stylish combat boots' zipper is on the inside of the ankle, preventing the least amount of contact and chances for catching. Along with looks, there are many great attributes to our new black side zip tactical boots such as;
Saving Time- Along with our speed lacing advancements on our footwear, the side zipper helps tie up when you had to leave minutes ago. Be ready in seconds with our innovative zipper/speed lace design. Having minutes to spare can always help when constantly on the go!
Variety for Uses- The quick on and off  process with this rugged, quick-drying combat strength boot makes for many uses besides emergency. Hiking, camping, fishing or anytime you are in need of a secure boot that will see water, snow and desert and still stand with you put on your ALTAI™.
Side-Zip Combat Boots
Instead of pulling a lengthy cord from to eject, you're zipping up or down to quickly to remove your feet or put them in when necessary. Our abrasion resistant side zip tactical footwear is ready for you, let ALTAI™ help you pave your trail. Shop now for our online sales and don't forget to stop back to check out more of our new styles coming soon! You can find & pre-order our boots online to make sure there is a pair in your size shipped out the day they release!
Find one of our local ALTAI™ Midwest Retailers, shop our boots online or call us with inquiries at 1-800-806-2611.
Save
Save
Save
Save
Save
On any given work day, a healthy portion of my time is spent tucked away in a cubicle, aiding in a myriad of administrative functions aimed at assuring daily operations run smoothly. But outside of business hours, my life is far from stationary. Between two dogs demanding outlets for their energy and a wife that loves any activity (as long as it involves running), I am always on the move. I believe it is for this reason that I was selected by the team to be the first wear test for the new ALTAI™ MFT100-Z. (more…)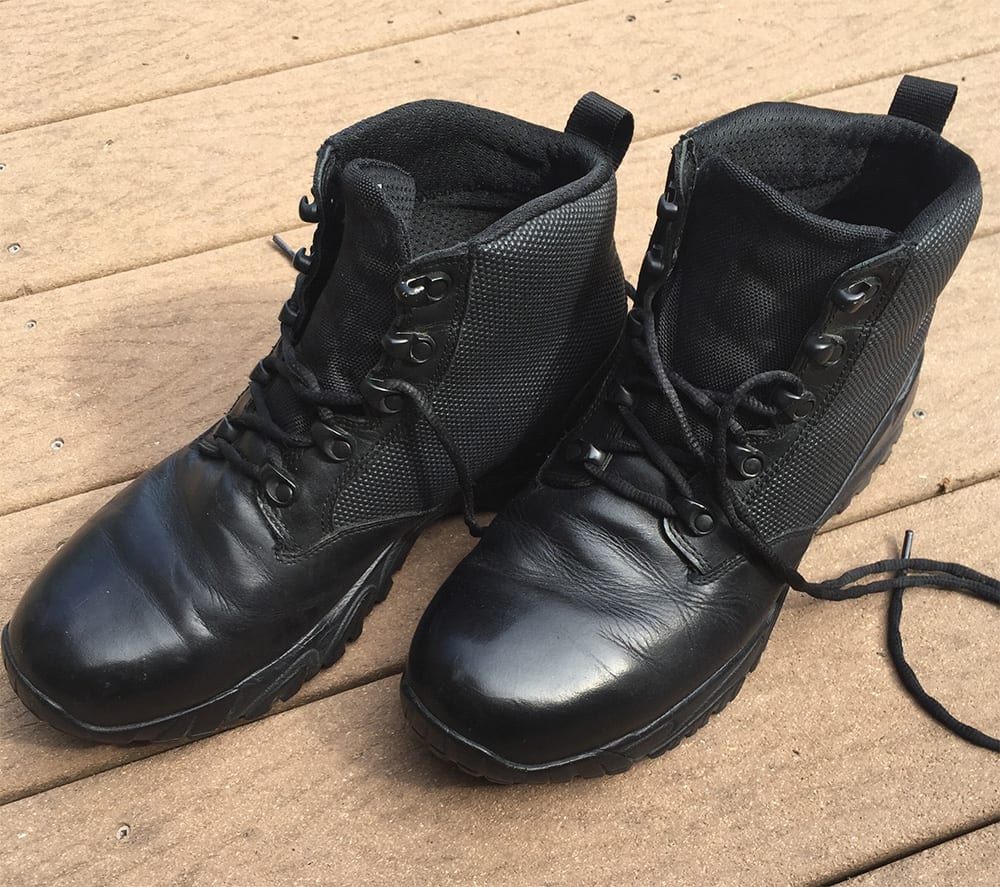 A promising 6-inch black boot that can be taken many places and handle a beating is one worth purchasing and the ALTAI™ Black Tactical Boots are designed to do just that. From water, ice and snow to sand, rock and professional attire our versatile tactical boots can protect your feet and easily clean up. The 6" Polishable Leather Black Tactical Boot is a favorite for many law enforcement officers, we also offer a 6" SuperFabric Black Tactical Boot great for slash resistance when you need protective equipment and the armor coated fabric doesn't wear due to water contact, it is built to withstand it seamlessly.
6 Inch Black Work Boots
Need to go to the office when you work? Our Black Tactical Boots clean up for work and are comfortable to wear, making it an easy choice when trying to select the right Black Tactical Boot for yourself or another.
Features of our Work Boots
Non-marking Soles
Oil Resistant
Stain Resistant
Arch Support
Lightweight
Comfortable
6 Inch Black Waterproof Boot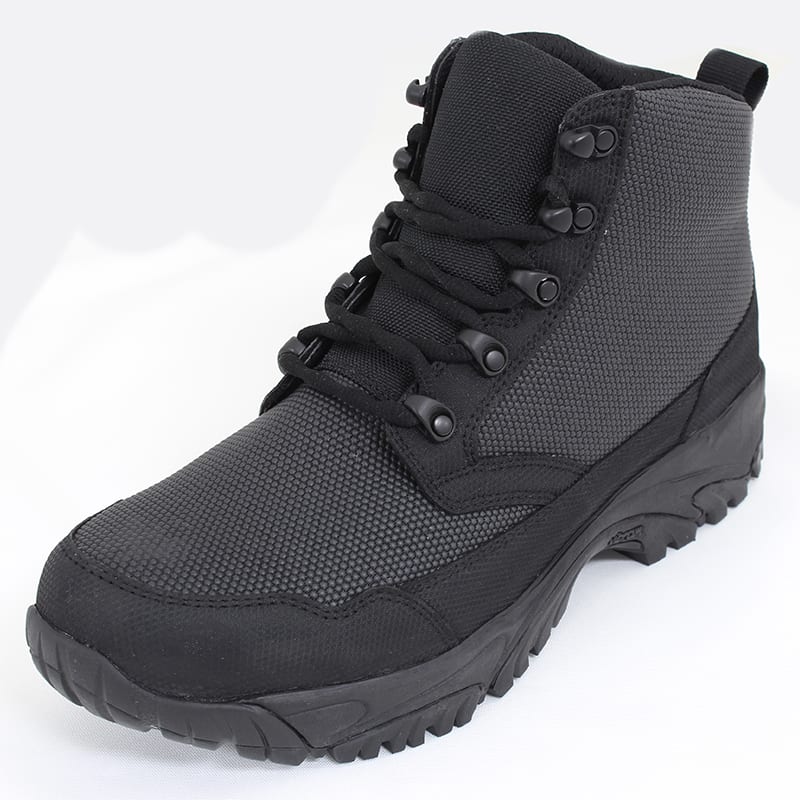 Taking your boots on an adventure? Make sure the pair you have on your feet can protect you because footwear makes a difference. Water is all around, rivers, lakes, storms, oceans, in homes and we need it which is why we have designed Black Tactical Boots that offer outstanding water resistance. From the rubber soles to the inner liner, our boots are designed to keep water out, yet at the same time allow air molecules in. That is the science of SuperFabric and we have utilized it.
Cloth Repels Water
Tight Speed Lacing keeps Boot Sealed
Sole Grips Securely in Water
Surface Quick Dry
Shop our 6 Inch Tactical Boots
Are you the kind that likes to buy online? Purchase our Tactical Boots Online through our Website and receive free shipping. We have a very informative sizing chart and many sizes to choose from - both Men and Women. If for some reason you want another size, you pay no shipping, if you want to return them within 30 days, you pay no shipping. It's on us, because we know we will deliver.
Rather shop at a store? Come by our Woodbury, Minnesota Headquarters, we have a showroom with all our styles. We also have local Midwest Retailers selling ALTAI™ Tactical Boots around Minnesota and Wisconsin. We have partnered with many Uniform Shops and Outdoor Apparel Companys to allow any interested customers to try on our boots for themselves and see the quality before you make the purchase.
Save
Save
Save
Save