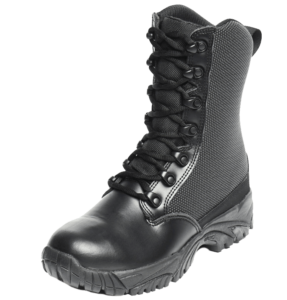 When you have a job to do, it's important that you carry the right equipment with you to get it done. High quality, comfort, support, and protection are important things to look out for when you are trying to find the right pair of tactical boots. At ALTAI™, we have everything you need in a boot to make it worth your while. Our Women's tactical boots are incomparable to the rest.
Rugged Like A Woman
When you think about our tactical boot, you think about something that is strong, durable, and can outlast anything that the outdoors throws its way. Same can be said for a woman. Women are strong, durable, and function at an extremely high capacity. Shouldn't your boots do the same? The upper portion of the boot is designed with SuperFabric®, which is made out of cloth and armor plates. This gives the boot the durable protection it needs while also providing comfort. The sole of the boot is made up of Ethylene-vinyl acetate, also known as EVA. This is a waterproof and lightweight material that is also shock absorbent, providing support and protection for many, many uses. The soles of our women's tactical boots are made of VIBRAM®. This material is tested to withstand just about anything. It is slip resistant, oil resistant, lightweight, durable, and field tested to be perfect for the great outdoors.
Upcoming Features
Not only is our multifunctional tactical boot the right choice, it gets better everyday. This breathable and waterproof boot also can be customized. Need a polishable toe? What about a a toe with SuperFabric®? Advanced mud guard? How about our latest addition: a side zipper on the women's tactical boot?
Women's Sizes
Women are a force to be reckoned with. When a woman is working outdoors, it's important that her force be impactful, not cut short for the lack of support from her boots. This is why ALTAI™ makes tactical boots specific to women and the contour's of their feet. If you are ordering online, consider going down 1.5 sizes in your normal shoe size. Our sizes are approximately 1.5 sizes bigger than your standard shoe. Ensuring that you have the right size makes all the difference in the world.
If you are looking for the right women's tactical boot, look no further than ALTAI™ Gear. For more information about our boots, give us a call today at (800) 806-2611 or send us an email at info@altaigear.com.