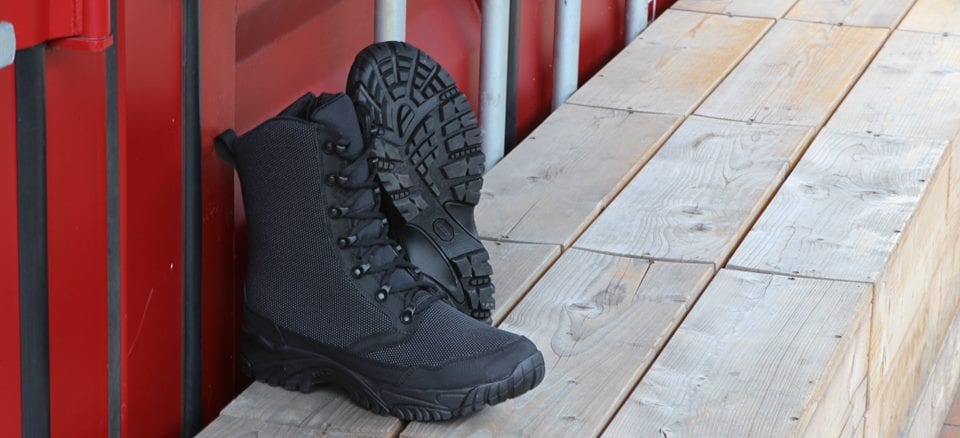 Looking for a quality black boot? One you can take fishing, hunting, shoveling the driveway, hiking, taking the dog on a walk, weekend projects and even for work? ALTAI™ has the Black Boot for you. Not only will they comfort and protect your feet but they will look good while they do, for years to come. Another fantastic feature of our black boot selection is that the cleaning our tactical boots is quite simple. For an all around fantastic fitting boot that comes with a bounty of benefits shop our highly rated black boots online.
Features of our Black Boots
All of our boots have the same level of quality construction and we stick to a pretty uniform design, simply because it works. Our entire selection of black boots have the following features:
Water Resistant
Slash Resistant
Stain Resistant
Easy to Clean
Comfortable Last
Foot Support
Speed-Lacing
Flexible
Breathable
Slip Resistant
Sleek Design
Light-Weight
Protective footwear doesn't have to slow you down! Our boots are 5 ounces lighter than the average tactical boot!
Our Selection of Black Boots | All On SALE Now!
ALTAI™ MF 8″ Tactical Boot Model: MFT200 - At a reduced price of $144.99, this boot stands 8" tall and composed of waterproof materials from the bottom sole to the top of the Superfabric covered boot. If you are expecting to be around water or you need more ankle support - we recommend our high top black boot. This generation has an added advanced mudguard for even more protection against the elements.
ALTAI™ MF 6″ Tactical Boot Model: MFT200-S - Reduced to $134.99 for a short time, this low top black boot has all the same features and is completely surrounded in Superfabric as well. A rugged choice when looking for less boot and wanting more mobility over support.
ALTAI™ MF 8″ Tactical Boot Model: MFT100 - Are you looking for a leather tactical boot? Sticking with what you know is perfect - if it works for you. ALTAI™ does not make a complete leather boot but we do have black boots with a leather toe. On sale for $149.99 at the moment. With these boots, you'll get the strength of Superfabric and also the polished look of quality black leather at your toes.
ALTAI™ MF 6″ Tactical Boot Model: MFT100-S - At $139.99 this model is the low top version of the above black leather toe tactical. Great for everyday wear and whenever you are on your feet.
Check out all of our Tactical Boots On Sale!
Save
Save
Save
Save