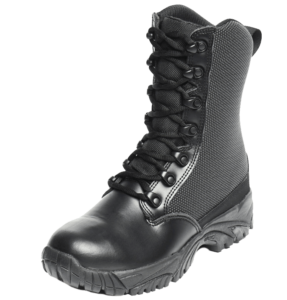 Being a law enforcement officer is no easy task. One of the most difficult parts about the job is that you never know what each work day will bring. You could find yourself behind a desk doing paperwork, chasing a criminal through difficult terrain, or trying to pull a vehicle out of deep mud. In order to be a successful law enforcement officer, your boots can not hold you back from whatever environment you are dealt during your work day. The best way to ensure that your boots don't hold you back is to invest in a reliable, comfortable and protective pair of boots that are built to last. At ALTAI™, that is exactly what you get when choosing to use our lightweight and waterproof tactical boots, plus even more!
Top Notch Boots for All Conditions
When creating our ALTAI™ tactical boots, our primary focus was comfort and protection, the best of both worlds. Thanks to the use of SuperFabric® in the construction of our boots, we're able to keep your feet feeling good and protected, all at the same time. This type of fabric combines cloth and armored plates to create a top notch law enforcement boot. Another reason why law enforcement officers choose ALTAI™ boots over our competitors is because our boots are truly waterproof. So many of our boot competitors claim to offer waterproof boots, but all they really do is use spray on waterproofing chemicals that only work temporarily. By choosing ALTAI™ tactical boots, each and every material used to create these top notch boots can withstand water.
Speed Lacing System
As a law enforcement officer, you have to be ready to go whenever your radio informs you that backup is needed. The last thing that you want to do at that time is tie your shoes. A matter of seconds can be the difference between a life or death situation. Thanks to the ALTAI™ speed lacing system, your boots will stay tied all shift and will maintain a continuous hold so that your boots are on just as tight at the end of your shift as they were when you first put them on.
At ALTAI™, we have a passion for keeping the feet of law enforcement officers safe and protected. If you are in law enforcement and are struggling to find a pair of reliable, long lasting tactical boots that are also comfortable, ALTAI™ has you covered. Give us a call today at (800) 806-2611 or email info@altaigear.com to learn more about our law enforcement boot features.