The process of making shoes is more complex than you might think. Many people believe the material of the shoe is what's most important, but the construction of the shoe is just as vital. Just as there are different kinds of shoes, there are also various types of construction methods. Learning how shoes are constructed can help people choose boots and shoes with ease. We put together a guide regarding the different types of boot construction methods, so read on to learn more.
Cemented Construction
Cemented construction is just one of the different types of boot construction methods. We should note that ALTAI® uses the cemented construction method. With the cemented construction method, the upper part of the shoe is glued to the sole with a strong adhesive. This method is different from others because there's no stitching or welt involved. This is more of a disposable shoe as it falls apart more easily than other construction methods. Typically, fast fashion companies use this construction method. One way to tell if a shoe is constructed this way is to look at the outsole, since a cemented shoe doesn't have stitching. The outsole is the material that's at the bottom of the shoe's exterior. This is the part of the shoe that touches the ground.
Vulcanized
Another construction method for shoe making is referred to as vulcanization. The vulcanized method is mostly used to make sneakers, but rubber boots can also be made this way. This method is more durable than cemented construction. The process of vulcanization makes the rubber more durable. An interesting process is used to make shoes this way. Chemicals and high heat are used to melt the rubber, which allows it to bond with other materials. This is an efficient method because multiple shoes can vulcanize at the same time. This means it's cheaper to produce shoes this way. Since these shoes are made in a chamber, you might be wondering how they're made. An aluminum last is used to ensure it can endure the extreme heat in the chamber.
Blake Stitched
The Blake stitch is another construction method for shoes. Lyman Reed Blake originally thought of this method, but eventually sold the patent to Gordon McKay. Some people refer to it as Blake Stitched, whereas other refer to it as McKay. Either name is recognized. This is one of the first mechanized methods for making shoes. It's a quick and simple method, which makes it cost-effective.  A Blake stitched shoe has a stitch that goes through the insole, outsole, and upper. As previously mentioned, the outsole is the part of the shoe that touches the ground. The insole is the inside of the shoe, and the upper is the part of the shoe that covers the foot. Most shoes made using this construction method are not water-resistant. Blake stitched shoes can be resoled if the machine can do Blake stiches. The number of times a shoe can be resoled is limited since new holes are created in the uppers to remake the stich.
Goodyear Welt
The Goodyear welt is the most well-known type of shoe construction. The patent for this construction method was passed around from one person to another, but it ended up with Charles Goodyear Jr. This is where the name comes from, as you might have guessed. One of the biggest differences from other methods is that there's a canvas rib under the insole. The canvas rib is glued to the perimeter of the sole and a leather strip is attached. A welt is a strip of material that's sewn around the edge of an upper. It's common for the welt to be leather, but it can also be made of a different material. The Goodyear welt method makes durable and water-resistant boots. Another benefit associated with this construction method is that it's easy to resole. This is because you can remove the sole stich and outside without the upper and insole being affected. The only downside is that shoes made with this construction method are not as flexible as a Blake stitch, for example. This is one of the only downsides as this construction method is very water-resistant and durable.
Hand Welted
Another method for shoe construction is hand welting. This method is essentially the same technique as Goodyear. The difference is in the name, as this construction method is not done by machine. After the shoe last is complete, the welting is done by hand. This construction method is not as common as some of the other construction methods. Very few shoemakers use this method as it's very time consuming. The amount of time it takes to hand welt a shoe makes it very expensive.
Norwegian Welt
Lastly, the Norwegian welt is another construction method used to create boots. This method originates in Italy. This construction method is intended to make shoes that are waterproof. Rather than attaching the upper to the feather of the insole, it does something different. The upper is turned outward and runs parallel with the outsole. The Goodyear has only one exterior stitch, but the Norwegian has two. The outsole stitch holds together the upper, midsole, and outsole. The Norwegian stitch keeps together the upper and the insole. A cavity is created between the welt and the insole. A filler is often used to cover this cavity. Cork is commonly used to fill this cavity, but other materials can be utilized as well. Norwegian-welted boots are the most reliable construction method.
When you buy boots, it's important to understand the construction methods used to make them. This ensures that you buy the right boots for your lifestyle. The construction method is just as important as the materials used, so make sure to do your research.
At ALTAI®, we offer high-quality tactical performance boots. Our boots are extremely durable thanks to the SuperFabric® upper and custom Vibram® outsole. Our boots are durable, lightweight, and comfortable. Plus, our boots are waterproof. At ALTAI®, we want you to be comfortable and supported. Feel free to give us a call if you have any questions—we'd be happy to help!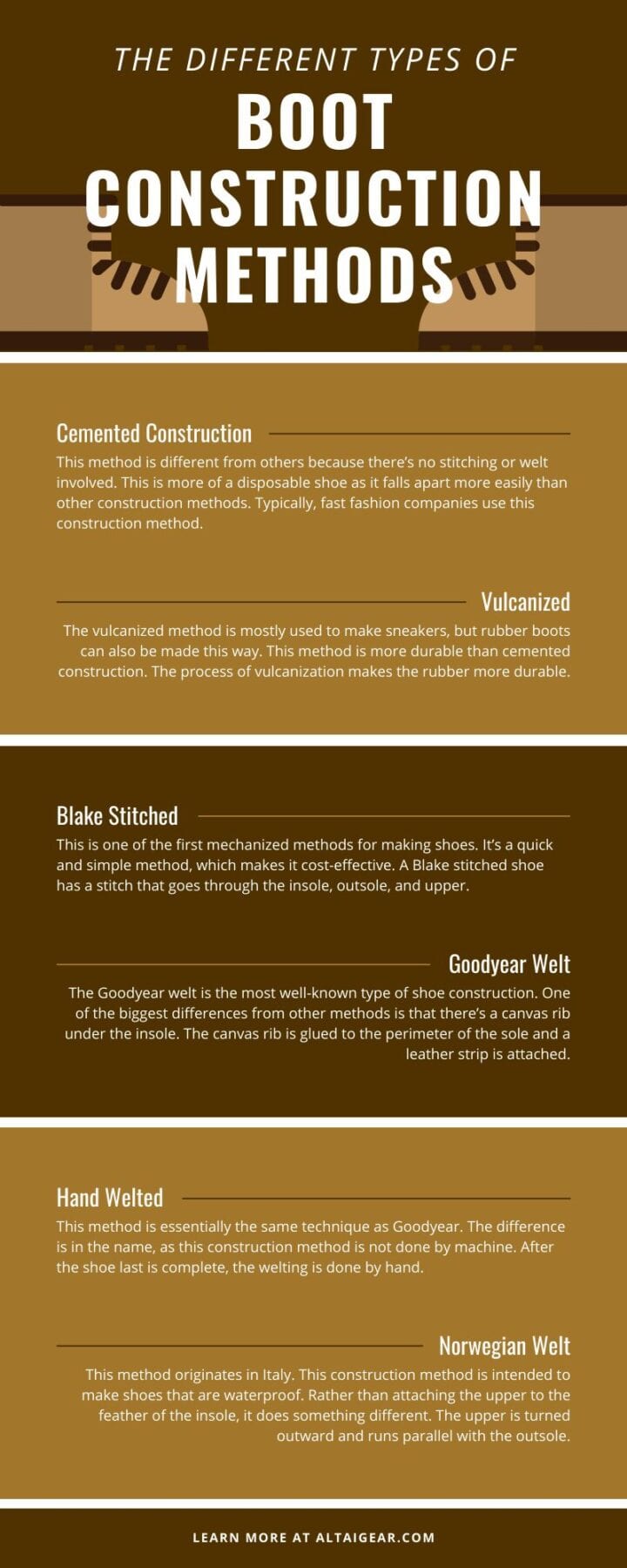 Have you been looking for that perfect boot that blends functionality, comfort, protection and durability? A pair of boots that you can rely on and grab for an extended hike in tough terrain or a just full day in your active job? Wherever life takes you, ALTAI™ Tactical Boots are ready to be your partner. Our boots have become a staple for those in the military, in law enforcement, industrial workers, survival experts and even runners who may prefer a rugged trail. Each pair of ALTAI™ tactical boots are made with only top performing materials, so that they function well when in use and will stand the test of time. We understand that you cannot compromise quality, function or comfort when it comes to your footwear, so the makers of ALTAI™ boots will not compromise either.
What Makes ALTAI™ Boots Unique?
The unparalleled ALTAI™ boot technology is what helps our tactical boots stand out from the competition. We start with SuperFabric® technology that is used in the upper. This is made of abrasion resistant and strong materials that are both highly durable yet lightweight and breathable to keep you comfortable. SuperFabric® is water resistant and also slash resistant, protecting your feet from water, rocks, brush and other objects that can perforate a normal shoe. SuperFabric® also dries extremely quickly, so that if your boots get wet, your feet will not.
In addition to the trusted technology offered by SuperFabric®, each pair of ALTAI™ tactical boots is also equipped with a Vibram® outsole. These soles are non-marking and slip resistance, giving you added traction in both wet and dry conditions. These Vibram® outsoles keep ALTAI™ tactical boots lightweight and long wearing.
Try ALTAI™ Tactical Boots For Yourself
Seeing is believing! If you are looking to give a pair of ALTAI™ boots a try, you have many options for purchasing a pair. You can shop online, or head to one of our retailers if you are in the Minnesota or Wisconsin area. We stand behind our products and even offer free shipping if you order online and find that you need a different size (one free shipping for a size change per customer). ALTAI™ Gear meets a high-quality standard, so you will automatically receive a 180 day warranty with any boot purchase and a full year warranty if you register your boots. So, there is no reason not to give the ALTAI™ Tactical Boots a try!