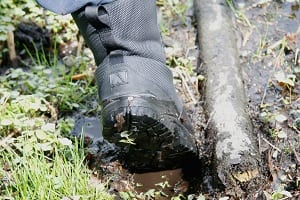 There is nothing more frustrating than paying money for a pair of boots that wear out a month after you put them on for the first time. Boots are supposed to be built to last, but so many out in the market today fail to live up to this expectation. Our boot developers at ALTAI™ took notice of this issue and made it a point to develop boots that are not only built to last, but also extremely comfortable. This is our winning combination that our customers fall in love with once they try out a pair of our dynamic tactical boots for the first time.
Product Made with Attention to Detail
When creating these boots, we wanted to combine as many high quality products as possible to help create a one of a kind boot line. We feel like this has been achieved thanks to the following features that make up the detail of our tactical boots:
Top Notch Protection – Through the use of SuperFabric®, your feet and ankles will be protected by the same type of armored plates used in motorcycle clothing apparel. No matter what type of environment you are faced with, these boots will keep you protected.
Long Lasting Soles – When deciding on the right soles to implement into the design of our boots, VIBRAM® was the obvious decision. Thanks to some of the strongest rubber soles on the market and our anti-clogging system, you'll be able to get your money's worth out of these boots.
Instant Comfort – One of the most annoying aspects to purchasing a new pair of boots is having to break them in. At ALTAI™, we made it a point to create a pair of tactical boots that were comfortable the first day you put them on.
Speed Lacing System – With these ALTAI™ tactical boots, our speed lacing system will keep your boots tied tight for an entire day. The last thing you want to do during the long work day is bend down multiple times to tie your shoe. With ALTAI™, tying them once in the morning is all that you need.
Waterproof Strength – Each material used to make these boots can repel water. This helps to create a truly unique waterproof boot that our competitors simply cannot match.
Stop purchasing boot after boot that doesn't last. Instead, try something new this year with comfortable, durable, and long lasting boots from ALTAI™. Give us a call today at (800) 806-2611 or visit www.altaigear.com to order your first pair of dynamic boots that are built to last!