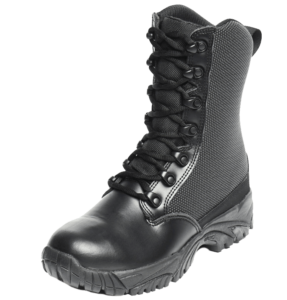 When you have a job to do, it's important that you carry the right equipment with you to get it done. High quality, comfort, support, and protection are important things to look out for when you are trying to find the right pair of tactical boots. At ALTAI™, we have everything you need in a boot to make it worth your while. Our Women's tactical boots are incomparable to the rest.
Rugged Like A Woman
When you think about our tactical boot, you think about something that is strong, durable, and can outlast anything that the outdoors throws its way. Same can be said for a woman. Women are strong, durable, and function at an extremely high capacity. Shouldn't your boots do the same? The upper portion of the boot is designed with SuperFabric®, which is made out of cloth and armor plates. This gives the boot the durable protection it needs while also providing comfort. The sole of the boot is made up of Ethylene-vinyl acetate, also known as EVA. This is a waterproof and lightweight material that is also shock absorbent, providing support and protection for many, many uses. The soles of our women's tactical boots are made of VIBRAM®. This material is tested to withstand just about anything. It is slip resistant, oil resistant, lightweight, durable, and field tested to be perfect for the great outdoors.
Upcoming Features
Not only is our multifunctional tactical boot the right choice, it gets better everyday. This breathable and waterproof boot also can be customized. Need a polishable toe? What about a a toe with SuperFabric®? Advanced mud guard? How about our latest addition: a side zipper on the women's tactical boot?
Women's Sizes
Women are a force to be reckoned with. When a woman is working outdoors, it's important that her force be impactful, not cut short for the lack of support from her boots. This is why ALTAI™ makes tactical boots specific to women and the contour's of their feet. If you are ordering online, consider going down 1.5 sizes in your normal shoe size. Our sizes are approximately 1.5 sizes bigger than your standard shoe. Ensuring that you have the right size makes all the difference in the world.
If you are looking for the right women's tactical boot, look no further than ALTAI™ Gear. For more information about our boots, give us a call today at (800) 806-2611 or send us an email at info@altaigear.com.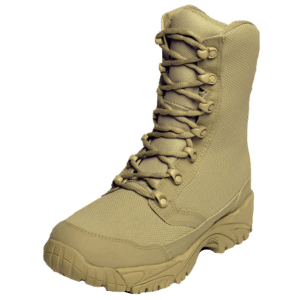 For women, the boot industry can be very frustrating. For some, finding a pair of women's combat boots that are durable, comfortable and protective seems like it is nearly impossible. That is until you try our high quality women's combat boots from ALTAI™. There are quite a few things that set our combat boots apart from the rest, so don't waste your money purchasing another mediocre combat boot that either hurts your feet or wears out extremely fast.
ALTAI™ Combat Boot Details
Serving in the military, you can find yourself in a wide variety of climates and conditions. The expectation is that you should be prepared for whatever types of elements come your way. As a military professional, your success all starts with the comfort and protection of your feet. At ALTAI™, we understand this importance, which is why we put so much time and effort into creating the ultimate women's combat boot. A few of the dynamic details around these top of the line boots that make them perfect for combat include:
● SuperFabric® Material - When it comes to protection and comfort, SuperFabric® cannot be beat. By combining armored plates with extremely comfortable fabric, you receive the best of both worlds when it comes to protection and comfort.
● Lightweight & Breathable - You may often be on your feet for long periods of time as a military professional. With our ALTAI™ women's combat boots, you'll never feel slow or let down thanks to the lightweight and breathability features.
● VIBRAM® Soles - What good are a pair of boots that don't last long? At ALTAI™, we've incorporated one of the best soles on the market, VIBRAM®, into our women's combat boots. Thanks to the anti-clogging tread, you can say goodbye to that annoying buildup that has happened with so many of your other boots in the past.
● Waterproof - We take the term "waterproof" seriously at ALTAI™. Rather than applying a temporary spray or waterproof application to the boots, each material used to create these combat boots can withstand water.
Women's Combat Boot Options
At ALTAI™, we currently offer three types of women's combat boots for you to choose from. These include:
● ALTAI™ MF 8" Tactical Boot Model: MFT200
● ALTAI™ MF 8" Military Boot Model: MFM100
● ALTAI™ MF 8" Military Boot Model: MFM *Discontinued Model Closeout*
At ALTAI™, we're committed to removing the sour taste in your mouth that you have about women's combat boots. If you are looking for a pair of combat boots that will keep you protected, are comfortable, and built to last, look no further than our high quality women's combat boots. Give us a call today at (800) 806-2611 or email info@altaigear.com to learn more.