Make Sure You Have The Right Footwear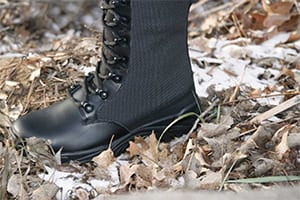 Hunting season is getting into full swing and avid hunters are anxious to try their luck in the great outdoors. Before stepping out into what is sure to be cold, wet, rugged conditions, make sure you have the right footwear. ALTAI™ makes the perfect waterproof boot for outdoor enthusiasts. Our elite tactical boots are engineered to outperform in the most extreme conditions and keep your feet Warm and Dry. They incorporate revolutionary SuperFabric® materials with a durable Vibram® outsole.
Revolutionary SuperFabric® Materials
The team at ALTAI™ set out to design a boot that would outdo the competition in the law enforcement and military sector. What we came up with is a multifunctional boot that is exceedingly loved by our original market as well as Hunters, Hikers, Runners and Campers alike. The last thing you want to worry about while waiting quietly in a deer stand or walking through soggy marshland or rugged terrain - is wet, tired feet.
Our SuperFabric® materials provide superior protection and are unbelievably lightweight. Here are just a few attributes of this technological breakthrough in fabric. Think of the comfort of an athletic shoe with the protection of armor.
Breathable
Lightweight
Waterproof
Flexible
Extremely Durable
Stain Resistant
Abrasion, Oil and Stain Resistant
Quiet
Comfortable
Protective
Quick Drying
Pre-Order New Styles And Colors
The ALTAI™ design team has done it again! We now have new multifunctional footwear available in different colors and designs Available for Pre-Order. You can choose from Low Top or past the ankle designs. Each style is fabricated with our own ultra-protective SuperFabric® upper and a rugged Vibram® sole. Avid Hunters will want to check out our new colors in shades of tan, brown and black.
Lightweight, Waterproof And Affordable
ALTAI™ has designed and engineered a technologically advanced tactical boot that you are sure to love. This footwear provides Amazing Comfort and Superior Protection all in a Lightweight and Affordable boot. Our high performance, multifunctional hunting boot sets the new standard in outdoor footwear. Your feet will remain dry and comfortable all day long no matter where you are, due to the revolutionary Waterproof and Breathable SmartFabric® materials.
Find out why ATAI™ tactical footwear is perfect for Hunting and individuals who are Hiking, Camping, Jogging, Walking, Marching, Patrolling, Running or just Standing for long periods. They're that versatile, durable and comfortable can be worn outdoors all year round.
We offer Free Shipping and Free Exchanges with No Risk!
Call Today at 800-806-2611