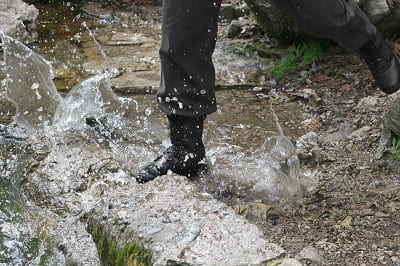 The ALTAI™ Tactical boots are specifically designed for on duty law enforcement, as well as military personal. The boot combines advanced technology with real world testing – the results are unmatched and our team has received a massive amount of positive feedback. They truly over perform in every circumstance, from the muddy murky depths to the dry, hot deserts – this is a boot you can take around the world and feel confident that it has your feet protected and keeps them comfortable.
Water Resistant and Waterproof – By Design
With traditional, clunky leather tactical boots there's a need to spray chemicals, and often re-apply the chemicals – in order to get the 'waterproof' desire advertised. The chemical treatment acts as a barrier between the full-leather shoe and the water and eventually wears off….and usually your feet feel the effects and by then it's too late.
With the ALTAI™ tactical boots they are water resistant, water proof, rapidly drying and the innovative materials actually pull away any perspiration that has happened due to warm weather – OUT OF THE BOX! No need to spray with chemicals, or re-apply after so many uses…they have been designed for out-of-the-box protection that lasts and lasts. Say goodbye to spray on 'wanna-be' water resistance and say hello to the real thing, the permanent solution and quite possibly the technology of the future!
How Does ALTAI™ Do It?
The majority of the boot consists of SuperFabric® materials. What makes up the water resistant SuperFabric® materials are a combination of tiny armor platelets that protect from abrasions, as well as liquid. The small shields are placed a specific distance apart, to allow air molecules to freely move in and out but they block the slightly, larger water molecules from penetrating, thus no absorption happens. The rubber VIBRAM® outsoles and the EVA midsole are water resistant and the little amount of leather used is high quality and already thoroughly treated for lasting water resistance. The results are a dry foot, whether you're in the water for 5 minutes or a man hunt arises and you end up spending over 12 hours searching through every inch of woods and any rivers, lakes or swamps near by.
Quality Tread on Outsole
The ALTAI™ Boot utilizes the widely respected VIBRAM® outsole. The rugged tread will stabilize your every move, in water, through brush and even climbing uphill. Be ready for anything when you equip yourself with ALTAI™ tactical boots!
This is tactical footwear at its finest! See some of our law enforcement reviews:
Some remarks from Officer Daryen Granata – Saco, Maine PD "Super boot." "I absolutely LOVE the boots. They are super comfortable and warm." "Actually had them on during a foot chase through the marsh and swamp and my feet stayed dry completely." "I can wash them and they look like new again."
Brady Fox Canine Officer for 8 Years, Owatanna, MN - "I have been wearing these boots for 2 months on patrol. I have been in buildings, on the street, and in the woods and these boots are working great"
Lieutenant Joseph Celaya- spent 26 years in Correctional Department of California - Salinas Valley State Prison - Soledad, California over 9 months in the AltaiTM boot. "Starting May 24th, we were involved in an operation that was massive and very taxing. I myself was up and on my feet for a 24 hour period, in your boots. No complaints. No swelling, hot spots or blisters. I was walking on Asphalt, Concrete, Mud, Dirt roads, Grass, Ditches. The tread pattern worked great on all those conditions. Up hill, downhill no problem. Water resistant, my feet never got wet. Once my first 24 hours was done, I got a 90 minute cat nap and did another 10 hours, same boots. Feet never bothered me and boots did great. Why only your boots? Because my other big name boots are tucked in the back of my closet. Your boots over three days performed amazing. In closing, BEST DAMN BOOTS I'VE EVER WORN!"
These are just a few of our outstanding testimonials, check out more. Now days, when the internet is the place to go – don't buy a product without first researching how it performs for others. You will be overly satisfied with the ALTAI™ Tactical Boots. Buy them today, at no risk – free shipping – free size exchanges – and 100% of your money back if you don't agree with what we and everyone else is saying about our boot.
Any questions? Call ALTAI™ today at 800-806-2611 or email us at info@altaigear.com
P.S. You can also check us out on FaceBook https://www.facebook.com/AltaiGear