The Most Advanced Tactical Boot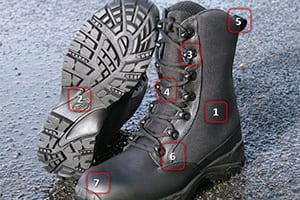 It is hard to pinpoint just one reason that ALTAI™ Tactical Boots are the best tactical footwear on the market. The superior protection and comfort are attributed to all of the technical and design aspects working together as one multifunctional marvel. One may point to the proprietary SuperFabric® waterproof boot Upper. Another may say it's because of the rugged Vibram® Outsole. A case can also be made for the amazingly comfortable EVA Midsole. Could it be the practicality of Speed Lacing? All play an important role in the most advanced tactical boot around.
No matter the reason for placing your foot into ALTAI™ tactical boots for the first time, they are destined to become your new Go-To choice in protective footwear.
ALTAI™ Tactical Boot VS Traditional Boot Materials
This boot defies tradition by foregoing common materials such as nylon and zippers and limiting the usage of leather. They are instead made of the toughest and most protective scientific components.
Leather is Not Waterproof and may Crack and Rot with repeated exposure to a wet environment
SuperFabric™ is Waterproof to the Core, it is made of highly progressive materials that actually Wick Moisture away and provide Breathability
Nylon Lacks Durability and provides very Limited Protection
SuperFabric™ Material is made of a combination of cloth and protective armor which is Extremely Durable and Lightweight
Speed Lacing is a very Practical and Efficient system for feet in a working environment – it incorporates a Continuous Hold and Rustproof Eyelets
Key Features Of ALTAI™ Tactical Boot
Superior Protection
Extreme Comfort
Waterproof to the Core
Breathable
Flexible
Lightweight
Shock Absorbent
Slip Resistant
Non-Marking
Instant Comfort
Affordable
Innovative Design
Reduced Foot Fatigue
Rapid Dry Material
Stain Resistant
Rugged VIBRAM® Outsole
Sure Footed Stability
Anti-Clogging Traction
Incomparable Quality, Comfort And Protection
Join the ALTAI™ Tactical Boot revolution in superior footwear. Our team has designed and engineered the Best Tactical Boot – period. We have created a boot that surpasses the demands of law enforcement and military professionals. This multifunctional boot with SuperFabric™ materials is becoming the preferred tactical footwear for a growing population.
We combined the comfort of an athletic shoe with unsurpassed durability and protection. The result is advanced-technology-meets-intelligent-design. See for yourself why ATAI™ tactical boots are hearing praises from Military, Law Enforcement, Outdoor Survivalists, Ice Fisherman, Campers, Hikers, Runners and Hunters.
We offer Free Shipping and Free Exchanges with No Risk!
Call Today at 800-806-2611