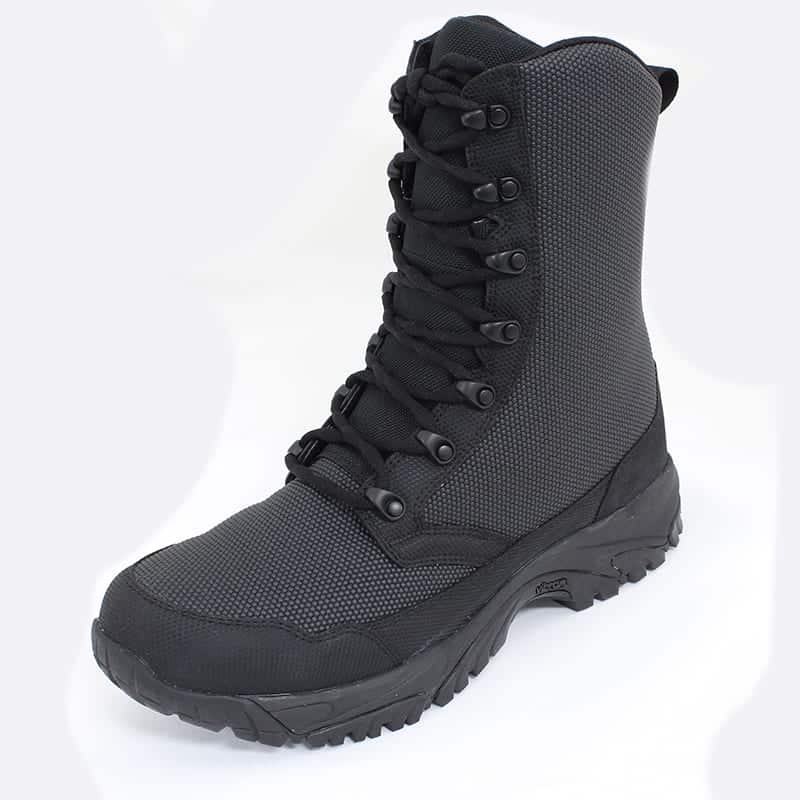 The ALTAI™ team is excited to announce a New Boot to our lineup of multifunctional footwear. Military style boots are well suited for a wide variety of applications and markets. ALTAI™ designers developed New All Black Boot styles that provides you with all of the Benefits of SuperFabric® with Advanced Technology. They are specially equipped to handle all types of terrain and protect against harsh environments. Customers will appreciate the Lightweight Protection and Durability in an affordable footwear option.
Tactical Boot in Black
Whatever application or activity you have in store for your feet, ALTAI™ most likely has a boot designed to fit your needs. Our vision began with the Original MF Tactical Boot in an 8" all black design. The tactical lineup incorporates a leather toe that can be polished to perfection. This is a great feature for law enforcement personnel that are required to look their optimal best while performing a very demanding job.
Military Boot in Tan
The ALTAI™ MF Military Boot in both 8" and 6" styles are designed with a Desert Tan coloration suited to military life. They provide extreme protection in thanks to the Highest Quality Materials and Construction. The SuperFabric® Upper works flawlessly with a rugged Vibram® Outsole. An Advanced Mudguard complements the features and benefits of SuperFabric® materials.
Military Boot in All Black SuperFabric
ALTAI's New Boot is available in high and low top and provides all of the benefits of our MF Military Boot. Our customers now have the choice of an all-black tactical boot with a polishable leather toe or the latest innovation with Completely SuperFabric® Upper. You will receive all of the same high performance features of our Desert Tan Military Boot in an All Black – All SuperFabric® style with advanced mudguards.
Benefits of Completely SuperFabric Boot Upper
Advanced Technology really shines in the always versatile SuperFabric® textiles. The very innovative design incorporates armored protection with lightweight comfort. SuperFabric® provides an unsurpassed level of protection in an integrated material that is Breathable, Flexible, Lightweight, Durable and Waterproof. Try saying that about footwear made out of leather, nylon or rubber.
Protection
Waterproof
Flexible
Breathable
Durable
Quick Drying
Resistant to scuffs, stains, abrasions, cuts and punctures
Advanced Technology Military Style Boots
ALTAI™ has garnered an excellent reputation for the quality of our Multifunctional Footwear. We have raised the bar once again with the latest addition to our durable footwear lineup. The All Black Military Boot with an advanced Completely SuperFabric® Upper is available in August 2015. You can now take advantage of the many benefits of Super Fabric textiles in an affordable, durable, lightweight, waterproof boot.
ALTAI™ Gear offers Free Shipping and Free Exchanges with No Risk!
Call: 800-806-2611 for the most comfortable, durable, protective footwear.
Email: info@altaigear.com Or fill out and submit our Online Form
Summer is here and an outdoor adventure of every kind is just around the corner; which usually means terrain of every kind. You may have heard of a variety of techniques for improving your exploring footwear by applying an array of different knots and tying techniques that can help, but we at ALTAI™ decided to build a boot that doesn't require the 'knot encyclopedia' to feel secure, every step of the way.
The Heel Lock, the Granny knot, the Low Cut Heel Lock… the list goes on. But whether it's a tactical boot, boot for hiking, or just general work footwear, we believe each boots' lacing system should be as easy to tie as the day you learned how to tie your shoes. With our sausage link laces, each ALTAI™ boots' laces are already optimally fashioned for maximum comfort and a secure fit for every kind of mission.
You don't need fancy knots or sailor-like tying abilities with our boots: if you're headed to boot camp, you've got bigger things to worry about. Every boot laces up exactly how you think it should and viola, you're all ready to hit the trail and conquer the day. Watch as Leo demonstrates how quick and easy our lacing system is: