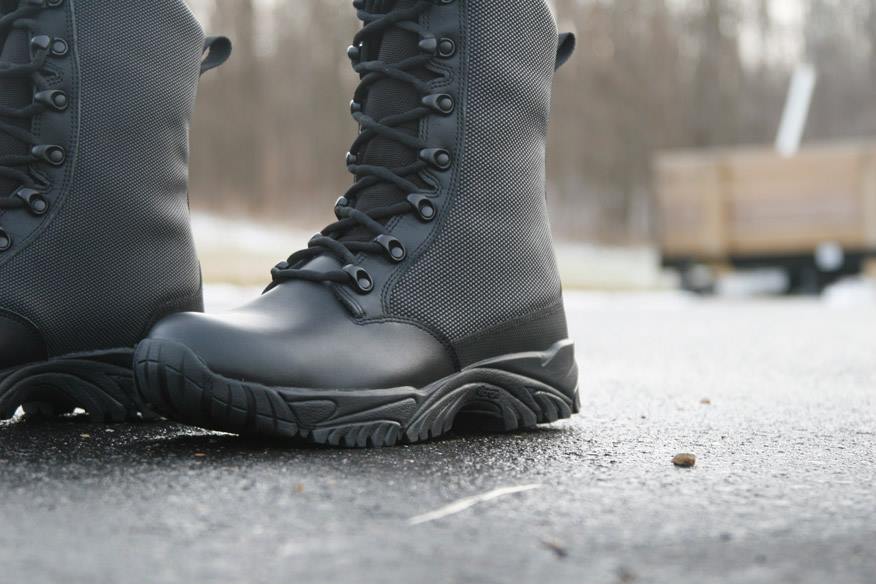 An On-Duty Boot has to keep up with the circumstances that arise and our line of quality tactical law enforcement footwear is scientifically designed to do just that! Choose from our selection of black, tan, brown, high top and low top all designed for men and women in law enforcement and in general. Quality materials seamlessly integrated together makes these boots the peak of their industry, outperforming, outlasting, and weighing less but handling much more than boots at the same purchase point. Get more for your money and Shop our Online Law Enforcement Boot Sale and save more than money and time, save your feet.
Brand New Tactical Boot Styles | Current Tactical Boot Inventory Must Go
ALTAI™ is continuing to improve upon our original and future tactical footwear designs. Now is the time you can benefit from this growth and purchase our existing tactical boots at a significantly reduced rate. ALL OF THEM!
Black Tactical Boot

Brown Tactical Boot

Military Tan Tactical Boot

Whether your loyalty to justice and safety has led you to travel for your career or you've chosen to stay in your local hometown, our tactical boots offer outstanding comfort and protection in the coldest of climates to the driest of deserts. The more you are prepared for the less can go wrong. Depend on the strength and rugged nature of our tactical boots to keep you mobile and comfortable on even the longest days.
Key Elements of our Lasting Law Enforcement Tactical Footwear
SuperFabric - This patented, armored design was introduced to the textile industry in 1996 and has taken the industry's expectations to a whole new level. This is fabric you can't penetrate with a knife. Fabric tough enough to be called Tactical.
EVA - For long shifts and hours on your feet we have added EVA to the inside of the shoe. This will help cushion the blow of every step you take.
VIBRAM - This highly innovative brand is known everywhere, in every store and that is because their quality doesn't lie and their imagination keeps moving. The Anti-Clogging Aggressive Tread on these tactical boots will hold you steady, even in the water.
No more damp socks, slipping on rocks, painful feet, unbearable heat...just a comfortable tactical boot ready for every single day if that is what it takes. Shop online and bring our durable, comfortable and exceptionally lightweight tactical footwear to your door. No break in time, just try on to ensure the perfect fit and get instant comfort with every step.
Save