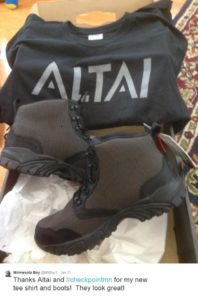 If someone tells you to "Take A Hike" are you offended or up for the challenge? If you answered the latter, we have the boots for you! ALTAI™ Tactical Hiking Boots are engineered to take you anywhere you want to go. The Comfortable, Durable, Waterproof Protection is perfect for those times when you want to go off the beaten trail and explore. This footwear is lightweight and breathable to keep your feet fresh all day. A Vibram® Outsole provides rugged traction and stability in the most extreme conditions. You can trust your feet to our High Quality Materials and Durable Construction.
Boots Made with Quality Materials
The team at ALTAI™ put their heads together to come up with Multifunctional Tactical Footwear that is appropriate for law enforcement officers as well as Avid Hikers. Our Tactical Hiking Boot adapts to the conditions. You can count on their Durable Construction and Quality Materials including trusted names like SuperFabic®, Vibram® and EVA. Features like Comfort, Protection and Durability are incorporated beautifully to provide the Best Hiking Experience anywhere.
Explore The World
Where will your ALTAI™ Hiking Boots take you? The design engineers at ALTAI™ left nothing to chance when choosing the quality materials for our outdoor lovers footwear. With the input of avid hikers, campers, runners and outdoor enthusiasts, they compiled an impressive list of features to include in each footwear design.
The Lightweight, Durable - Low Top Hiking Boot is perfect for:
Hiking in the mountains
Trekking through the desert
Exploring a national forest
Camping by the lake
Enjoying the breathtaking beauty of our many National Parks
From the Alaskan Tundra to the Florida Wetlands, from the Arizona Desert to the New England Forests… your ALTAI™ Hiking Boots are ready to take you there - even right out of the box!

Features of ALTAI™ Hiking Footwear
Lightweight
Breathable
Waterproof
Durable
Protective
Comfortable
Abrasion resistant
Puncture resistant
Slash resistant
Stain resistant
Speed lacing system
Quick drying
Shock absorbent
Rugged traction
Wide heel stability
Easy care (just hose them off and they are good to go)
Durable Lightweight Construction
ALTAI™ Tactical Hiking Footwear is now ready to take you anywhere you want to go explore. The Low Top Hiking Boot is designed for outdoor enthusiasts and avid hikers who love to blaze their own trail and see where it takes them. The team at ALTAI™ designed a superior boot that provides unbeatable Comfort, Durability, Protection and Traction.
Go ahead and hike through water with footwear that delivers with advanced Waterproofing technology. The elements are no match for our High Quality Materials and Durable Lightweight Construction.
We offer Free Shipping and Free Exchanges with No Risk!
Order Online or Call Today at 800-806-2611