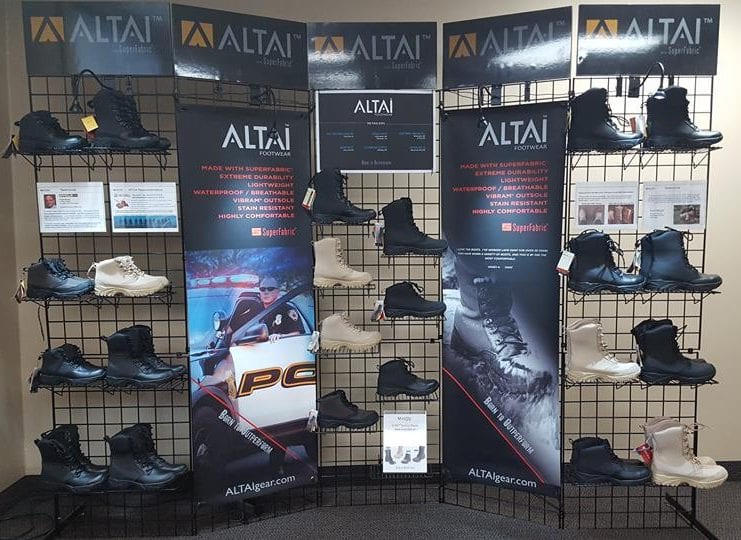 For most of us, walking is as easy as putting one step in front of the other. Now, buying the right Tactical Footwear doesn't claim the same ease. ALTAI™ wants to change that! We are making it easy and affordable to purchase quality tactical boots that outperform your expectations in every situation. We have a diverse selection of Tactical Footwear for Men & Women on Sale that have all the attributes you need to easily venture on one step at a time.
Our Online Selection of Sale Price Tactical Footwear
Black Tactical Boots
Leather Toe Tactical High & Low Top – When business meets pleasure. The black leather toe and sleek looking boot make it easy to look sharp without purchasing an entirely new set of boots for the occasion.
SuperFabric Tactical High & Low Top – Superfabric outlasts and outperforms other forms of materials. This Eco-Friendly Scientific Approach towards rugged footwear (and many other applications) offers results unmatched by traditional standards.
Tan Tactical Boots
SuperFabric Desert Tan Tactical High & Low Top – The color black isn't suited for everyone or every job so we offer Desert Tan Military Tactical Boots. These boots breath, fit tightly and clean up easily.
Brown Hiking Boot
Exploring nature is on of the most beautiful ways to spend the day. Our low top brown hiking boots offer all the support, comfort, protection and water resistance you need to take it 'off trail' and have some fun.
Tactical Footwear Features
From Boot Camp to Shoveling your Driveway these boots will keep going as long as you keep going. With a sleek design like ALTAI™ there is no need to buy a bunch of boots because one boot can do it all! Each and every one of our tactical boot designs have all of these extraordinary features.
Water Resistant
Stain Resistant
Slip Resistant
Anti-Clogging Soles
Puncture Resistant
Breathable Design
Arch Support
Ankle Support
Speed Lacing System
Secure Fit
On Sale Tactical Footwear
Military, Law Enforcement, Outdoor Adventures, Runners, Wet Environments, Cold Environments, Canoeing… Our Tactical Boots are perfect for these applications and so much more! Can you think of a good way you could put them to use? If so, order a pair of our Tactical Boots Online will the Sale is still going strong. And be sure to stop by again and take a look at our newest Tactical Footwear Designs coming soon for purchase online!
Free Boot Shipping – Free Shipping on Boot Size Exchanges – Free Shipping on Boot Returns