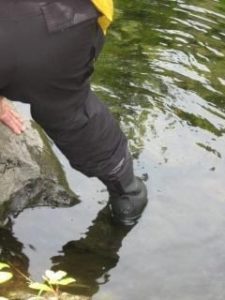 Women prove every day that they can keep up with their male counterparts when on the job. They do much of the same kinds of demanding work and require the same level of foot protection when on duty as a First Responder, Law Enforcement Officer, Military Personnel or Hiking rugged terrain. ALTAI™ MF Tactical Footwear is available in sizes that fit and protect a woman's foot. Our footwear is engineered for all-day comfort and superior protection from elements you encounter while at work or play. The Lightweight Materials have waterproofing technology that allows them to be very breathable and durable.
What Women Want In A Tactical Boot
A woman wants her footwear to be Comfortable, Durable and Protective when she is engaging in demanding activities.
Lightweight to fend off foot fatigue
Breathable materials that keep her feet dry in hot climates
Shock Absorbing on pavement
Stability on rugged terrain
Protection from abrasions, cuts and stains
Slip resistant on a smooth surface
Long lasting Durability that can hold up when the road gets tough
Water resistant when trudging through the snow, rain and marsh
Speed lacing system that holds for hours
Professional appearance
Traction that enables her to climb a steep trail
Comfort that lasts all day long
Superior Protection
Anyone who spends considerable time in the great outdoors knows that you need protective gear that you can count on. ALTAI™ MF Tactical Footwear has amazing qualities that provide Superior Protection from extreme conditions. Our footwear was specially designed for law enforcement officers who spend hours on their feet and have to ready for anything.
Versatile Applications
Our engineers utilized SuperFabric® materials for a level of protection that can't be beat. This revolutionary textile has tiny armored plates adhered to a breathable fabric. Waterproofing technology is added to make our tactical boots suitable for versatile applications.
Multiple Sizes Available
ALTAI™ MF Tactical Footwear provides Superior Protection in versatile applications. They are engineered for protection, durability and all-day comfort in the most extreme conditions. Our multifunctional tactical boots utilize Lightweight, Breathable materials and durable construction. Women should order 1.5 size smaller to convert to Men's sizing. For example, a Woman size 8.5 would order boots in a size 7.
We offer Free Shipping and Free Exchanges with No Risk!
Call Today at 800-806-2611