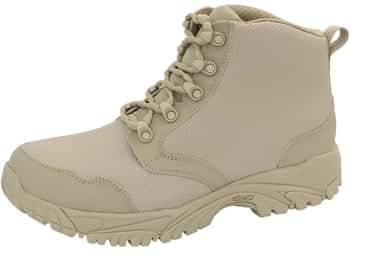 The all-new High Performance Tactical Desert Boot from ALTAI™ is now available in an 8" and Low Top version. We used the proven technologies that went into our original MF Tactical Boot and created the desert tan MF Military Boots. The lightweight, breathable material helps to keep you thinking on your feet and able to react to any situation. The team at ALTAI™ utilized protective materials that do not weigh you down. Our innovative Speed Lace System provides a fast, secure hold that lasts all day.
MF Military Boot
Soldiers require protective gear that can handle anything. The ALTAI™ MF Military Boot is engineered to provide unbeatable protection. The standard 8-inch military design provides ankle support and protection. After you Speed Lace your ALTAI™ MF Military Footwear you are capable of taking them almost anywhere. A breathable, waterproof liner keeps your feet cool in hot climates and warm in cold climates. The SuperFabric™ upper creates a flexible barrier that resists abrasions, cuts and stains.
Low Top Military Boot
A new Low Top Military Boot has been introduced. They incorporate the same protective materials such as a durable Vibram® outsole and protective SuperFabric™ upper. This low-top version is less intrusive for when you want more ease of movement and don't need the extra protection.
Features Of Desert Tan Tactical Footwear
Highly Protective
Very Durable
Comfortable
Flexible
Reduced Foot Fatigue
Feel of an Athletic Shoe
Breathable
Waterproof
Non-Marking sole
Lightweight
Abrasion Resistant
Solid Construction
Great Traction
Wide Heel Stability
Quick Drying
Easy Cleaning
Multifunctional Desert Tan Tactical Boot
ALTAI™ has once again produced truly Multifunctional Tactical Footwear for all branches of the Military. Our new MF Military Boot and Low Top Tactical Boot are now available in a desert tan color. Each are engineered for the level of protection that our brave military personnel deserve. They are Lightweight, Durable, Protective and Waterproof. With the innovative Speed Lace System you will always be ready for anything.
Order Online Now or Call ALTAI™ Today at 800-806-2611