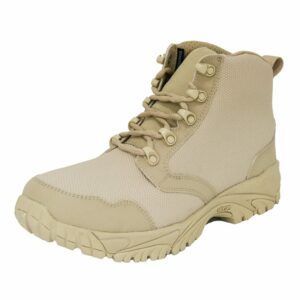 The Altai™ team has utilized a new kind of material, a specialty material, one that is revolutionary – changing the way everyone is seeing fabric and opening the door for completely new textile demands. The key component we are talking about is SuperFabric®. Now that we offer a wider arrangement of tactical and military boots, such as our desert tan combat boots, black tactical boots - both high and low top and hiking boots constructed with this innovative (yet unknown) fabric material, we think it is high time we broke it down for you.
SuperFabric® Materials
SuperFabric® is not one material, it is the precisely and scientifically engineered combination of multiple materials that offer outstanding results. Because of its appearance it can look as if it is a mesh material - it is, in fact, the complete opposite of that! This material is 4 times more abrasion resistant than Kevlar. Yes, it has tested stronger than Kevlar – now that's outstanding in itself… but I'm not finished. SuperFabric® is also 14 time more cut resistant than leather, not to mention extremely lighter, more flexible and waterproof. These are the findings of actual, in lab testing. Those are some cold, hard facts to bring to your commander – if you so desire.
What exactly is SuperFabric®?
The design starts with a base fabric, specifically in the Altai™ Boot sense it starts with quality black 600 denier polyester.
From there, small, durable guard platelets are positioned and anchored onto the fabric. The Altai™ specific SuperFabric® pattern (HEX 80/18) has composite platelets placed close together, for maximum slash, cut and abrasion resistance and extreme flexibility, as well as a lightweight design that does not absorb water, or rot - as opposed to leather.
The durable fabric, armored platelets and resin seal come together to create truly unmatched qualities utilized by many leading brands in a variety of industries.
Check out more about this specialty, high end SuperFabric®.
Popular Boot Components
VIBRAM® Outsoles – The quality rubber outsoles used on our footwear has been around for years and in many military boots. The VIBRAM® soles can be found on a number of Military boots, the US Navy is just one example. Altai™ has only selected the best materials that can withstand Military and other rugged applications.
EVA Midsoles – We have not overlooked any aspect of these tactical boots. Even if not visible, we know the importance of comfort and cushion, no matter what your day consists of. Which is why we have a quality EVA midsole that provides you with lasting shock absorption, so that you can keep on trucking.
High Quality Boots
For lightweight protection that won't wear you down - shop our innovative boots online or contact our office for questions, comments or requests at (800) 806-2611. We offer size exchanges, free 30 day returns and all with free shipping. Order our original boot or pre-order our new customer driven designs that will ship October 31 2014!