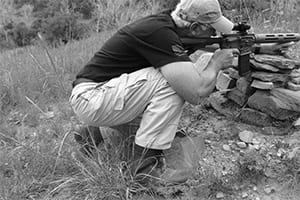 The ALTAI™ tactical boot can be used for many different functions, but they are an especially great match for those in law enforcement and in the military, who can face extreme physical challenges at a moment's notice. A routine day for a law enforcement officer or member of the military can be grueling, taxing and dangerous. The one thing that cannot fail them is their feet. A durable, protective and comfortable boot is critical to their ability to move quickly, change direction fast and manage rough terrain.
Many Important Benefits of ALTAI™ Tactical Boots
The ALTAI™ tactical boot offers law enforcement officers and military personnel many advantages that will help them react and respond quickly and keep themselves and other safe. In addition, the boots are made with the highest quality products to give them added benefits including:
Designed using durable and high grade materials such as a Vibram® outsole, SuperFabric® to provide protection, slip-resistance, flexibility, breath-ability, and stain resistance.
Water resistant
Breathable construction keeps your feet cool and dry all day (or night) long.
Polishable leather toe
Sturdy construction keeps them looking just like new for years.
Lightweight construct allows for maximum mobility and range of motion
Speed lacing system makes tying your boots easy and fast and they stay tied all day.
Protective footwear protects against sharp objects and other abrasions.
ALTAI™ Tactical Boots: A Product You Can Trust
With more than 70 years of experience in the business, our team has worked hard to design a footwear product to meet the demands of the police force, military personnel, first responders, EMT, firefighters, and others in the public safety arena. ALTAI™ tactical boots can take you literally anywhere you need to go. The boots offer abrasion resistance and durability that can withstand harsh environments and the extreme circumstances that these heroes face on a daily basis. These boots give them the protection they need in the streets, desert, swamp, mountains or wherever their work takes them. These tactical boots are specifically designed to meet their unique needs, and give them an advantage as they risk their lives protecting us.
Prices on these boots are very reasonable and range from $109.99-$164.99, making them affordable as well. With 10 different models to choose from, you are bound to find a boot that works for you. Call us directly if you interested in placing an order (1-(800) 806-2611) or email us at info@altaigear.com.