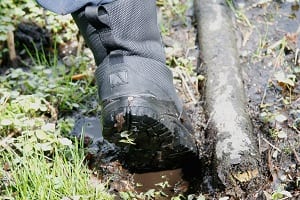 No matter what type of climate, weather conditions or habitat you may be facing, one thing is for certain: In order to succeed out in the wilderness, one of the most important things is to have reliable, long lasting footwear. Your feet are what keep you going from the time you wake up in the morning to the moment that you go to sleep. Even the smallest cut on a foot can minimize your productivity, and most of the time, there is no time to waste! Therefore, it is vital that you do not compromise reliability and comfort when it comes to a pair of survival boots. ALTAI™ is committed to providing you with a fair priced boot that exceeds the competition!
Benefits of ALTAI™ Survival Boot
● High in Comfort - This comfortable boot features an EVA midsole that withstands high impact movements, keeping your feet cushioned and pain free for an extended period of time.
● Specialized Outsole - ALTAI™ boots feature a Vibram® outsole that is specifically developed for the outdoors. This rugged tread has been tested in a wide variety of terrains and climates to ensure durability as well as helping aid mobilization.
● SuperFabric® - This protective material used on our boots provides high quality protection while staying highly breathable. This helps keep your feet warm in cold climates, and cool during the hot times as well. This fabric is also used by the military, and used in motorcycle equipment, jackets, gloves, etc.
● Waterproof - All materials used in developing these survival boots are tested to provide a fully waterproof feature, unlike other boots that lose the effectiveness of their waterproofing very quickly.
● Speed Lacing System - Our survival boots have a highly effective speed lacing system that makes it very quick to lace up those boots. The best part is that the laces remain secure and tight, without any loosening.
If you are an outdoorsman preparing for a long journey out in the wilderness, or you just want to invest in a reasonably priced, highly advanced survival boot, look at our line of quality boots, that are easily affordable or if you have questions of concerns call (800) 806-2611. Watch our testimonials, available on our website to hear how other people just like you have fallen in love with the ALTAI™ survival boot!