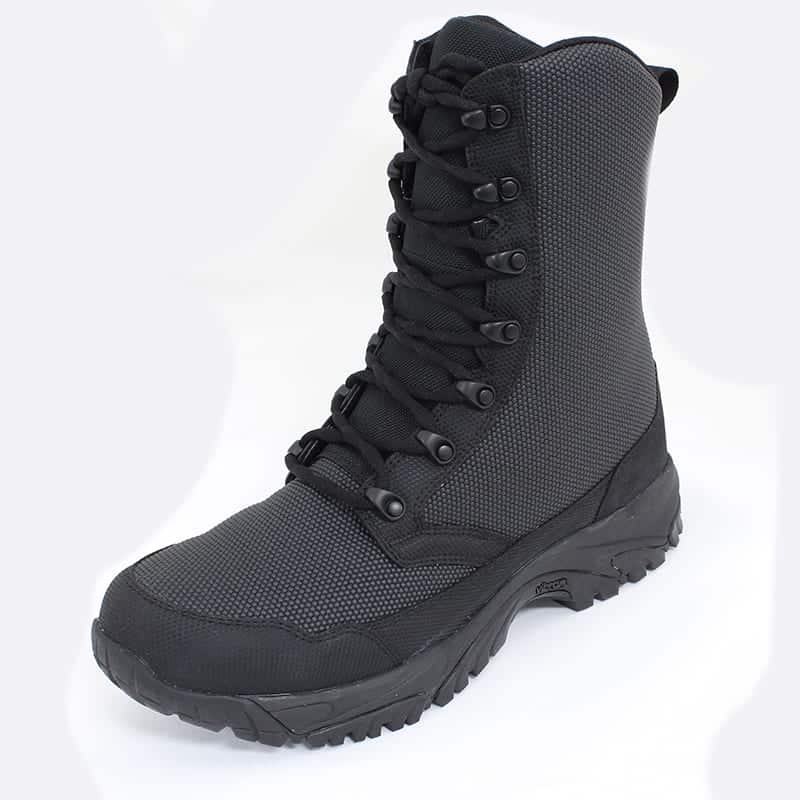 If you are a member of the armed forces, a first responder, or part of the law enforcement community, you know how important high functioning gear can be.  The last thing that you need to worry about when you are trying to do your job is your gear getting in the way or preventing you from being able to move freely.  ALTAI™ footwear has designed a brand new boot that is specifically designed to meet the high demands of today's law enforcement and military personnel.  The new 8" SuperFabric® Toe Tactical Boot will not disappoint.  Durable and lightweight, highly protective and comfortable, this boot is the ultimate multi-functional boot that sets a new standard for rugged footwear.
Standard Features Of The SuperFabric® Toe Tactical Boot
Extreme Protection: Your feet will be completely protected from the elements by the SuperFabric® upper.
Superior Performance: With the Vibram® Outsole, your boots will literally help you get where you need to go.  Ideal for all types of terrain.
Comfort: The Eva Midsole offers unmatched comfort and support that keeps your feet from feeling fatigued.
Waterproof: These boots are waterproof and quick drying so your feet stay dry and warm.
Mudguard: 8" advanced mudguard
Anti-Clogging system: The anti-clogging technology reduces the mud, dirt and debris that gets caught on the outsole.
Abrasion and Stain Resistant: These boots are highly durable and will last for years.
Speed Lacing: The state of the art speed lacing system allows you to easily get the boots on and off.
SuperFabric® TOE: This feature protects your toes and prevents normal wear at the toe base.
Order Your Pair of ALTAI™ Tactical Boots Now!
The ALTAI™ Footwear SuperFabric® Toe Tactical Boot comes in Men's sizes 8-13 and costs just $144.99 for a pair.  ALTAI™ always offers free shipping and free exchanges, so you can be sure that you will get the perfect pair for your feet. Generally, men should order ½ size bigger than their normal size for a comfortable fit.  Women should order 1.5 sizes down from their regular shoe size for an optimal fit.  ALTAI™gear also offers a 30 day, no hassle, 100% money back guarantee. So, if you are not happy with your boots, you can return them within 30 days for a full refund.
To place an order, you can shop our online store or visit one of our many retailers including Streicher's Minneapolis, MN or Butler, WI location.  Call 1-(800) 806-2611 or email info@altaigear.com if you have questions about these one-of-a-kind tactical boots.