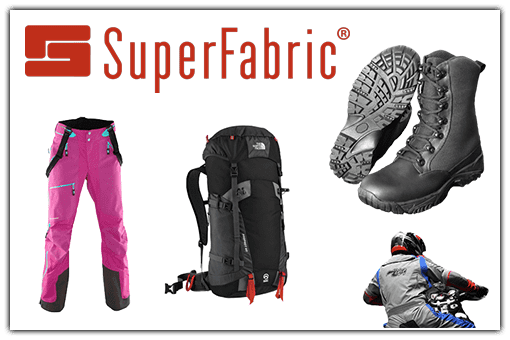 The perfect material for a Multifunctional Tactical Boot is SuperFabric®. It provides superior protection and breathable comfort. ALTAI™ MF Tactical Footwear are designed utilizing lightweight, durable SuperFabric® Technology on the boot upper. These boots are engineered to provide protection from extreme conditions. Every aspect works together flawlessly to outperform the competition in multiple applications.
SuperFabric® Technology
Innovative SuperFabric® technology has been incorporated into the ALTAI™ MF Tactical Footwear. This highly protective textile provides an advantage that other materials cannot deliver. It is engineered with tiny guard plates that exceed industry standards for cut resistance. The space between each platelet provides flexibility and the ability for the fabric to breath.
SuperFabric® Performance Features
As a technology leader for protective materials, SuperFabric™ enhances the performance features of ALTAI™ MF Tactical Footwear.
Protective
Lightweight
Flexible
Durable
Cut resistance
Abrasion resistance
Stain resistance
Quick drying
Breathable
Puncture resistant
Comfortable
Water resistant
ALTAI™ MF Tactical Footwear Features
No tactical boot would be complete without a rugged sole. ALTAI™ Multifunctional Footwear utilizes a shock absorbing EVA midsole to ensure long lasting comfort. Our boots are wear tested to ensure that the materials we use will reduce foot fatigue and discomfort.
ALTAI™ chose VIBRAM® soles for their durability and rugged performance. They are lightweight, non-marking and slip resistant. The anti-clogging tread gives you the ability to move more quickly through rough terrain. Waterproofing is consistent from heel to toe and all the way above your ankle.
A convenient Speed Lacing system will not slow you down. You can lace up and be on the move within seconds. The continuous hold will not loosen as you engage in activities all day.
Multifunctional Tactical Footwear
ALTAI™ stands behind the Superior Performance of our MF Tactical Footwear. They are engineered to provide protection, durability and comfort in some of the most extreme conditions. Innovative SuperFabric™ Technology enhances the capabilities of our footwear. It incorporates armored platelets that set the standard for protection from cuts, abrasions and puncture. The materials contribute to the comfort by being both flexible and breathable.
We offer Free Shipping and Free Exchanges with No Risk!
Call: 800-806-2611 for the most comfortable, durable, protective footwear.
Email: info@altaigear.com Or fill out and submit our Online Form