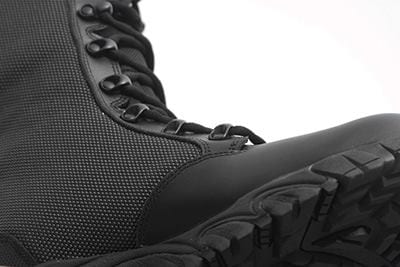 If Superman had to find the perfect material to wear on his cape, what do you think he would choose? If your answer is SuperFabric®, then you are absolutely right! SuperFabric® is the perfect type of material that looks professional, stays comfortable, and is durable enough to withstand harsh environments. At ALTAI™, we agreed with Superman. The ALTAI™ tactical boot was engineered to be the perfect boot for anyone working or exploring the outdoors. So naturally, SuperFabric® had to be a part of it. By purchasing an ALTAI™ tactical boot, you are making a decision to care about your feet, your body, your wallet, and your job! These high performing boots never disappoint!
What is SuperFabric®?
SuperFabric® is the catch 22 of all materials. Is there truly a way to make a fabric material that's soft and comfortable, yet also durable and strong? Believe it or not, SuperFabric® is just that! SuperFabric® is uniquely engineered by geniuses who designed a material that has both cloth and armor plates. Thus, creating a protective but also very comfortable makeup. This design has been thoroughly tested with intense applications and has shown to withstand all of the harsh elements. Because of its durability and comfortability, you can find SuperFabric® in military apparel, motorcycle apparel, and even the hot-shot Ferrari 599 GTB! Folks that are in extreme conditions, have to resort to "Superman-like" materials!
Our Tactical Boot
The ALTAI™ tactical boot is made for men and women who are going through harsh, outdoor conditions. Whether you are in the military, working outdoors on telephone lines all day long, or if you are trudging in different weather conditions, you need a boot that lasts. For this reason, ALTAI™ chose to put SuperFabric® in the upper part of our boot. It offers so many benefits to our shoe and has the right quality that people look for when choosing a good outdoor boot. This portion of the boot extends past the ankle and is designed to provide both support and protection from the elements. Some of the benefits of having SuperFabric® in our boots include:
Protective Shield
Flexible Wear
Breathability
Lightweight
Abrasion Resistant
Stain Resistant
Rapid Dry Capabilities
So if you work or spend a lot of time outdoors, it may be time to reconsider your boot selection. If the SuperFabric® Tactical Boot is good enough for Superman, it is good enough for everyone else too! For more information about ALTAI™ Tactical Boots, call us today at (800)806-2611 or visit us online at www.altaigear.com