Put Your Best Foot Forward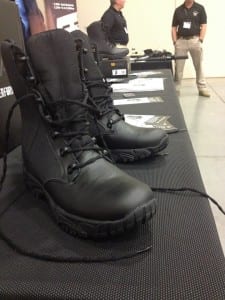 There's something about a uniform that demands respect and honor. When you are on duty and dressed in uniform you want to look your best. After all you are representing your command, company or country and yourself. The footwear that you choose must be engineered for performance and protection, but there's no reason the pair you choose has to look bad. ALTAI™ has designed a High Quality Tactical Boot with SuperFabric® that is easy to clean, stain resistant and scuff resistant. These low maintenance boots allow you to put your best foot forward even while performing the most harrowing duties.
Boot that will keep you Warm, Dry And Comfortable
Think of all the things you will encounter while wearing your boots. Depending on the job at hand, you could find yourself trudging through swamps, brush, snow, rain, hot pavement or rocky terrain. ALTAI™ tactical boots can handle all of this and more while keeping your feet warm, dry and comfortable. The moisture wicking ability helps your feet to feel fresh and comfortable all day. Our EVA Midsole and Vibram® Outsole work in tandem to provide protection from the elements and foot fatigue.
Where Will Your Boots Take You?
The team at ALTAI™ designed a multifunctional boot capable of taking you almost anywhere and arrive looking good. Our boots are worn by First Responders, Military and an array of Outdoor Enthusiasts, so they are no stranger to conquering dirty jobs. Our revolutionary SuperFabric® materials practically laugh at whatever you throw their way. The stain resistant design is water repellant, easy to clean, low maintenance and remains sleek black, desert tan or rich brown.
• Hiking
• Hunting in the Woods
• Motorcycle Trip
• Accident Scene
• Desert
• Swamp
• Patrolling on Asphalt
• Standing on Concrete
• Rain, Sleet, Ice and Snow
• Running Outdoors
• Ice House Fishing
Our SuperFabric® material is like a flexible, breathable coat of armor that repels water. We have a unique fabric with an overlay of tiny plates of protection that dry 10 times faster than leather. Liquid contact no longer poses a threat.
Low Maintenance Tactical Boots
ALTAI™ has combined the comfort of an athletic shoe with the durability and protection of a military boot. Our SuperFabric® materials give your feet the Protection that they need and the Comfort they deserve. This Low Maintenance tactical boot has a Stain Resistant design that is easy to clean and will allow you to look your best in no time.
We offer Free Shipping and Free Exchanges with No Risk - Shop Now!
Call Today at 800-806-2611