High Performing Hunting Boot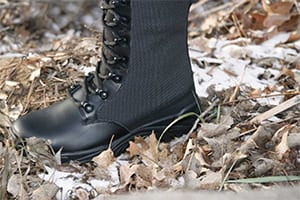 The ALTAI™ Tactical Boot has a known reputation for being extremely multifunctional. Our team hears the benefits of this boot from military professionals, law enforcement officers, even daily runners but recently we've gotten a great review from a St. Paul, MN Avid Hunter and Outdoorsman.
Our main office is in Oakdale, MN; so we are no strangers to the harsh Minnesota weather. But like many, we still thrive regardless of the brutal heat and below freezing temperatures, which can last months. And we are happy to hear that our elite tactical boot has assisted others who also endure our commonly known about, yet highly undesired weather conditions.
Regardless if  you're hunting with a bow or a firearm, footwear is crucial and can assist or hinder your chances of bringing something home. Whether you're hunting bear, deer, small game or even wolf – the ALTAI™ Boots will allow you to perform at your peak. Hunting season is just a few month away, it's time to start thinking about your hunting footwear choice…
Benefits of ALTAI™ Boots:
Water Resistant
Stain Resistant
Rugged Tread
Comfortable
Breathable
Abrasion Resistant
Flexible
Lightweight
Durable
Safety is huge concern when hunting and our advanced boot allows unmatched protection because of its armor plated SuperFabric® material. The ALTAI™ Boots will keep your feet dry and stable while you move through brush and woodland quietly and with ease. So you can track your kill or get to your hunting stand, regardless of its location.
Testimonial of an Avid Hunter and Outdoorsman that utilized ALTAI™ Boot's superior benefits while hunting:
"As an avid hunter, footwear is extremely important. I had an opportunity to try out the ALTAI™ Tactical boot over a bitter cold weekend of deer hunting in Northern WI. The fist day with temperatures reaching 1 degree F, I wore my traditional, well-known brand of hunting boots. By the time I walked almost ½ mile to my deer stand and sat there for 15 minutes, I realized that the inside of my boots were soaking wet with sweat and my feet got very cold. It turned out to be a very uncomfortable opening morning. The next day, with temperatures the still holding at 1 degree F, I decided to wear my ALTAI™boots. At first I was concerned the boots would be warm enough, however I was incredibly impressed. My feet stayed dry and warm. The air breathing ability of the SuperFabric® made a huge difference. In addition to my feet being warmer and drier, I noticed how much quieter I was walking through the woods! Not only are these an amazing tactical boot, but they work great for hunting."
Jeremiah Mostrom, St. Paul, MN -Avid Hunter and Outdoorsman
Don't let that buck get away, equip yourself with the best hunting footwear possible! Order your ALTAI™ boots online today and receive free shipping and size exchanges. Our boots are affordable, at a little over $100, yet they compare to boots available in the upper $300 range – see for yourself at no risk. Call us today at 800-806-2611, 651-256-2007 or email is at info@altaigear.com!