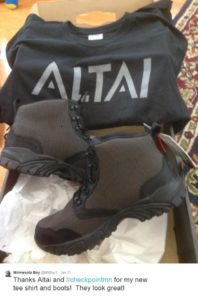 Avid Hikers demand footwear that can keep up with them. There are many different choices with features that are designed for a specific type of terrain. But if you are like many who choose to hike off the beaten trail, you need a multifunctional boot that provides long-term performance results. You can find this in ALTAI™ Quality Boot Construction. Our engineers have designed a tactical hiking boot with rugged tread and all-day comfort.
Outstanding Features Of Tactical Hiking Boot
ALTAI™ Tactical Hiking Boot is designed to be tough enough to get the job done. Don't be fooled by the good looks and lightweight. These boots mean business.
Rugged Tread
Water Resistant
Quality Boot Construction
Comfortable from day 1
Protective
Flexible
Durable
Speed Lacing
Breathable
Slash Resistant
Abrasion Resistant
Shock Absorbing
Good Looking
Quick Drying
Where Will You Go In Your ALTAI™ Hiking Boots?
What is your idea of the perfect hike? Since not every avid hiker wants to conquer the same terrain the engineers at ALTAI™ designed a tactical hiking boot that can go just about anywhere you want to go.
Grand Canyon National Park in Arizona
Denali National Park in Alaska
Pacific Coast Trail in the west
Appalachian Trail in the east
Prairie bramble patch in Nebraska
Arches in Utah
Glacier National Park in Montana
Mount Whitney in California
Dense forest in Oregon
Volcano in Hawaii
Coastal sands in Mississippi
Boundary Waters in Minnesota
Desert oasis in Nevada
Riverbeds in Michigan
Apostle Islands off Wisconsin
City streets in New York
Destinations around the world
Long-Term Performance Results
ALTAI™ Tactical Hiking Boots are designed with the serious hiker in mind. These boots have outstanding features that provide long-term performance results and comfort. The rugged tread, waterproofing and quality boot construction combine into lightweight, breathable footwear. Your feet will be well protected and cared for when you set out on your next amazing hiking adventure.
We offer Free Shipping and Free Exchanges with No Risk - Shop Online Now!

Contact ALTAI™ Gear Today with any questions at 800-806-2611 or info@altaigear.com