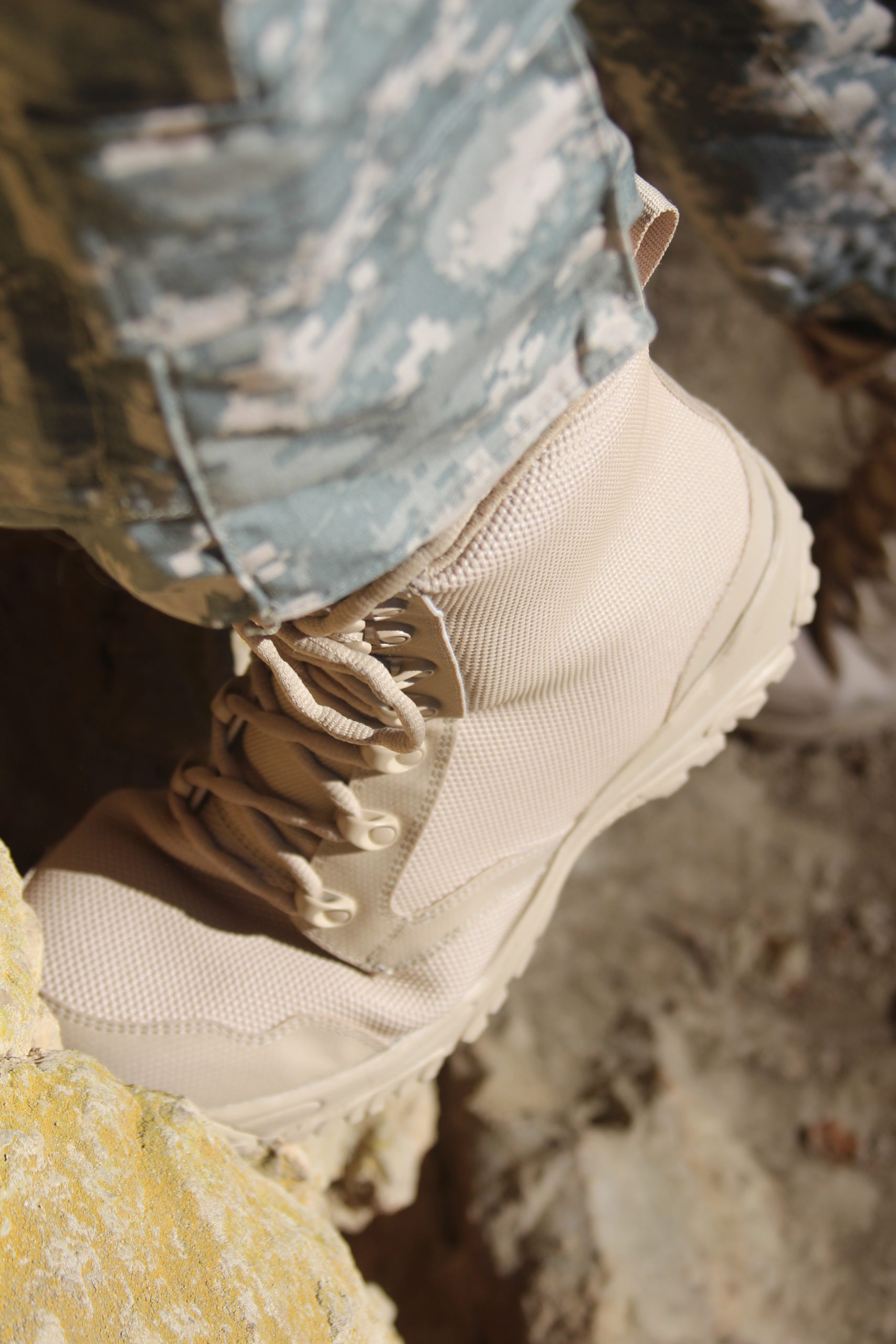 Protection in a boot matters. No matter where you are headed, your feet will be touching the ground and our line of quality tactical boots can handle your stride and protect you from injury. You don't go hiking in flip-flops, if anything you'd throw those flops and go barefoot. But why do that when we have multiple styles of protective boots that can offer your feet comfort and protection the whole day through? Our protective boots offer slash resistance, water resistance and they are lighter than the majority of protective tactical boots out there. Order our Protective Boots for both Men and Women Online or find a local Mid West ALTAI™ retailer to see our quality up close before you put them to the test.
ALTAI™ Boots are Shattering Industry Standards
Our line of tactical boots harnesses the protection of SuperFabric giving you greater performance in the most versatile ways.  Superfabric is an innovative textile that is taking fabric to the next level by adding lightweight and flexible armor with high stain resistance and easy to care for cleaning.
Benefits of Superfabric:
Abrasion Resistant
Protective
Flexible
Breathable
Lightweight
Stain Resistant
Rapid Dry
Our first boot started out with a nice, clean and polishable leather toe and SuperFabric on the mid and upper outside of the boot. It's still is a great design but because of the strength and resistance of the SuperFabric the demand lead to all SuperFabric ALTAI™ Tactical Boots, such as our hiking boots, military boots and our newest Black Tactical Boots.
Protection for your Feet
Our boots are designed to keep you cool in the blistering heat, dry when it's wet and protected when things get rough. Whether they help get you through the daily grind a little more pleasantly or allow you to explore in comfort, you'll be able to depend on these sturdy, yet lightweight boots that offer a tremendous amount of protection in a sleek design for both Men and Women.
Boots in Both Men and Women Sizes
If you are looking to try a different kind of boot, one that will last longer, stay stronger and endure what's on your path, invest in a pair of ALTAI™ Tactical Boots. Our quality boot construction and industry leading materials allow you to push yourself, get dirty and explore. Don't ever let your boots weigh you down! Order ALTAI™ Tactical Boots Online or find a local MidWest Retailer to try a pair on today.