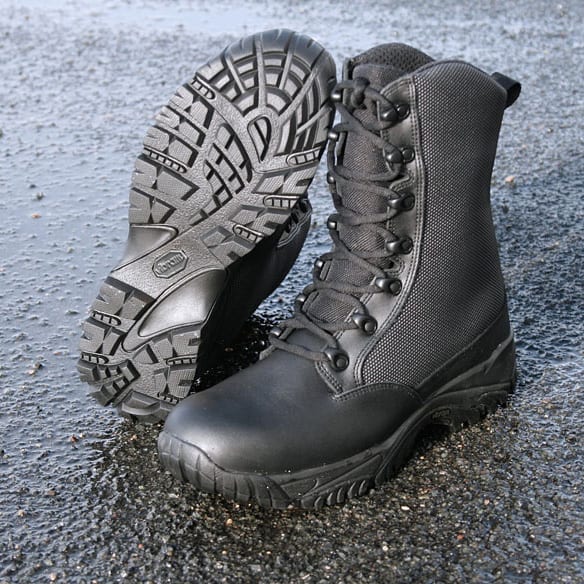 Let's face it, a law enforcement officer's job can get dirty and quickly. For a Boot that is ready to take action, the second you are, look into the Durable Police Boot designed for On-Duty use. Our ALTAI™ tactical boot, originally designed to meet the exact needs of today's law enforcement officials. We believe in protecting the ones doing the protecting and there is nothing that will slow you down more than painful or unprotected feet. Our most popular police boot is the 8″ Black Leather Toe Tactical Boot – ON SALE NOW!
Business In the Front | Leather Toe Tactical
The reason many police officers enjoy our Leather Toe Tactical Boot is because it cleans up well. With just some leather polish your boots will shine and fit any occasion. If you are in uniform, it is expected that you look professional, these boots will align with those needs, plus you can bring them anywhere and take off running.
Party In The Back | SuperFabric, VIBRAM & EVA
SuperFabric – This armor-plated fabric will keep all the elements out, including water, while also maintaining a flexible and breathable feel. This is industry leading material that is utilized in every ALTAI™ Boot we have created so far. In fact, our newer tactical boot models have more SuperFabric than ever.
VIBRAM – Is there anything that hasn't already been said about VIBRAM? Good, of course. This brand is known worldwide for their quality rubber soles and innovative product designs. All of our Tactical Boots have anti-clogging soles with amazing grip.
EVA – Even if you're feet aren't up, you'll enjoy the comforting cushion of EVA, which is a material added to give you foot support from the inner sole. We add this to our Boot Design for its shock-absorbing capabilities, one of the reasons EVA is often found in running shoes.
Comfort At Any Pace
Life changes on the daily for everyone but for police officers, it can change is a second – fast. Be sure you are ready for whatever awaits when you lace up your Police Tactical Boots and find they are comfortable no matter what you are doing. Driving, Standing, Walking, Running, Hiking, the list goes on. We have made a boot that is a dream to wear and a beast when it comes to the elements.
Try one on for yourself by visiting one of our Local Midwest Retailers. Not in the Midwest? No worries, we ship completely free within the US. If your order is international, we can ship but we ask that you pay the shipping fees.