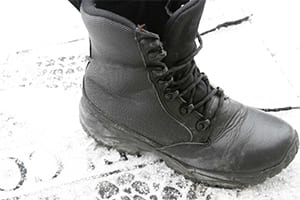 Foot wear is the most important piece of clothing you can put on each day. Your body is supported by your feet so why wouldn't you make sure you have the best shoes or boots you can find? Comfort and reliability in boots is hard to find when you do so many different activities. You may even find yourself purchasing more than one type of boot to support your work load and activities. Luckily for you, our on duty & off duty boots are the all-in-one boot.
Hiking Boot
Whether you're the adventurous type that loves filling your backpack and hiking through the woods, checking out the cliffs and mountainous terrain or your career requires that from you. Our boots will give you lasting comfort on your hike whether you're on a paved trail or exploring deeper into the rough environment. Our boots are great for both as our tread will give you all the traction you will need.
Running Boot

Whether the pace is set by you or your on-duty obligations our tactical boots have the perfect amount of support and flexibility. The impact from your run is supported by our EVA midsoles. We have created these boots to be lightweight and mobile for any activity.
Camping Boots

Whether you're setting up the tent or gathering firewood in the woods, these boots support you and protect you from the terrain that surrounds you. That thorn patch is no match and any sharp objects, such as shattered glass won't touch this. You can confidently stride through anywhere with confidence and full-on foot protection.
Wet Climate Boots

Whether it's Spring, winter, or mid-summer, you'll be able to face any wet terrain with our 100% waterproof boots. If you're getting ready to set up your deer stand for hunting season and you have to walk through swampy terrain to reach that perfect spot, you'll be fully protected with our boots as you can fully submerge them into water and come out completely comfortable and dry.
Hot Climate Boots

You may work outside for a living, doing construction or even patrolling the desert, our boots can with-stand the extreme heat. You usually wear light clothes to stay cool but sometimes it's hard to find footwear that isn't going to make your feet sweat and eventually blister at the end of the day. Our boots are made with SuperFabric® material that helps ventilate the boot while keeping you comfortable and dry. Most boots are made with leather or a heavy fabric for protection, but failing to keep your feet dry. Our SuperFabric® material allows airflow throughout the boot, pulling that unwanted sweat  away from your feet.
Cold Climate Boot

You may find yourself going inside to warm up your hands and feet before going back outside to shovel the foot of snow we just got dumped on us the night before. Our boots are meant to with-stand all types of weather, especially the cold. We have designed the boots to provide comfort, warmth, and even grip on those icy terrains. Being water-resistant, they are also fast drying. During the winter, you'll find yourself putting layer after layer on to keep warm from the cold and that can be heavy! Our boots are lightweight so you can trek through anything without being weighed down even more.
Our boots are made to be durable with high quality materials for the everyday doer. Not only can you perform everyday tasks in our boots, you can do all the extraordinary activities that require special footwear to complete. We are popular among law enforcement officials and people serving their country in the military. Our boots are designed to with-stand any type of terrain and activity and we stand by a great quality product you won't regret putting on your feet.
Are you ready to protect your feet and tackle the adventures that life awaits you? If so, contact us today and start your adventure our number is 800.806.2611 or shop now, with free returns, free size exchanges and everything is offered with free shipping!