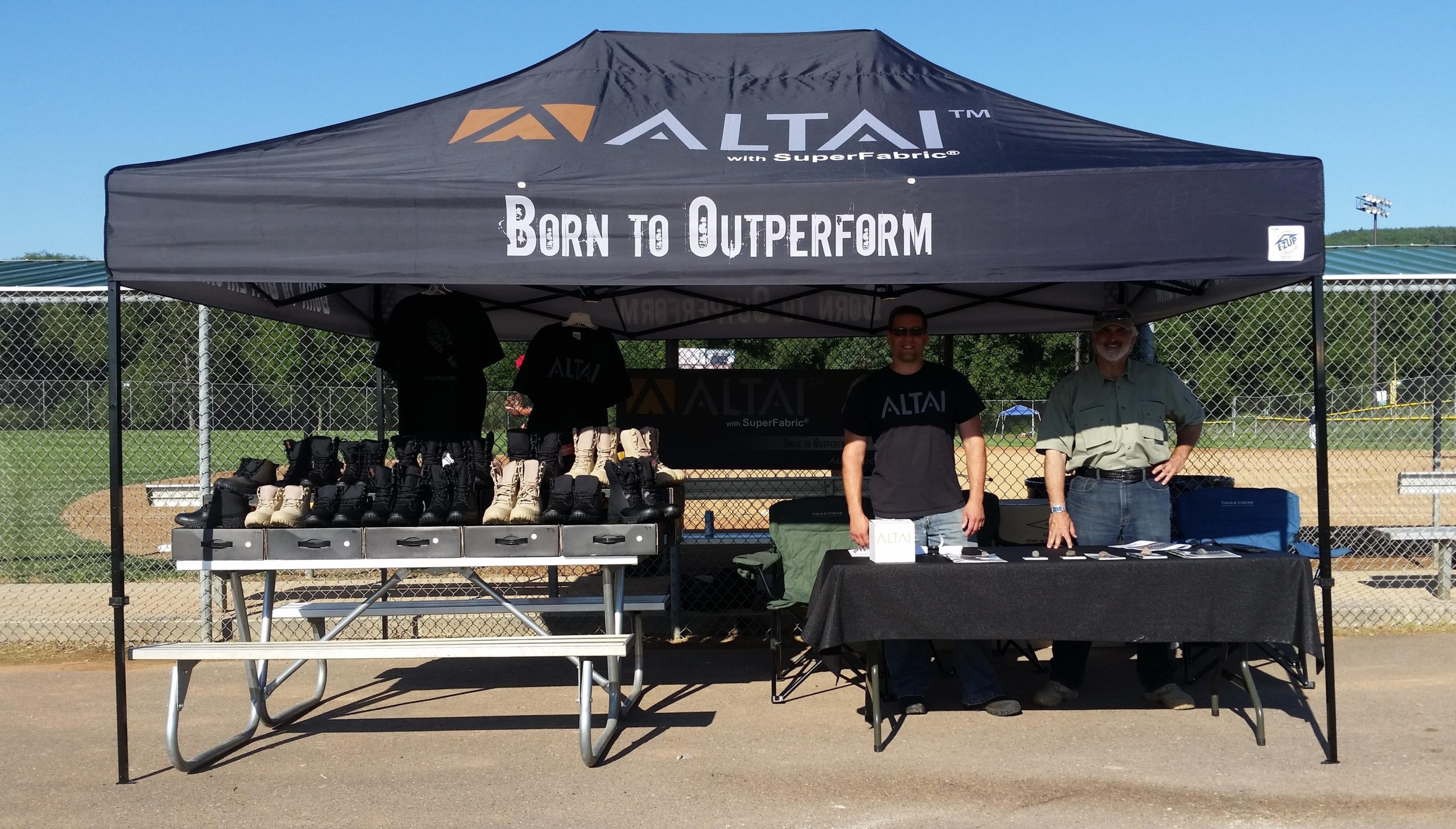 It was still dark when I picked up Don. It was 5 a.m. and we were heading north on our second trip to Duluth within 5 weeks. Last month we were invited to have a booth at the MN Police and Fire Softball Tournament by Duluth Police Officer Matt McShane. Matt organizes the annual tournament, which started in the Twin Cities in 1993, moved to Duluth around 2001, and Matt has run it the past nine years.
Don was pretty chipper, which considering he's not an early-morning guy, was welcomed because now I could chat with him during the trip. My 12 year-old daughter (Olivia) was tagging along in the backseat. She'd begged me to let her come, and had convinced me to repack the truck to make room for her.
Thick fog socked in I35 for the last 45 minutes of the drive, creating a pinkish-orange haze as the sun rose. I've visited Duluth many times. My dad was raised in Duluth and I still have family there.   And yet as we rounded the corner on the outskirts of town and began our descent I was struck again by the beauty of the town and lake below. Despite its industrial appearance when you're in the city, from high above the city manages to look both majestic and quaint at the same time.
We arrived at Wheeler Fields at 7:45 a.m. and set up our tent and display. I'd ordered a new 10x15 tent from EZ-UP with our ALTAI™ graphic and slogan ("Born to Outperform") and it arrived the day before the tournament. Our old tent was a borrowed 10x10 shelter from a local recreational soccer team. The faded green canopy had holes here-and-there, it was difficult to set up and space was cramped. Though it kept us shaded it wasn't the most professional looking shelter.
We assembled the new tent and got a look at it for the first time. I was impressed with the quality of the frame, fabric and graphics. Really easy to set up and the larger size allowed us to spread out, so we weren't competing for shade later in the day.   We also learned our shelter is softball-proof later in the day, as it was occasionally pelted with a foul or over-thrown ball.
The tournament hosts sixteen teams from all over including Canada, and has competitive and recreational divisions. To be eligible to compete players must be full or part-time police officers, military, dispatchers, reserves, community service officers, fire-fighters, paramedics, jailers, prison guards, prison employees or any spouse of anyone in those occupations.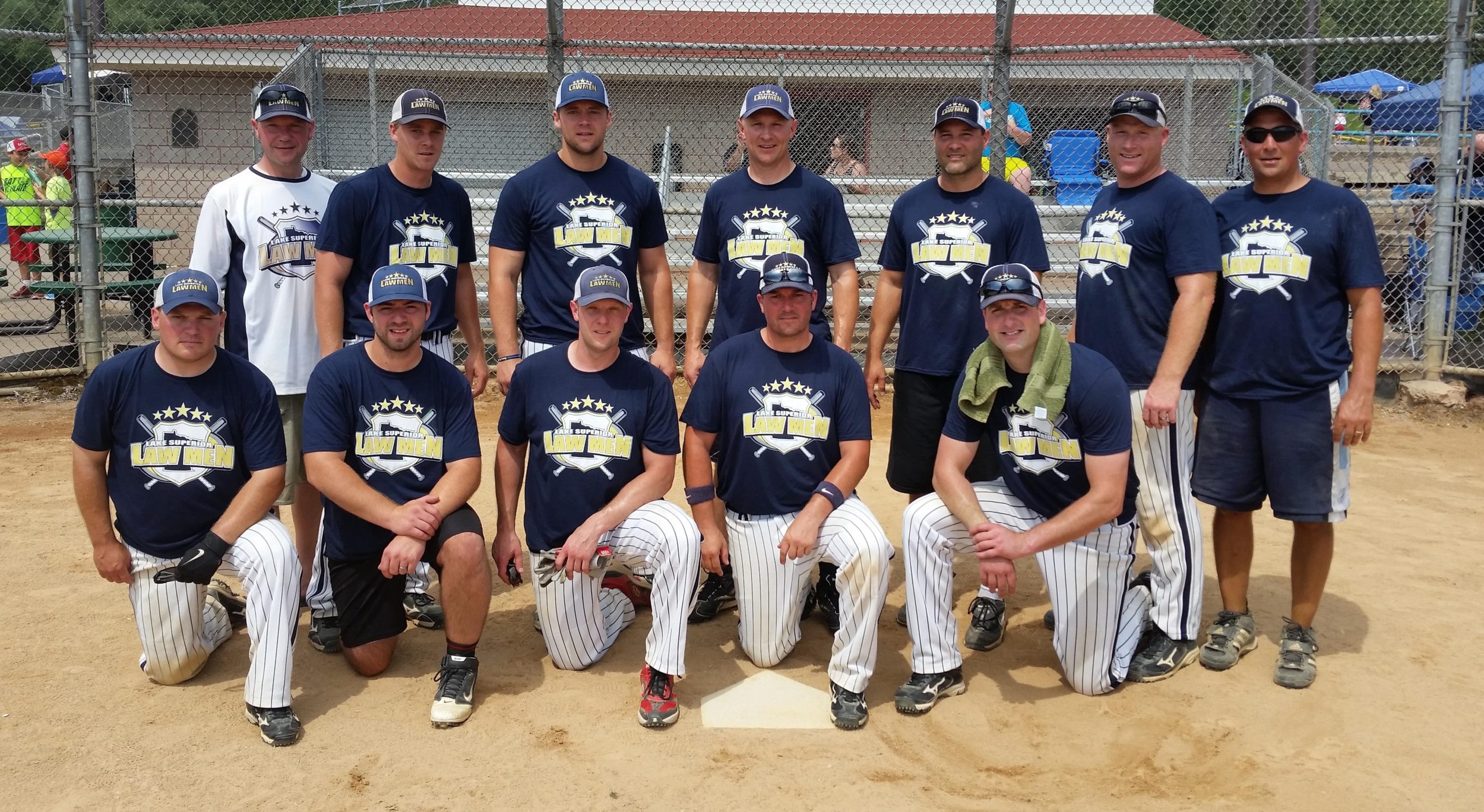 Although the first game wasn't scheduled to start until 9 a.m., players were arriving early to set up their gear and warm up in the field. I was already sweating through my shirt from the heat, which became near-oppressive by mid-afternoon. Once the games began I saw teams from Minneapolis PD, St. Louis Park PD, Carlton County, Duluth PD, Eden Prairie PD, Brooklyn Park PD, Maple Grove PD, Thunder Bay and Plymouth PD. Other teams had jerseys which lacked a geographic indicator, and simply had names such as "The Fuzz" or "Metro's Finest" printed on them. The players were good-natured and focused on their game. No arguing over plays and they delivered solid performances. The event was a class-act all the way.
During the day several players stopped by the tent to chat, buy boots or sign up for the free drawing; although most players jetted off to find air conditioning between games - and I really couldn't blame them. At least I had shade while these guys were baking in the field.
The Competitive winner was Metro's Finest and the Recreational winners were Maple Grove PD. Eden Prairie Police Officer Dan P. won the drawing for a free pair of ALTAI™ boots. He'd purchased a pair of tall black tactical boots during the tournament, and selected a pair of short black boots for summer-wear as his prize.
We packed it in at 5 p.m., and I'd brought along some shorts and sandals to change into before driving home. I'd worn a t-shirt, jeans and brown ALTAI™ boots all day and had sweat through my shirt and waistband. Now here's a shock – and call it a "plug" if you want – but when I took off my socks they were DRY despite wearing boots since 5 a.m. and through the heat of the day. A true testament to the breathability of ALTAI™ boots – and not a claim I can make with any other boot I've worn in 21 years of corrections and law enforcement.