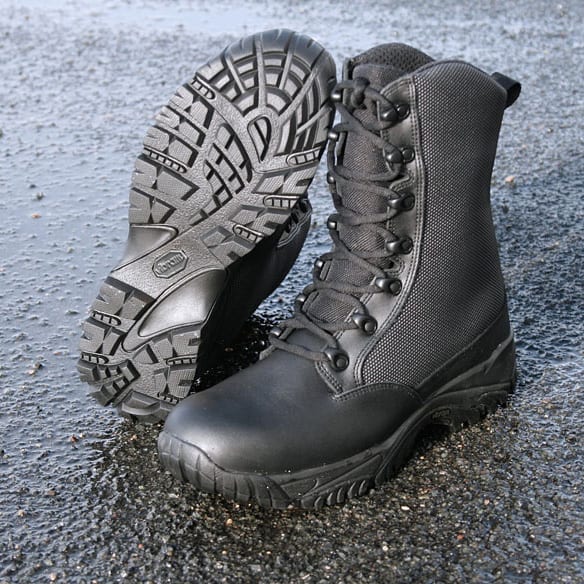 Are you serving our country? Do you know someone that does? If either applies to you, THANK-YOU! Thank you for serving our country and letting us live in the land of the free. Now, it's time for US to serve YOU! The ALTAI™ Tactical boot is the best military tactical boot out on the market today. We believe in this boot as strongly as we believe in our military, and therefore, we offer a 30 day, no hassle, 100% money back guarantee if you are unhappy with our product for any reason!
About The Boot:
Waterproof: The ALTAI™ Tactical boot is 100% waterproof. ALTAI™ has thoroughly tested all of their boots and they have all passed, even going through a 500,000 underwater flex test! This is all to ensure that our military men have dry feet, which prevents unwanted rubbing and even infection!
Polished: Our boots are made of 100% full grain leather. The boots are especially made for law enforcement and military officials that require a polished toe for duty boots. The remainder of the boot is made up of highly stain resistant material which should not require any polishing.
Stain Resistant: Our military tactical boot is made to be highly resistant to stains. With the use of SuperFabric® materials, guard plates placed within the boot allow for extreme protection for the fabric underneath the exterior. This gives the boot the "brand new" look and makes for an easy clean.
Durable: From the upper part of the boot, down to the sole, these boots have high quality, durable material that is designed to add strength, resist abrasion, ease impact, and even resist industrial substances.
Comfortable: The ALTAI™ Tactical boot was made to last! So much so, that we advertise for a great 'last'! If you are in the boot market, you worry about the 'last' and if the boot needs to be worn in. The 'last,' which is the shape that is formed on the inside of the shoe, is designed to give every boot owner the feeling of an already "broken in" shoe. It provides instant comfort, perfect fit, and custom shape!
 Military Footwear
So, if you or someone you know is in the military and looking for the perfect boot to help serve and keep our country safe, look no further than the ALTAI™ Tactical boot. For more information, please visit us today at www.altaigear.com or call us at (800) 806-2611.