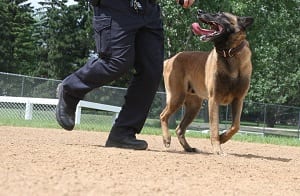 Protection and comfort are important factors for those great men and women who serve our communities on a daily basis, law enforcement officers. These honorable individuals work long days, experience various conditions, and are up on their feet for long periods of time. Investing in a long lasting, yet comfortable tactical boot is very important. If you are in law enforcement and are struggling to find a pair of tactical boots that you enjoy wearing, look no further than ALTAI™ Tactical Boots for all of your footwear needs.
What Sets Our Boots Apart?
Use of SuperFabric® - This unique fabric makes up the upper part of the boot. This fabric consists of comfortable cloth along with armor plates providing protection. SuperFabric® is also used in other military apparel, motorcycle apparel, and even on Ferraris. Not only does it provide protection, it also allows for breathability and is weather resistant.
Use of VIBRAM® Soles - This rubber sole technology is widely known for having a long lasting life. These soles are oil and slip resistant, non marking, lightweight, and extremely durable.
Use of Ethylene Vinyl Acetate (EVA) - The midsole used in our tactical boots are also used in running and athletic shoes, providing comfort unparalleled in the tactical boot industry. The EVA key features include being shock absorbent, waterproof, durable and lightweight.
Speed Lacing Technology - Decreases the amount of time you have to spend on lacing up your boots. Also allows for a tighter hold that can last all day.
Boot Last - Also known as the shape formed on the inside of your boot and arguably the most important feature. The ALTAI™ Tactical Boots need no breaking in. They feel just as good a year later than they did the first time you tried them on!
Waterproof - Not your typical spray on waterproof treatment like many other boots use that only covers the exterior. All of the material used in our tactical boots repel water, giving you a true waterproof feel.
Don't feel like you have to continuously buy boots month after month. If you are in law enforcement searching for a pair of reliable and comfortable boots guaranteed to last, look no further than ALTAI™ Tactical Boots. Call us today at (800) 806-2611 or shop online.