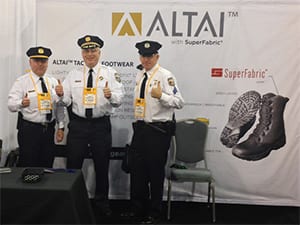 As a law enforcement officer, you never know what each day on the job will bring. If you are considering this field, this is not the type of job where you sit behind a desk all day. Instead, law enforcement officers are on their feet the majority of the day as they respond to any potential issues that may arise in their community. In the same way that these honorable individuals protect our community, we at ALTAI™ strive to protect their feet on the job. Specializing in law enforcement boots, consider partnering with us for your next pair.
Why Choose ALTAI™ for your Boot?
With so many boot options out on the market, what makes our law enforcement boots so special? Our team has created what we believe is the best all around tactical boot on the market, thanks to the following features that benefit law enforcement officers:
Protective – By utilizing SuperFabric® technology, your feet will be protected with a combination of breathable material and armored plates all the way up above your ankle. This same type of material is used in motorcycle equipment and can go up against any type of environment that you may come across on the job.
Lightweight – The last thing you want to purchase is a pair of bulky boots that wear your feet down halfway through your shift. Thanks to our EVA midsole, which is found also in running shoes, your feet will not fatigue after a long day's work.
Comfort from the Start – Trying to break in a new pair of boots can cause blisters and foot aches. At ALTAI™, we took notice of this and made sure that our boots did not need to be broken in before they became comfortable. These law enforcement boots are as comfortable on the first day as they will be a year later.
Waterproof – There will be days when it is raining or snowing and you will still be required to work. Our ALTAI™ tactical boots offer a truly waterproof experience as every material used to create this boot is waterproof.
Resistant – By purchasing a pair of law enforcement boots from ALTAI™, your boots will always look clean and new thanks to our stain and abrasion resistant features. Additionally, the leather toe of this boot can be easily polished.
Boots for Law Enforcement Officers
As a law enforcement officer, you put your life on the line to protect your community each and everyday. For that, we at ALTAI™ are forever grateful. Although we are not able to keep your entire body protected, we do specialize in high quality law enforcement boots that are comfortable, built to last and will keep your feet protected each day. Give ALTAI™ a call today at (800) 806-2611 or visit www.altaigear.com to learn more about our top notch law enforcement boots.