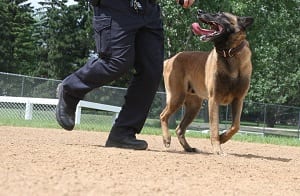 The much anticipated time has finally arrived to watch an amazing display of Teamwork, Skill, Agility and Bravery at the 2015 USPCA PD1 K-9 Trials in Elk River, MN June 29-30. This spectacular event is hosted by the Elk River Police Department and Sherburne County Sheriff's Office. ALTAI™ Tactical Footwear is a Proud Event Sponsor. The ALTAI™ Gear Team will also be sponsoring a participating K-9 Officer Team. This is a great opportunity for the sponsored K9 Handler to put our Police Officer Tactical Boots to the test during the competition.
Events at Elk River MN K-9 Trials
Event Participants in the 2015 K9 Trials will take part in events that test and showcase skills needed to pass the United States Police Canine Association Patrol Dog 1 Certification. K-9 Events are Free to the public and fun to watch.
K9 Trials include the follow canine performance skills:
K-9 Agility Course
K-9 Obedience
Suspect Search
Article Search
Evidence Scent Detection
Criminal Apprehension without Gunfire
Criminal Apprehension including Gunfire
Elk River K-9 Event Participants
As many as 90 K-9 Officer Teams from Minnesota, Wisconsin, South Dakota, North Dakota and Manitoba Canada are eligible to receive K9 Officer Certification in Elk River, MN. Police Dogs represent one of the best and fastest growing tools used to protect public safety and control crime. It takes a special, highly trained canine to become one of the Top Dogs in Police Work.
ALTAI™ Police Tactical Boots
The demanding K-9 Certification Trials require quick footwork by the K-9 Handlers as well as the police dogs. With so much on the line its vital to have the right Tactical Boots to allow officers to keep up with their K9 partners. ALTAI™ Gear will be sponsoring a Participating K-9 Team with the handler wearing a pair of ALTAI™ Police Tactical Boots.
Giving Away Free Pairs of Tactical Boots
The ALTAI™ Gear Team will be on hand to answer questions and demonstrate our lineup of Tactical Footwear. During breaks in the competition you are welcome to stop by to visit and see for yourself why K-9 Officers from across the country are loving ALTAI™ Police Tactical Boots for use on the job. They have proven to be Durable, Comfortable, Protective and High Performance.
We encourage you to enter our Raffle to Receive a Free Pair of ALTAI™ Tactical Boots to be given away during the Banquet Ceremony!
Event Sponsor ALTAI™ Tactical Boots
The ALTAI™ Team is honored to be a part of the 2015 K9 Trials taking place in Elk River, MN. We are an Event Sponsor as well as a K-9 Officer Team Sponsor for this incredible K9 Certification Event. While you are on break from the competition, stop by the ALTAI™ Exhibit and enter our raffle to win a pair of ALTAI™ Tactical Boots. See for yourself how Durable, Comfortable and Protective, Police Boots can be.
Call an ALTAI™ representative Today at 800-806-2611 or Visit the ALTAI™ Event Sponsor Exhibit at the 2015 K-9 Trials in Elk River, MN on June 29-30!