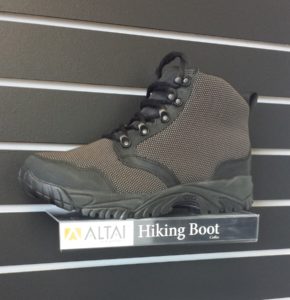 Choosing the right Hiking Boots doesn't have to be difficult if you are armed with the right information. Both men's and women's ALTAI™ Hiking Boots are designed to perform beautifully under harsh conditions. They are engineered out of the Same Materials as the Military and Police Tactical Boots. You can expect comfort and support with the Ankle High design of Light Weight and Water Proof Hiking Boot. Quality materials provide excellent protection for your feet. The SuperFabric® boot upper is uniquely Breathable and Waterproof.
What to Look For in a Quality Hiking Boot
The hiking boots that you choose should match your hiking style. Are you looking for comfort for hiking on a well-groomed trail or do you love the adventure of a more challenging backpacking excursion? Then you want to choose a boot that is Very Durable, and Protective. The smartly designed ALTAI™ Hiking Boot can handle rough terrain and protect your feet from injury.
Comfort
Durability
Protective
Lightweight
Water Proof
Traction
Stability
Easy Care
ALTAI™ Hiking Boot Features
Tactical Boots are designed to provide protection for those individuals who protect our safety and freedom. At ALTAI™, we took the same materials as the military and police boots and created a style that fits hiking to a tee. They are constructed of the Highest Quality Materials for use in a High Performance Hiking Boot. The outstanding features speak for themselves.
All Day Comfort is provided by a shock absorbing midsole that conforms to the shape of your foot and are comfortable right out of the box.
Durable Construction and Materials ensure that your ALTAI™ Hiking Boots will perform for a very long time.
Superior Protection is provided by the technologically advanced SuperFabric® boot upper and rugged Vibram® boot sole.
Lightweight Ankle High design ensures less foot fatigue on a rigorous hiking adventure.
Waterproofing Technology is incorporated into a SuperFabric® textile that is also Breathable and Flexible.
Rugged Traction and Stability are a given with the Vibram® outsole.
Easy Care has never easier than what you get with the ALTAI™ Hiking Boot – take them through mud, dirt, snow and swamp water, then simply hose them off and they are ready to go again.
High Performance Hiking Boot
ALTAI™ Hiking Boots provide an outstanding outdoor experience. They are engineered to be a High Performance Hiking Boot that lasts. Our design engineers incorporated the same materials as the Military and Police Tactical Boots. The hiking boot application utilizes Water Proof, Breathable materials in an Ankle High design.
We offer Free Shipping and Free Exchanges with No Risk!
Call ALTAI™ Gear Today at 800-806-2611