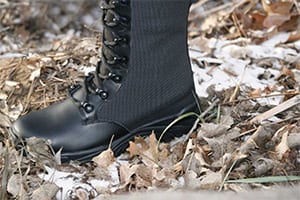 If you're dedicated to finding a tactical boot of the highest quality material, performance and adaptability, the ALTAI™ Tactical Boot is far more superior than any other tactical footwear offered today. This advanced boot is designed to equip you with protection, durability, while also maintaining flexibility and aiding mobility. This one, tactical boot meets all your needs. There's no longer a need to buy multiple boots for hiking, on and off duty, running or camping; this boot combines the benefits of many boots into one, multifunctional tactical boot you can take anywhere.
Highest Quality Boot for the Money
It's no secret, many are raving about the versatility offered by this boot. With many Testimonial Reviews from magazines, officers, survival experts,  check them out them out for yourself! Right now, at a little over $100 dollars they are a steal! There's no other tactical boot that can even come close to their performance, especially for the money.
Most Comfortable Tactical Boot Available
No one wants to spend time breaking-in a boot but it has to be done…Until now! The ALTAI™ Tactical Boot is designed for comfort, strait out of the box. There's no need to waste your time wearing-in boots so that they are comfortable or feeling the pain of wearing your brand new boot for too long before it's conformed comfortably to your feet. The innovators behind this tactical boot's design didn't want you to wait for a perfect fit, they wanted it to be immediate. Their hard work and dedication successfully achieved just that!
Lace Up in a Matter of Seconds
Time is always a factor and in life, it's the one thing you can never get back. Fortunately, in just a few, quick seconds you can be securely equipped with your ALTAI™ Tactical Boots. The reason for this is the speed lacing feature. It takes the work out of tying and securely holds the laces in place. Lace up once and never worry about adjusting or tightening, even while wearing for the entire day or night.
Learn more about the technology of this high-quality, affordable tactical boot by exploring our website more. This is a better solution, that is more high tech, modern and it outperforms its contenders, hands down. Call us today with questions at 651-256-2007 or email us at info@altaigear.com.
Heck, if your really excited just buy them now! You pay no shipping, we'll give you all of your money back withing 30 days, if for some reason your not happy (highly unlikely). We can even exchange sizes at no cost to you, for a better fit.