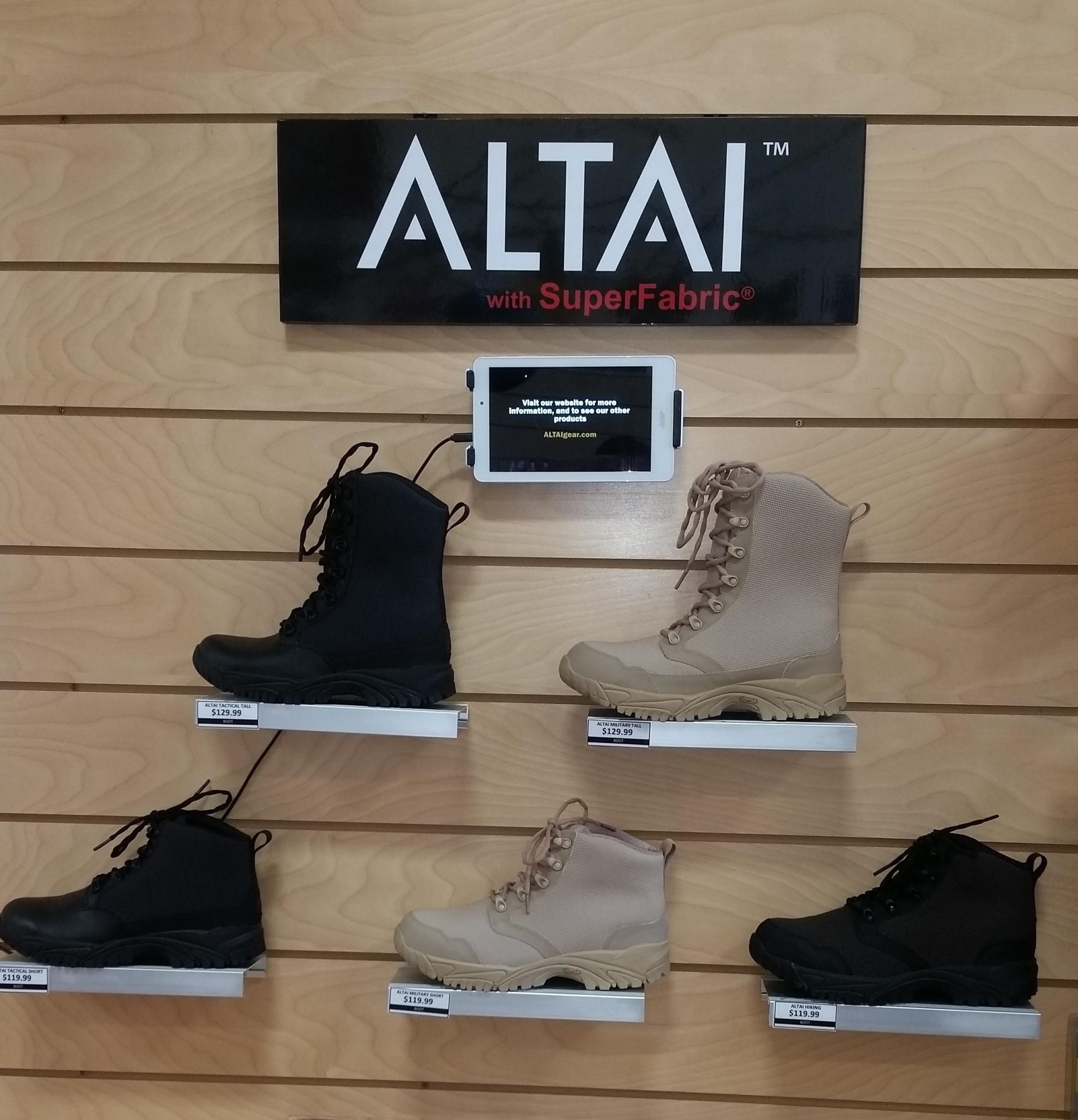 The snow held out but our days still are numbered. For the "last minute" shopper, or for the "hard to buy" receiver – if you're looking for a gift that will keep people on their feet – ALTAI™ Tactical Boots are the perfect solution. Our Footwear ranges from low top hiking boots to high top military boots, we pride ourselves in the service we provide when it comes to taking on tasks regular footwear cannot stride through. With thermal weatherization for the cold winter months and protective SuperFabric® for the rough terrain, we rank the highest on quality and comfortability. This year's gift season can start here or end here, all we ask is that you get here!
Boots that Fit All
Whether you are hiking, hunting, fishing or conquering a mission, ALTAI™ Tactical Boots has the right foot form fitting option for your daily or annual activities. The lightweight, rapid dry boot will comfortably get you to even the highest of destinations. Our boots are all truly waterproof, stain and abrasion resistant with the help of SuperFabric® and Vibram® from one end of the temperature spectrum to the other, ALTAI™ will stand with you and take the test of determination.
Full Priced ALTAI™ Boots
While exploring the backwoods any of our newer boot selections, with the advanced mud guard will reduce mud, dirt and debris on the outsole to keep you from being held down during your journeys. With the SuperFabric® and Vibram® materials along with an EVA midsole that helps anti- fatigue and increases supreme comfortability. The rugged trails will have no defeat against you!
Discontinued ALTAI™ Boot Discount
Our few selections of discontinued boots are a fantastic option if you are looking for a steal of a deal. All of our materials are the same, the one small difference is the Mud Guard around to boot. These models don't have the advanced mudguard but they do have all of the other reliable aspects, as well as a price cut.
Where to Purchase ALTAI™ Tactical Boots?
It is crunch time. If you don't think your boots will get where they need to be by your Holiday Celebration if you Purchase them Online we have a few other options for you! If you are in Minnesota or Wisconsin here are some local retailers you can easily make a trip to:
Streicher's
Minnesota Location
10911 West Highway 55
Minneapolis, MN 55441
(800) 367-3763 or (763) 546-1155
Streicher's
Wisconsin Location
4777 North 124th Street
Butler, WI 53007
(800) 541-4164 or (262) 781-2552
Uniforms Unlimited
St. Paul Location
935 Dale Street North
St Paul, MN 55103
(651) 224-7567
Uniforms Unlimited
Minneapolis Location
2220 Lyndale Ave South
Minneapolis, MN 55405
(612) 377-1100
Guardian Supply
5659 Memorial Ave. North
Stillwater, MN 55042
(651) 439-8064
Aspen Mills
8201 Central Ave NE
Spring Lake Park, MN 55432
(763) 785-1055
Gear West
1786 W Wayzata Blvd, Suite B
Long Lake, MN 55356
(952) 473-0377
Check out our reviews on Facebook, our Website, and other independent parties that have been more than satisfied with our product and its performance. Contact us with any questions you may have about your ALTAI™ purchase at (800) 806-2611 or info@altaigear.com. If you do end up ordering online, we offer free size exchanges and 30 day money back return, you have nothing to lose and a quality footwear option to gain!