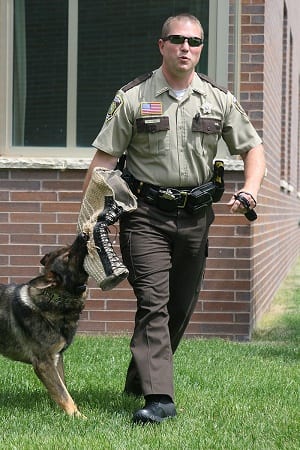 ALTAI™ Gear is once again excited to be a part of the K9 Officer Trials in Elk River, MN. We are proud to be a Sponsor for this 3-Day event being held in June 2015. Our MF Tactical Boots will be taking part as well while be worn by K-9 Handlers in events such as K9 Agility, Obedience, Suspect Search and Article Search. Representatives from ALTAI™ enjoyed the event immensely last year when the K9 Team that we sponsored took 1st Place Overall. Last year our Tactical Footwear helped Baxter Police Officer Ryan Sturm and his K-9 partner, Ecco with their outstanding, award winning performance.
Elk River MN K-9 Trial Events
Participants in the 2015 Police K-9 Trials in Elk River, Minnesota can take part in a variety of events designed to test and showcase skills required to be a Top K9 Officer Duo. Demanding events draw in K9 Handlers and Police Officers from all around the Elk River, MN region.
K9 Trials Include:
 K9 Agility
Obedience
Article Search
Suspect Search
Criminal Apprehension
Criminal Apprehension including Gunfire
K9 Officer Duo Demanding Work
The work of a K-9 Officer Duo is very demanding. A K-9 handler must always be on their toes and ready to keep up with a professional, four-legged partner. These K9 Teams are really put to the test during the three-day event being held in Elk River, MN. Each team must be confident in each other, their skills and their tactical gear.
Tactical Footwear For All Environments
In real world situations K9 Officer Teams can be called on for many tasks that require extensive training and skills. A foot chase can take a K9 duo into every type of environment. While a police dog has nature on their side, the handler must have tactical footwear that allows them to keep up while venturing through city streets, backyards, wooded areas, rocky terrain, swamps and streams – all in a days work.
ALTAI™ Tactical Footwear is engineered to meet the demands of K9 Officer Handlers. Our MF Tactical Boots are designed to be very Lightweight, Comfortable, Breathable, Waterproof, Durable, Protective and provide Rugged Traction and Stability. All features of the ALTAI™ Tactical Boot are designed to keep police offers safe while they protect the citizens of their community.
Event Sponsor ALTAI™ Tactical Footwear Exhibit
The ALTAI™ Team would love for you to stop by our Event Sponsor Tactical Footwear Exhibit and say "hi" as you check out our lineup of Tactical Boots on display. This wonderful event puts our Tactical Boots to the test for outstanding comfort, traction and performance. Stop by the 2015 K-9 Trials in Elk River, MN to see why ALTAI™ Tactical Footwear is chosen by a growing number of K9 Handlers from around the United States.
We offer Free Shipping and Free Exchanges with No Risk!
 Call Today at 800-806-2611