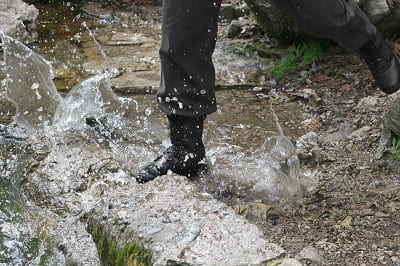 Having the right tactical gear is essential when you are faced with a demanding situation. Your Tactical Footwear must provide rugged Traction and Durability without weighing you down. ALTAI™ has created a Multifunctional Tactical Boot that can stand up to the demanding work of Law Enforcement and Military personnel - yet is unbelievably Lightweight. They are constructed of the highest quality materials including the breathable and waterproof SuperFabric® boot upper. We didn't stop there. The Vibram® outsole provides reliable grip and stability.
High Quality Durable Materials
When you want unbeatable foot protection and long-lasting comfort there are several important features to look for including those listed below.
SuperFabric® boot upper
EVA midsole
Vibram® outsole
Rustproof eyelets
Unbeatable Lightweight Footwear Protection
There is no product on the market that is a Durable and Protective for Tactical Footwear as SuperFabric®. It was engineered to be resistant to abrasions, punctures, cuts, slashes, stains and water. The secret lays in the tiny little armored platelets, covered in durable epoxy. They do not allow penetration of sharp objects or yield to rough terrain. The result is an unbelievably Lightweight textile that provides unbeatable Protection.
Waterproof | Breathable | Flexible Upper
Each armored plate is adhered to a fabric that has been treated with Waterproofing technology. SuperFabric™ materials remain very Breathable and Flexible for optimal Comfort in a Tactical Boot. Air is able to flow through between the tiny armored plates. Water is stopped by advanced Waterproofing techniques.
Shock Absorbing Midsole
A high quality tactical boot would not be complete without a Shock Absorbing midsole. All of our ALTAI™ Tactical Footwear is designed with an EVA midsole that provides comfort and protection for your weary feet. They practically mold to your feet for a custom fit. EVA materials deliver on Comfort and Protection from sharp objects.
Durable Rubber Outsole
Vibram® is well known as a maker of Durable rubber soles. ALTAI™ engineers chose Vibram® for MF Tactical Footwear for their Rugged and very Lightweight outsole. They are made to be anti-clogging to ensure that you always have traction and stability in all types of terrain. The materials are completely waterproof and slip resistant.
Multifunctional Tactical Footwear
Every ALTAI™ Tactical Footwear design is engineered to be very Durable, Protective and Comfortable. They each incorporate High Quality Materials that can take whatever punishment your job throws at them. It all starts with unbeatable protection in a Breathable, Waterproof SuperFabric™ boot upper. Work your way down to an EVA midsole and finish it off with a Lightweight Vibram® outsole.
Order your new Favorite pair of Tactical Footwear by Calling 800-806-2611
We offer Free Shipping and Free Exchanges with No Risk!