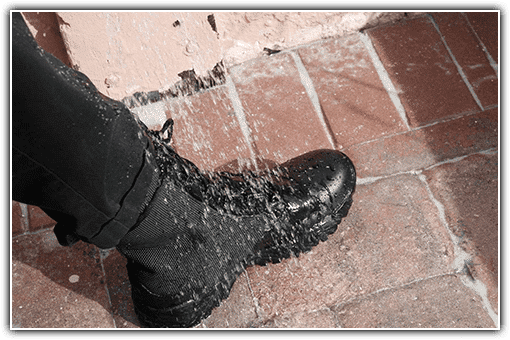 If you work outdoors than you know that your legs and feet become the most vital component to doing your job. Boots and shoes become a part of your monthly budget, and durability becomes an enormous factor when picking a boot fit to weather all different types of terrain. If you haven't heard of the ALTAI™ tactical boots, you are surely missing out! These tactical boots have multiple components that make them the perfect work boot for any outdoorsman.
The Upper Boot
Made to extend past the ankle, the upper part of our boot helps support the leg and protect all different types of elements from entering the boot. Designed with a unique and durable material, SuperFabric®, the upper boot protects the foot from all different weather types.
SuperFabric®
This product is commonly found in military and motorcycle apparel, has continuous strength and resists abrasions despite being in high contact with harsh, outdoor elements. It is named 'super fabric' for its incredible durability as well as comfort. The extreme textile creation is flexible, stain resistant and has the capability of rapidly drying so that the surface of your boots do not stay wet for long!
The Boot Sole
ALTAI™ boots have three different components to the sole of the boot to ensure the best level of care. The midsole provides comfort and cushion to evenly distribute proper weight bearings. Recognizing that these boots will be used on a day-to-day basis, ALTAI™ boots makes its midsole out of Ethylene-vinyl acetate (EVA). This material has an immense capability to endure daily use and stress that normal boots just do not possess. It delivers no fatigue like other heavier boots commonly used in the workforce cause. EVA is waterproof, shock absorbent, and surprisingly lightweight.
The outsole, which endures the highest amount of environmental ailments, is made by a rubber sole material known as Vibram. It prevents buildup of debris within the tread and is oil and slip resistant.
The Boot Last
No need to break these ALTAI™ boots in, the longevity of this shoe provides instant comfort from the day you put them on your feet! With a custom shape and innovative design, these shoes are made to give a perfect fit and feel on every wear!
So stop waiting and spending money every month because your boots are already worn out! Order your Altai™  boots today and experience the difference of a waterproof, breathable and dependable pair of Tactical Boots for yourself!