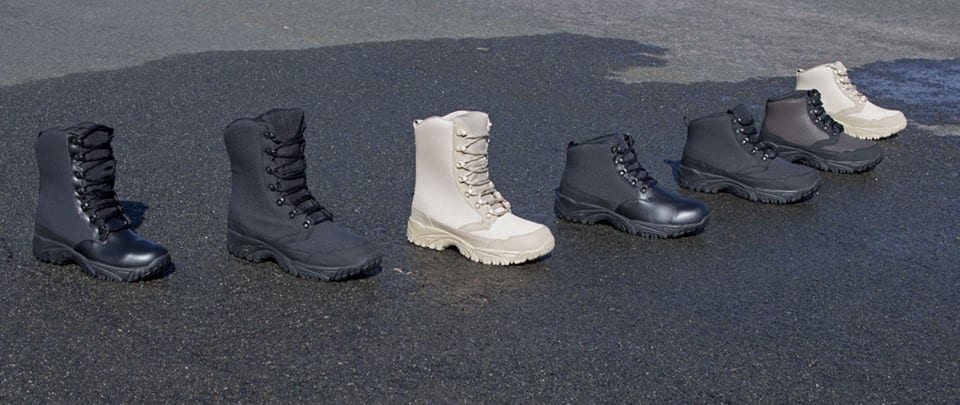 Are your dogs barking? Then it is about time you listen to them...the next footwear you purchase should be able to get the job done and keep your feet comfortable. We have a full line of industry-leading tactical boot designs created to endure the rocky patches while you make it out scot-free and ready for more.
The Comforts of ALTAI™ Tactical Boots
Ankle Support - When you purchase a high top tactical boot from ALTAI™ our hardy laces and speed lacing system will ensure your ankles are securely supported and protected all the way up to the top of the boot.
Arch Support - We use EVA, the same thing found in athletic footwear. This adds arch support, protection and a boot with a comfortable last, even the first time you try them on.
Waterproof Materials - There is little more uncomfortable than wet socks, especially if you still have a long ways to go. Be sure none of the elements put a damper on your day by investing in our waterproof tactical boots, we seal out the moisture to keep in the comfort.
Flexible Design - Want a boot that feels more like a part of you than a couple of bricks? Then our tactical footwear is a great solution you should consider. Our rubber VIBRAM soles and SuperFabric material moves with your feet, instead of against them and our low top boot allows for added mobility.
For a boot fit you can't beat shop our Online Selection of Comfortable Tactical Boots or find a local Midwest ALTAI™ Retailer that is closest to you on our site and see which one you like best in person. Our Tactical Boots come in both Men and Women sizes, so no matter who you are and what you are doing you can stay comfortable. We offer US sizes from 5 - 13 and our boots come in many colors and styles.
Tactical Boot Designs
Our Newest Black Tactical Boots feature YKK® Zipper with full gusset. Pre-order Online Now!
Our Original Black Tactical Boots offer a Leather Polishable Toe for a look that cleans up easily.
Our Brown Hiking Boots are fantastic for the coming fall days, raking leaves, pumpkin searching, etc.
Our Tan Military Boots offer a lighter look, with just as much protection.
We offer low and high top options for most of our boot styles. Contact us today with any questions, order online or shop at a retailer. We can be reached at 1-800-806-2611.
Save
Save
Save
Save
Save
Save