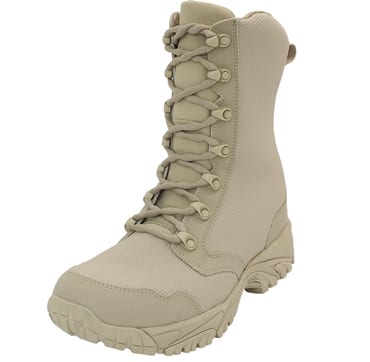 Combat boots are amazingly multifunctional. They are used by the U.S. Military for training and combat, as well as a popular fashion statement. The Desert Tan Combat Boot from ALTAI™ combines durable construction with lightweight comfort. Our affordable footwear gives you advanced protection from rugged terrain, water, snow, arctic cold and desert heat. They are engineered for outstanding performance in any situation.
Evolution Of The Combat Boot
The combat boot has undergone an enormous evolution over the years. Military boots worn during World War I were known as Trench Boots. Our soldiers went to battle wearing footwear made of cowhide, with metal plates attached to the bottom. There were many foot related problems due to the lack of waterproofing.
By World War II the need for a waterproof boot was recognized and a new Combat Service Boot was constructed out of thick leather. This design included a smooth leather high top that was secured with two buckles. It was known as a Buckle Boot. Rubber was added to the sole and heel to make them more waterproof.
During the Vietnam Conflict a transition was made to a black combat boot. The Jungle Boot was also introduced. Both designs utilized a molded sole and had black leather. The Jungle Boot had a olive drab upper.
A more functional tan combat boot was adopted later as our troops mitigated to desert environments.
Desert Tan Combat Boot
Today, ALTAI™ has designed a Desert Tan combat boot with technologically advanced features. It has been engineered for Outstanding Performance and durable construction. These boots provide all the protection that is needed in a combat situation or for any rugged outdoor activity in all seasons. Our boots include features not usually seen in affordable footwear.
ALTAI™ Combat Boot Attributes
No detail was missed when designing our combat boots. Our team took a close look at every aspect of this boot and engineered something that is close to perfection with Outstanding Performance.
SuperFabric® Uppers are a technology masterpiece offering the protection of tiny armor plates incorporated with breathable fabric. Together they combine to bring you a Lightweight, Flexible, Stain Resistant combat boot with Superior Protection and Durability.
An advanced Speed Lacing System was incorporated to add incredible function to our combat boot. This is an important feature to have in an emergency situation when every second counts.
EVA Midsole ensures all day Comfort and Protection. It reduces foot fatigue by minimizing the stress put on active duty feet. EVA is engineered to be Shock Absorbent, Waterproof and Lightweight.
VIBRAM® Soles are field tested in extreme conditions. They have proven to be Slip Resistant, Rugged, Lightweight, and have Durable Construction.
Waterproof Technology allows this combat boot to go where others fail to perform. Our waterproofing solution makes ALTAI™ footwear waterproof to the core. All elements of our boot are designed to repel water and the breathability aspect prevents feet from remaining wet with perspiration. Your feet remain dry and comfortable all day.
Outstanding Performance In Affordable Footwear
ALTAI™ has reinvented the Combat Boot. We bring you Outstanding Performance in affordable footwear. Our Tan Combat Boot has every element of protection and function of a high-end tactical boot. The durable construction and endless comfort make this the combat boot of choice.
We offer Free Shipping and Free Exchanges with No Risk!
Call Today at 800-806-2611