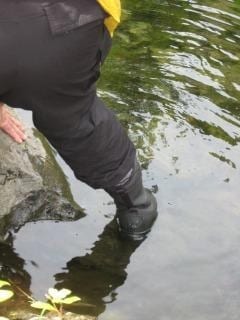 Are you going up to Minnesota to enjoy the vast BWCA and/or Superior National Forest? Stop by our Woodbury, Minnesota location or other convenient Mid West retail locations and purchase a pair of our quality boots perfect for canoeing, portaging and camping in Canoe County. If your trip is still a couple weeks away, order your ALTAI™ Boots online. Our line of Innovative Boots are constructed with materials that not only repel water but also increase breathability, provide abrasion resistance and a solid grip while in the water, on the rocks, paddling the canoe, portaging and making camp.
Recommended Canoe & Portaging Boots
The innovators at ALTAI™ started with one, black boot design that has now evolved into a full line of tactical boots perfect for pretty much any application. Our recommended selection of boots for camping, portaging and canoeing would have to be narrowed down to 2 of our tactical boot models.
These waterproof tactical boots are considered a part of our high top selection. Because this boot extends further up the leg, it offers more protection. Our boots are designed to handle water up to just below the highest point of the boot, so the more boot you have, the better. Tuck your pants into the boot and secure the boots with the speed lacing system all of our boots feature and you won't be stopping to tie or tighten your shoe anytime soon. And you won't be dealing with soggy socks, even if you get wet.
We've covered that these boots are water resistant up to almost the very top but what happens if water comes up above the line of the boot? You're not hosed. Sure, you'll get wet but unless you wear and carry those big rubber boots that offer protection but they also add to your load. Unlike ALTAI™ Boots, which are 5 oz lighter than other tactical boots, and much lighter than the rubber ones. If you get your leg submerged in water, you're in a better boat with our tactical boot on your foot. The models we suggested above perfect for canoeing and portaging are made up of SuperFabric and rapidly quick dry. So yes, you may still get wet but your dry time is much faster than other materials, such as leather.
If you have any other questions about the key features of our tactical boots, explore our website or email our team at info@altaigear.com.