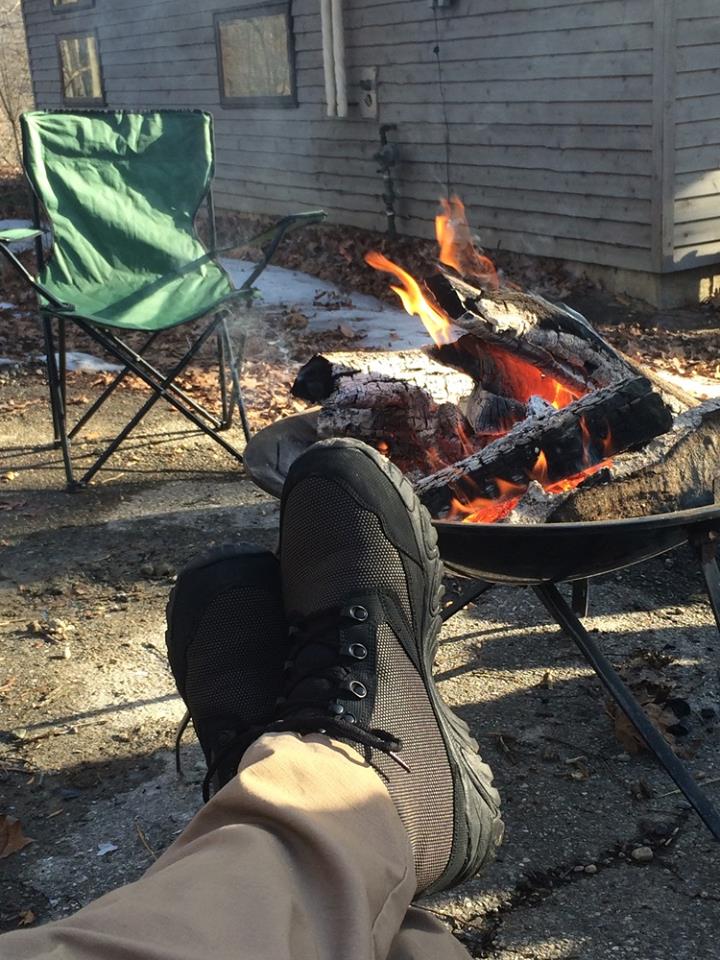 Join us at ALTAI™ in congratulating this year's winner of the ALTAI™ Born To Outperform 2016 Contest! A family man, our winner Colin Kaiser submitted a picture of his ALTAI™ boots posted up beside a fire pit during his father/son weekend!
"These boots helped contribute to a fantastic winter campout – just my son and I. With temps above freezing, we experienced snow, ice, mud, rocks, water and grass. ALTAI™ was great keeping me on my feet!" – Colin Kaiser
Ways We Outperform
At ALTAI™, we do not take the term 'outperform' lightly. For years, individuals in search of boots that claim to last and provide great comfort, continue to get their hopes up as their purchase just doesn't seem to meet their expectations. At ALTAI™, we do not want to be just like the other boots merchants in the industry. That's why, we have built a tactical boot around top quality materials and proven features to create a boot line that truly outperforms the rest! Certain features that help us outperform the competition include:
Enhanced Protection – Thanks to the use of SuperFabric®, your feet will have a protective layer of fabric that contains armor plates. No matter what type of environment you are entering, your feet will stay protected every step of the way!
Comfortable Soles that Last – When designing our tactical boots, we wanted to create a sole that not only lasted a long time, but also was comfortable. With many of our competitors, you get one or the other. We combine Ethylene-vinyl acetate (EVA) technology which is found in running shoes with long lasting VIBRAM® soles to create this one of a kind sole.
Waterproof – If you have been a boot wearer for a long time, chances are you have purchased your fair share of boots that claim to be waterproof. Quickly, you realize that the waterproof feature is just a sprayed on chemical that temporarily repels water. At ALTAI™, we made sure that all of the materials used to create our boots repel water, giving you a true waterproof experience.
Thank you to everyone that submitted your Born To Outperform 2016 photo! Although you may not have won this year, there's always a chance during our next contest! Congratulations again to the 2016 winner, Colin Kaiser. We hope you enjoy your new boots from ALTAI™ on your next father/son weekend! To learn more about our ALTAI™ boots that are built to outperform, visit www.altaigear.com or give us a call at (800) 806-2611.