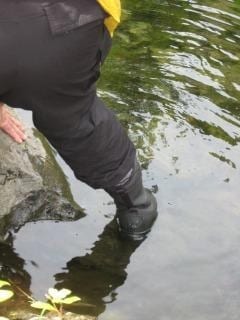 Boating season has finally arrived! Is your boat ready to get back out on the water? When getting prepared for boating season, your footwear may not be the first thing that comes to mind, but it is still very important. If you are in need of footwear for boating that is waterproof and reliable, our team at ALTAI™ has you covered. Finding a pair of shoes for fishing on the lake can be quite difficult because there are so many companies that mislead you through their marketing. With ALTAI™, we do not hide any aspects of our boating boots from our customers. The key features that we highlight through marketing are not over exaggerated like some of our competitor's slogans.
Unique Fishing Footwear
Anytime you are around water, it is vital that your boots are waterproof. Unfortunately, so many boots on the market claim to be waterproof but actually only contain a spray on waterproof repellent that is temporary. With ALTAI™ boating boots, you get a truly unique waterproof experience. Each material used to create our fishing footwear repels water, helping to keep your feet dry as you cast a line into the nearby body of water. Other key features that help create this elite boating boot include:
Slip-Proof - By utilizing VIBRAM® soles, the rubber makeup ensures that these boots are slip proof even when they come into contact with water.
Lightweight - Most of the time fishing can take a few hours, so our design team thought it was very important to create lightweight boating boots that would help prevent your feet from feeling fatigued after a long day on the water.
Breathable - Summer days out on the boat can be extremely hot. By investing in ALTAI™ boating boots, your feet will be able to breathe in even the warmest conditions.
SuperFabric® Material - If you have ever been caught by a fishing hook, you know just how painful that can be. ALTAI™ boating boots incorporate SuperFabric® material in the boot upper to help protect your feet from fishing hooks and whatever else you may unexpectedly come into contact with on your boating excursion. This SuperFabric® material is made up of armored plates and flexible cloth to create a comfortable, yet protective design.
When you are preparing to take your boat out for the first time this season, don't forget about your feet! If you are in the market for reliable waterproof boating boots that are built to last, ALTAI™ has you covered. Give us a call today at (800) 806-2611 or email info@altaigear.com to learn more about these boots that will be great for fishing on the lake this spring and summer.