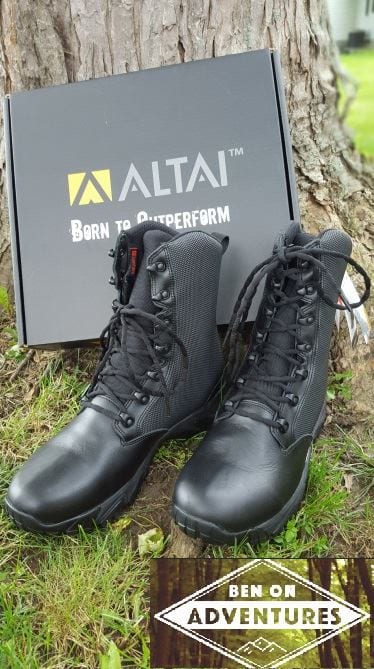 Are you looking for tactical footwear in black that outperforms your expectations? If so, ALTAI™ has a line of high and low top tactical boots for both men and women that fit like a dream and protect like King Arthurs' armor. Our custom designed tactical boot selection is created for the adventure or government force to multi-task during the toughest of times and perform up to Excalibur's caliper with whatever landscape you take the boots to. Whether you are on the job or comfortably climbing up canyons. Our lightweight black tactical boot is one dependable footwear ready to withstand whatever you put it through, and to keep carrying you on. From the top of the boot to the quick tieing laces, this will be your last boot you buy!
High Top Black Tactical Boot
There are many great tactical boots, the styles to consider would be the high and low top. Personal choice is really the deciding factor but, either way, you will have nothing but a long lasting, lightweight boot taking you the whole way. Our black high-top tactical boot is designed for improving ankle support. For instance, on vigorous hiking trails where there could be holes or roots, a high top design works significantly. Having a durable pair of high top footwear also keeps unwanted intruders or elements such as water, snow, and sand out of your boot. Every aspect on this durable boot is made to withstand, even sharp objects. Temperature compatible to maintain proper breathable air throughout your feet and also be able to withstand negative degrees. To perform at a professionals caliper we know our ALTAI™ high-top black tactical boot is the best option for you!
Low Top Black Tactical Boot
Our water resistant black low top tactical boot is designed for the type that needs access to fully utilize every joint. Such as climbing up rock walls even hiking through the woods or wading down river bends. Having a trusted brand name boot you can rely on for ultimate comfort and performance will only make your outdoor experience that much better! With our SuperFabric® and lightweight materials, every obstacle becomes a fun game. Next time you are roaming the fields or seeing the streams, put on one of our low top black tactical boots, you will be surprised on the distance they will take you. Our shock absorbent soles make for a comfortable journey and your trail a lot easier on your body. Order your Black Tactical Boots online!