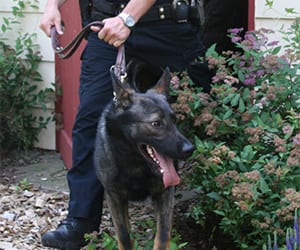 Are you in Law Enforcement and looking for the right fit in footwear while you're on duty? You have made some headway by checking into our line of ALTAI™ Tactical Boots. Our first boot design was created specifically for law enforcement officers and from there we have developed an entire line of quality tactical boots. We have made sure to create a police boot that is comfortable, light, secure and protective for easy all day wear. Hit the ground running with a boot versatile enough to withstand extreme weather conditions, rough terrain and anything else that comes its way. Wear your boot, don't let it wear you!
Presentable Police Boot
Our Black Tactical Boots popular for Law Enforcement Officials have a polishable leather toe to allow you to keep a professional appearance when going to courtrooms, ceremonies, etc. but also be ready for anything. Our boots resist stains, slashes and are extremely easy to clean. Watch the video to see for yourself!
Tough Police Boot
Of course, law enforcement officers spend most of their time not in ceremonies and courtrooms but protecting and serving. Throughout the day be sure your feet stay comfortable and secure when you respond to calls, make arrests, and when the going gets tough. Citizens call 911 for protection when situations escalate and become dangerous, so it's only right you've got a tough enough boot to protect and serve you while you put your life on the line every day to make sure we are all safe.
Versatile Boot For Law Enforcement
From first aid to issuing citations a police officer has to be versatile on their feet, our boots can offer you the kind of protection and comfort needed to complete your shift with comfortable feet. Read and watch our boot testimonials from SWAT, Police, K9 Handlers and so many others that have been over satisfied with their performance. Not just us.
Quality Materials Utilized in our Police Boots
What to try our Law Enforcement Footwear for Yourself?
Order your Black Police Boots Online from our website or stop by one of our Minnesota or Wisconsin Retailers and feel the comfort for yourself. Currently, we have our line of Tactical Boots at Gear West, The Uniform Shoppe, Streicher's, Uniforms Unlimited and many more Midwest retailers. Our boots come in both Men and Women sizes and all styles come in 6" and 8". Contact the ALTAI™ team for any inquiries about our boots at 1-800-806-2611.